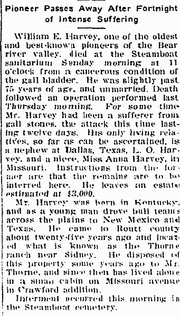 Memorial Day events
■ Steamboat Springs
Saturday: Army physical fitness test at 9:30 a.m. at Emerald Park. The event is free, but donations for the American Legion are accepted. The test is two minutes of push-ups, two minutes of sit-ups and a 2-mile run. Event organizer Tina Kyprios said participants don't have to complete all three portions. The test is meant to raise awareness for soldiers serving our country.
Monday: Coffee and doughnuts at 8 a.m. at Veterans of Foreign Wars Post 4264, 924 Lincoln Ave.; ceremony practice at 9 a.m. at Steamboat Springs Cemetery; shuttle service to cemetery begins at 9:45 a.m. at Stock Bridge Transit Center; Memorial Day ceremony begins at 11 a.m. at cemetery.
■ Hayden
Friday: Placing of flags at Hayden Cemetery, 6 p.m.
Monday: Memorial Day ceremony, 6 p.m. at Hayden Cemetery, with 21-gun salute, flag lowering and presentation for citizens; public reception and meal at the Benjamin J. Hofstetter American Legion Post 89, on Third Street in Hayden, after the ceremony
■ Yampa
Monday: Memorial Day ceremony, 11 a.m. at the Yampa Cemetery, with traditional bugling and reading of names of veterans buried at the cemetery.
Coming Sunday
This year's Memorial Day ceremony at Steamboat Springs Cemetery focuses on the military service of women with local ties. Read some of their stories in Sunday's Steamboat Pilot & Today or online Sunday at SteamboatToday.com.
Steamboat Springs — Century-old census records and federal Civil War soldier lists indicate that William E. Harvey, who is buried at Steamboat Springs Cemetery at a grave where local veterans planned to place a Confederate flag on Thursday, likely fought for the Union.
In response to a compilation of data by University of Kentucky librarians, local veterans instead placed a U.S. flag at Harvey's grave Thursday evening, rather than the orange-and-blue battle flag that represents the Confederate States of America and had spurred local debate this week given the flag's controversial place in the nation's history and ties to civil rights and segregation issues.
"We'll put a U.S. flag on his grave, you bet," said Jim Stanko, a leader of Steamboat Springs' annual Memorial Day ceremonies and a cemetery board member, Thursday afternoon before the flag-placing activities.
"We're not going to put a Confederate flag on a Yankee."
During a recent compilation of obituaries and articles documenting Routt County military service, local veterans found an archived newspaper article that quoted Routt County pioneer Clay Monson calling "Ol' Bear Bill" Harvey — a rancher whose headstone says he killed 56 bears in Routt County — "an ex-Confederate soldier."
That discovery led to a Monday announcement to the Routt County Board of Commissioners, by Stanko and local veteran Harmon "Buck" Buckland, about their intentions to place a Confederate flag on Harvey's grave.
"He was a veteran, he fought, he was a soldier, and I think he needs to be recognized for doing that," Stanko said about Harvey on Tuesday.
But little about Harvey's history was known, and research Thursday indicates a different story.
Kate Black and Reinette Jones, faculty librarians in the University of Kentucky Library's Special Collections Department, voluntarily spent much of Thursday combing through 1910 and 1900 U.S. Census records, the 1861 to 1865 U.S. Civil War Soldiers List, an 1890 Veterans Schedule and other historical documents. The search came after a Steamboat Pilot & Today request based on the university library's Civil War Sesquicentennial Exhibition, on display through October, and Harvey's Kentucky origins.
Black said that while William E. Harvey, and especially William Harvey, is a common name — and many of the records are handwritten, leading to possible misinterpretations — they repeatedly found evidence and documentation of a volunteer soldier from Kentucky who matched the name, demographic profile and history of the William E. Harvey lying at peace in Steamboat Springs Cemetery. That soldier fought for the Union, 2nd Regiment Kentucky Cavalry, Company A.
"We can't be sure, but I think all the evidence points very strongly to this man being a Union soldier," Black said. "We checked Confederate rolls, too, and we never found any hint of him."
From war to peace
Black said records state a William E. Harvey from Kentucky's Grant County area joined the Union on Aug. 6, 1861, and likely was discharged March 21, 1864. He served two years, seven months and 15 days in the bloodiest war in America's history.
"He went in as a corporal and came out as a private, which is interesting," Black noted. She said Jones described a situation of leaving military service with a lesser rank as "not unusual." Black also mentioned Kentucky's contentious climate during that period.
"Kentucky was very divided in the Civil War," she said. "We were a border state, and there were people who were in the Confederacy and people who were in the Union."
Black said the 1890 Veterans Schedule notes that Harvey incurred a disability during the war by suffering a gunshot wound.
"It looks like loss of left leg," Black said, reading a handwritten document that, she speculated, could say "left eye" rather than "left leg."
The librarians tracked records for William E. Harvey to Colorado, where he appears as a Routt County resident on U.S. Census records from 1900 and 1910. Also within that timeframe, Black said, a William Edwin Harvey appears on a document filed in Denver, at 1757 Stout St. The document is file R6988 in the Civil War Pension Index. The R likely stands for Routt.
"We think it's an application for a pension," Black said.
She noted that a gunshot wound would coincide with a pension application, as would census data that states the William E. Harvey living in Routt County filed revenues as "own income."
Black said she and Jones found some of Harvey's likely historical records through www.ancestry.com, a subscription-based genealogy website. She said other documents, and much of the data found at that website, are accessed through the National Park Service, which maintains a Civil War Soldiers and Sailors database.
That database reveals 307 results for a search of "William Harvey." But it shows only six results for a search of "William Harvey" narrowed to Kentucky, which is listed as the birthplace of William E. Harvey in a Steamboat Pilot obituary published Sept. 30, 1914, three days after his death.
Of those six results, only one is for William E. Harvey. That soldier, according to the National Park Service, fought for the Union, 2nd Regiment, Kentucky Cavalry.
Service records for that regiment indicate — if all the uncertain historical stars align — that William E. Harvey could have fought in several battles, including the Battle of Shiloh on April 6 to 8, 1862.
That Union victory in Tennessee, under commanders including Maj. Gen. Ulysses S. Grant, turned away a surprise attack by Confederate troops and drove them into Mississippi.
But the full truth of Harvey's life may never be known. His 1914 obituary listed only two living relatives, a nephew in Texas and a niece in Missouri. He was unmarried when he died.
The Steamboat Cemetery was busy Thursday evening, as Boy Scouts, veterans and others walked from one grave to another, placing flags. Participants in the upcoming Memorial Day ceremony drilled in preparation.
And a rancher, bear hunter and likely soldier named William E. Harvey, nearly 100 years after his death, got an honorable new decoration on his grave.