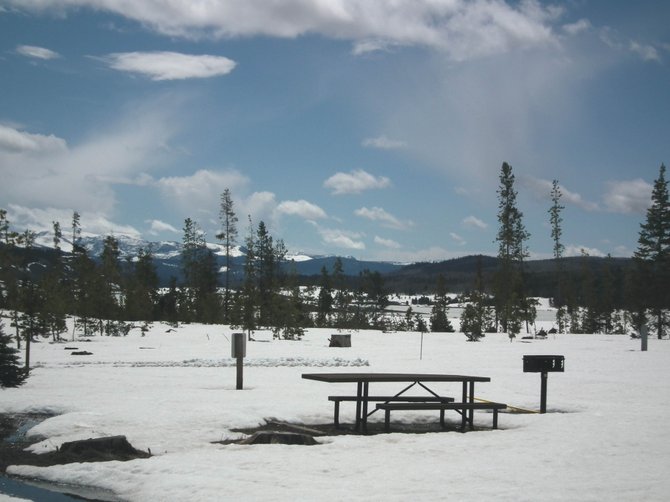 Holiday camping on hold north of Steamboat
Yampa River State Park in West Routt has available spaces
Consider Yampa River State Park
As of 4 p.m. Tuesday, three-day camping stays at Yampa River State Park west of Hayden were still available for the holiday weekend. Visit www.parks.state.co.us/
Steamboat Springs — For the second time in four years, Steamboat Lake State Park will see only limited operations for the Memorial Day holiday weekend.
Park Manager Julie Arington confirmed Tuesday that her staff is contacting campers who already had made reservations at one of the 188 campsites in the park and telling them there is too much snow in the campgrounds to host them. It's the same story at nearby Pearl Lake State Park. Park staff members are calling guests and providing refunds. Reservations at Steamboat Lake will resume June 3 and at Pearl Lake on June 10.
A relative handful of campsites will be available at Steamboat Lake this weekend on a first-come, first-served basis, with the number and location depending on the weather over the next few days, Arington added.
"We plowed the roads and did everything we could, but the weather's not cooperating. We've had persistent snow, and the lake is still 95 percent covered with ice," Arington said. "As much as we'd like to see people in the park, we'd rather not have them be surprised and disappointed. Many people had reserved specific sites, and we can't guarantee they'll be available."
The Steamboat Lake State Park Visitor Center and camper services building will be open, Arington said, and cross-country skiing is available.
The inability to open this weekend has to be doubly frustrating for Arington's staff, which had worked hard during the offseason to remove beetle-killed timber from the campsites to make them safe.
Jake Hyland, the manager of Steamboat Lake Outfitters, said his restaurant will be open from 11 a.m. until 8 p.m. this week to serve hot meals to chilled outdoor adventurers. But the snow is too soft for snowmobiling, and the horseback rides and ATV tours on Hahn's Peak that are the staple of his summer business are on hold indefinitely.
"For us, this is usually the kick-off weekend, and our cabins were booked up, but I've been calling people and telling them what to expect," Hyland said.
Karl Bunker of Steamboat Lake Marina has seen this all before, and even if the campgrounds were open, it would be difficult to rent boats on a frozen lake this weekend. Still, he said he would miss the traffic at his general store.
He plans to keep his guest cabins open (they are booked solid this weekend), though he also is contacting people to make them aware of the conditions.
"We'll have people who come because they come every Memorial Day," Bunker said.
For anglers, there's a little open water in the stream inlets, and with a forecast for temperatures in the mid-60s and windy conditions, things could change fast, he said.
"We'll have red-hot fishing for the first 10 days after the lake opens," Bunker predicted.
An abrupt change in the weather to include gusty warm winds on May 24, 2010, gobbled up remaining snowbanks and pushed the lake ice against the dam just in time for Memorial Day 2010, and 2009 was not a problem, but the campgrounds were closed for Memorial Day 2008 after a winter that saw 600 inches of snow at the lake. That was the same winter Steamboat Ski Area saw a record 489 inches of snowfall during the season.
Arington said pre-existing reservations would have only half-filled the Steamboat Lake campgrounds, but the overflow has already filled virtually all of the 92 campsites at Stagecoach State Park south of Steamboat Springs. Kimi Hollwedel said Tuesday afternoon that there were only a couple of openings Friday night and again Monday night, but no back-to-back openings for a two-night stay.
It was a different story at Yampa River State Park west of Hayden as of 4 p.m. Tuesday, where 39 of the 50 sites were still available for three-night stays.
"Everyone is more than welcome to come join us," spokeswoman Joann Hudish said. Daily park admission is $7. The campsite fees are $20 for sites with electrical hookups and $16 for tent sites. Reservations may be made at www.parks.state.co.us.
The Routt National Forest reports that it has no campsites available this holiday weekend.
"This area still has a lot more snow than normal for this time of year," said Kent Foster, recreation manager for the Forest Service in Steamboat. "Buffalo Pass is still covered with most of the 16 feet of snow that fell over the winter. People are still snowmobiling and skiing."
Foster asked people to observe the many road closures on National Forest land this spring.
— To reach Tom Ross, call 970-871-4205 or email tross@SteamboatToday.com