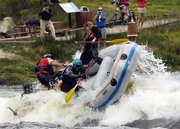 Yampa River Festival schedule
■ Thursday
6:30 p.m. Movie premier of "Raven Fork" at Bud Werner Memorial Library
■ Friday
4 to 7 p.m. Yampa River Festival registration party at Sunpie's Bistro. Registration costs $5 or $10, depending on the event. It's $30 to register for all events. Registration also is available online at www.friendsofthey...
■ Saturday
11 a.m. 5- and 1-kilometer running races, start at the Depot Art Center
11:30 a.m. Downriver kayak and canoe race registration begins at Fetcher Pond. Race follows at noon.
1 p.m. Stand-up paddleboard race at Fetcher Pond. Demonstrations will be available all day.
1:30 p.m. Registration begins for raft race at Fetcher Pond
2:30 p.m. Raft race begins
3:30 p.m. Crazy river dog competition at D-Hole
4:30 p.m. Tube rodeo at D-Hole, conditions permitting
5 p.m. Kayak rodeo, including traditional and new vintage classification
7 p.m. Party featuring The Brian Smith Band at Depot Art Center
■ Sunday
10 a.m. Slalom race at Dr. Rich Weiss Park
Noon. Fishing and mountain biking activities
3 p.m. Respect the Yampa float from Dr. Rich Weiss Park
5 p.m. Barbecue at D-Hole
■ Monday
Paddling Life Pro Invitational
11 a.m. Fish Creek race
Noon. Junior rodeo at D-Hole
1 p.m. Open rodeo at D-Hole
2 p.m. Pro rodeo at D-Hole
6:30 p.m. Post-invitational party at Sweetwater Grill
Steamboat Springs — The unofficial motto for next weekend's Yampa River Festival might as well be: The Yampa River, it's not just about kayakers anymore.
In an effort to reach groups in town that treasure Steamboat Springs' second-favorite geographic landmark, festival organizers have branched out this season. This year's festival, which kicks off Thursday with a movie at Bud Werner Memorial Library, will feature popular regular events such as the kayak rodeo. It also will include new ideas following the unofficial theme, such as a stand-up paddleboarding competition and a 5-kilometer running race.
"It's not all about the kayaking or water activities. It's everything river," Friends of the Yampa board member Kent Vertrees said. "The bike path is included with that. We think it's a good fit."
This year's festival will be different, organizers said, but it has the potential to be the biggest and best yet. All they're looking for is a little help from the community.
There will be plenty of chances to get involved and take part in the long weekend of river-related activities.
Thursday night's movie, set to begin at 6:30 p.m., is "Raven Fork."
An event registration party will follow from 4 to 7 p.m. Friday at Sunpie's Bistro, and the action really heats up Saturday with a full day of events, starting with the 11 a.m. running race, which also includes a 1-kilometer version. The day ends with a 7 p.m. party at the Depot Art Center.
In the middle, a raft race will serve as a can't-miss event. It, too, first appeared in the festival to help get new people involved, and it's done just that, Vertrees said.
Rafts will launch every 30 seconds from Fetcher Pond and be timed as they make their way downriver to the D-Hole.
"We had a lot of people do it last year, and we're looking to get even more," Vertrees said. "It's another one of those things you can do without having to be a kayaker."
Vertrees said Colorado Moun­­­tain College and Bucking Rainbow Outfitters set aside five rafts for the first five competitors to request them (call Vertrees at 970-846-7933), and all but one still were available as of Saturday. Anyone else can enter with their own equipment and as many paddlers as they'd like. The cost is $10 per person, and competitors must be at Fetcher Pond by 1:30 p.m.
Another new feature Saturday will be a vintage freestyle kayak competition set to take place before the regular kayak rodeo.
Sunday will be highlighted by kayak and canoe slalom competitions at Dr. Rich Weiss Park and the Respect the Yampa float, another new event that will start at Weiss Park.
"Everyone in town is invited," Friends of the Yampa board member Dan Piano said. "We'll all float it together, then have a community barbecue at the D-hole."
Finally, Monday will bring the annual Paddling Life Pro Invitational, which will challenge some of the best boaters in the world with a race down Fish Creek and a freestyle competition on the Yampa.
That event should attract even more big kayaking names this year, as it's included in a national freestyle kayaking circuit.
Additional events won't be the only thing changing about the festival this year. It typically is centered at Charlie's Hole behind the library. That man-made water feature hasn't been performing as expected during spring runoff, however, and events will be shifted a few hundred yards downriver to the D-Hole, behind the Depot Art Center.
It will be different, but organizers say the available parking space and improved sight lines could be an improvement from the festival's traditional location.
"I think it will be really nice," Piano said. "Having that park right there will be great."
The park will allow for more new activities. The festival will include children's activities, such as a bouncy house. There also will be an ongoing silent auction that will stretch through Saturday.
"It will be a great place for kids," Vertrees said. "We expect the venue to be as good or better."
The focus for the whole weekend will be raising money to help with planned improvements to the river as it flows through Steamboat.
Friends of the Yampa already has pledged $12,000 to what could be a $100,000 project that would make much of the river more accessible and improve some existing features for swimmers, tubers and kayakers.
"We're really working toward this goal of building a river park downtown," Piano said. "It wouldn't just be for kayakers or fisherman, but for people to swim and everything. The potential is really there."
To reach Joel Reichenberger, call 970-871-4253 or email jreichenberger@SteamboatToday.com