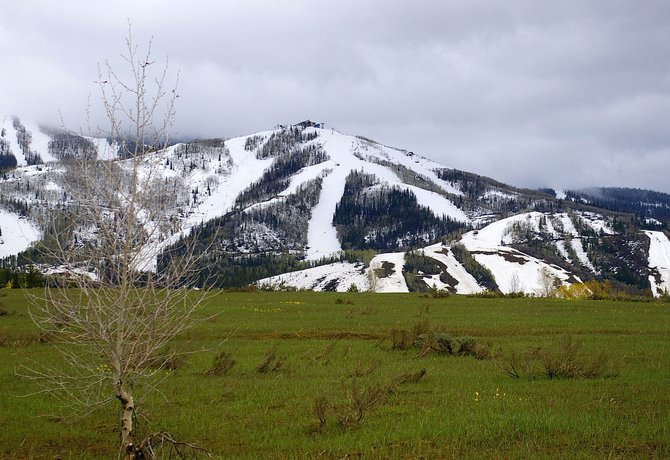 Records breaking at upper elevations in Routt County
Buff Pass reports 16 inches new snow
When water rises
By the numbers
Historical annual Yampa River crests in Steamboat Springs. Flood stage for the Yampa River is 7.5 feet.
8.90 feet, June 8, 1905
8.90 feet, June 13, 1906
7.65 feet, June 3, 1997
7.50 feet, May 25, 1904
7.44 feet, June 1, 2003
7.12 feet, May 25, 1984
6.96 feet, April 26, 1974
6.89 feet, May 17, 1996
6.83 feet, June 4, 1952
6.82 feet, May 29, 2000
6.72 feet, June 7, 2010
6.64 feet, June 14, 1921
6.63 feet, June 16, 1995
6.53 feet, June 7, 1957
6.51 feet, June 25, 1983
6.40 feet, May 23, 2006
6.34 feet, June 4, 2008
6.33 feet, June 17, 1993
6.20 feet, June 7, 1991
6.16 feet, June 16, 1978
Source: National weather service
Flood stages
Action flood stage: 7 feet
Flood stage: 7.5 feet
Moderate flood stage: 8.5 feet
Major flood stage: 9.5 feet
Steamboat Springs — The view from Rabbit Ears Pass shows the Yampa Valley has begun to turn green, but it is still a winter wonderland at 10,500 feet.
At that elevation, the Tower measuring site on Buffalo Pass on Saturday was reporting 16 inches of new snow, bringing the total to 194 inches. The site has exceeded 200 inches of snow this season, and the melting trend has yet to start on Buffalo Pass.
"It should have started a couple weeks ago," said snow survey supervisor Mike Gillespie, who works for the Natural Resources Conservation Service.
The Tower site was reporting that the 194 inches of snow measured Saturday equals about 76.2 inches of water, crushing the state record that was broken May 1 when 72.6 inches of water content was measured. The previous Tower site record measurement was 71.1 inches of water content measured in 1978.
"It just continues to break the record every day," Gillespie said.
The Tower snow water equivalent was 154 percent of average Saturday, and the above-average readings are similar to what has been seen this year across Northwest Colorado. It has Gillespie and emergency management officials concerned.
"The longer we put off the melt, the more compressed the runoff season will be because we will eventually return to normal weather patterns," Gillespie said. "We're just hoping that things are orderly as far as melt-out."
Routt County Emergency Management Director Bob Struble said the flood risk to the valley is largely in the hands of Mother Nature. He is hoping for a gradual melt void of high temperatures and heavy rains.
Looking at the weather forecast for this week, Gillespie is expecting more of the same with mild temperatures and precipitation.
It is apparent the melt has started at other measuring locations. At the Dry Lake site, at 8,400 feet, the snow water equivalent had dropped to 29 inches Saturday, down from the season high of 37.6 inches measured May 5.
The Rabbit Ears site, at 9,400 feet, was reporting 93 inches of snow and 46 inches of snow water equivalent. That's down from a May 1 snow depth of 114 inches and 51.6 inches of snow water equivalent.
The Yampa River was flowing steady at about 4.5 feet throughout the past week at the Fifth Street Bridge, according to the national weather service. It's expected to remain near that level through the end of the week. The action flood stage starts at 7 feet, and the moderate flood stage is 8.5 feet.
The record for the Yampa River was set June 8, 1905, when the river crested at 8.9 feet, according to the Weather Service. Last year, the Yampa saw the 11th highest crest June 7 when the depth was measured at 6.72 feet.
Fire forecast
As the melt progresses, wild-land firefighters are training and preparing for the upcoming season.
"Fairly obviously, we'll be off to a slow start, but I feel it will be similar to last summer when the onset of fire season will really be late summer and early fall," said Mark Cahur, zone fire management officer for the Routt National Forest.
He expects the "green-up" period will last into late summer and early fall before things begin to dry out.
Forest Service public information officer Steve Segin said there is a below average potential for large fires west of the Continental Divide. By the time it starts to dry out in July, the area also should begin seeing the typical monsoonal weather patterns that bring moisture to the mountains.
Cahur and Segin suspect fire conditions will be more severe on the northern Front Range east of the Continental Divide, where moisture has not been as prevalent.
"That's kind of where our resources will be as far as assisting," Cahur said.
To reach Matt Stensland, call 970-871-4247 or email mstensland@SteamboatToday.com