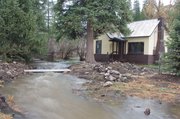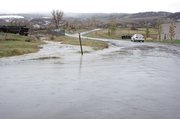 When the water rises
Wet snowpack raises avalanche concerns
Spencer Logan, of the Colorado Avalanche Information Center, cautions that high temperatures through the weekend sparked a round of avalanching. Observers reported large, wet avalanches along Interstate 70 and U.S. Route 550. Less impressive but extensive was all the wet, loose avalanching.
"Wednesday has the potential to be a very challenging day for snowpack evaluation," Logan said. "A potent spring storm could add a layer of wind slabs to the top of the snowpack. Underneath, wet, saturated, weak layers will not handle the load well."
Steamboat Springs — Crews were deliberately cutting a 10-foot-wide trench through Routt County Road 179 south of Milner on Monday afternoon in a bid to prevent the rushing waters of Foidel Creek from damaging Routt County Road 33, an important link to Twentymile Mine.
"To protect 33, we have to act right now — if we wait until tomorrow morning, it will be too late," Road and Bridge Director Paul Draper told the Routt County Board of Commissioners on Monday. "We don't want water to go over the top of 33 tonight."
A section of C.R. 179 was already closed to traffic after the creek washed out a five-foot culvert and began to eat away at the road base. But the creek was rising rapidly and threatening C.R. 33 near the intersection of the roads.
Also Monday afternoon, the Colorado Water Conservation Board issued a "minor flooding" bulletin for Routt, Moffat, Rio Blanco, Garfield and Eagle counties, all in the northwest part of the state. Meteorologist Nate Clements wrote that as much as a half-inch of rain was possible across the region.
C.R. 33 is among the best-paved roads in the county and carries vital traffic to and from the economic engine represented by the underground Twentymile coal mine, County Commissioner Diane Mitsch Bush said.
Draper told the commissioners he intended to use a rubber-tired excavator to cut a 10- to 15-foot trench through C.R. 179, a tactic intended to let the backed-up stream escape harmlessly before it threatened C.R. 33.
County road crews were busy elsewhere in north and west Routt on Monday, Draper said. One crew was working on a mudslide along the Little Snake River and C.R. 129 almost at the Wyoming state line. South of Steamboat Springs, Oak Creek also was kicking up, Draper said. It was about to overwhelm the concrete culvert on C.R. 35, which is the back entrance to Sidney Peak Ranch luxury home subdivision off C.R. 14. The rising water of the creek was not threatening homes.
Within the city limits of Steamboat, Butcherknife Creek flowed over its banks overnight Sunday into Monday, and residents along the east end of Spruce Street placed sandbags where the creek ran close to their homes.
West of Steamboat off U.S. Highway 40, County Commissioner Doug Monger said the Yampa River has come over its banks and flooded a field.
"I've got a 40-acre lake out there," Monger said.
With a rain shower adding to flooding woes Monday afternoon, Draper was urging residents to act as the eyes and ears of his crews.
"Call us without hesitation. It's very helpful to us," Draper said. "We need your eyes and ears. We've had great phone calls today, and we're very appreciative of them helping us."
Residents who observe a flooding incident should call Routt County Communications at 970-879-1090, Draper said. The dispatchers can reach road personnel on their radios. He added that the presence of orange cones at a mudslide or overflowing culvert are a sign that Road and Bridge is aware of the situation.
Draper urged people not to try to address road flooding issues on their own.
"Do not get in a culvert or into the water," he said. "It is moving very fast, and it's deeper than (you) think it is. We would also caution against driving through standing water."
Rising flows
The problems being created by Oak, Foidel and Butcherknife creeks Monday are indicative of low-level snowmelt; however, the Elk and Yampa rivers rose dramatically during the weekend.
The Yampa, which had been flowing at a little more than 800 cubic feet per second at midday at the Fifth Street Bridge in downtown Steamboat on Friday, shot above its seasonal average of 1,300 cfs on Monday to 1,900 cfs. That's still well below flood stage of about 4,700 cfs.
Last year, the Yampa peaked at 4,320 cfs on June 7, without causing harmful flooding. That was the highest peak since May 29, 2000, when the Yampa reached 4,620 cfs at the Fifth Street Bridge. In 1984, when Soda Creek flooded downtown Steamboat, the Yampa peaked at 5,670 cfs on May 25.
The Elk River at the U.S. Highway 40 bridge just above the confluence with the Yampa was flowing at 3,290 cfs and a level of 5.97 feet compared with flood stage of 7.5 feet, but that still was in the top 10 percent of flows for May 9.
Elsewhere in the Rocky Mountain region, the Bureau of Reclamation is letting unusual amounts of water out of Flaming Gorge Reservoir on the Green River in extreme Northeast Utah to create extra storage capacity in preparation for expected high flows from the Yampa merging with the Green in National Monument.
Reservoir managers intend to hold back releases on the Green later during the runoff season to reduce the overall flow of the two rivers and prevent flooding in the Utah towns of Jensen and Green River.
— To reach Tom Ross, call 970-871-4205 or email tross@SteamboatToday.com