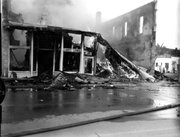 Fires from yesteryear
Some notable fires in Steamboat Springs before the May, 4 1961, county annex fire
■ May 7, 1909: A blaze downtown destroyed the Steamboat Pilot building and damaged Whipple stage barn, the Dunfield-Marsh store and Mitchell drug store, causing a total of about $10,000 in damage. The Brooklyn Fire Department helped fight the fire, which destroyed 24 years of Steamboat Pilot files, dating to 1885.
■ Dec. 9, 1910: Fire destroyed the Steamboat schoolhouse "on the outskirts of town." The school was built in 1889 and was the first two-story school in Routt County.
■ July 23, 1915: A "fiery inferno" ruined the Mutual Theater building, on Lincoln Avenue between Seventh Street and Eighth Street. The flames spread to the Fruit & Confectionery Store of the Crosswhite sisters, and to G.W. Burchfield's barber shop.
■ November 1916: The 23-room Onyx Hotel, built in 1898, burned after the water boiler exploded.
■ Dec. 23, 1927: The Pupke Building, built in 1909 at Lincoln and Seventh, was "completely lost." Also damaged were Hix Grocery & Market, Walt Webber's radio shop and Fred Maurer's jewelry store.
■ Jan. 4, 1939: In Steamboat's most famous and devastating fire, the 100-room Cabin Hotel, where Bud Werner Memorial Library now stands, is consumed by flames in an hour. One employee and one guest died in the fire. Deep snow hindered firemen fighting the blaze in the all-wood structure.
■ January 1941: Mock's Economy Store burns downtown while minus-25-degree temperatures freeze water twice in firemen's hoses. The fire caused about $15,000 in damages and spread to Bill's Cafe and Charlie's Barber Shop.
■ Feb. 28, 1958: The brick-and-wood Yampa Valley M & E Co. burns, causing about $50,000 in damages.
Source: Steamboat Pilot article from May 22, 1969
Steamboat Springs — Henry Muhme can't remember all the details, but he's pretty sure what woke him up shortly after 4 a.m. on May 4, 1961, was the siren.
"Whenever that went off, we could hear it all over town," Muhme recalled last week.
In 1961, and for decades, he lived at 840 Yahmonite St., in Old Town Steamboat Springs. That morning, Muhme said, he must've rolled out of bed and called dispatchers to learn the fire's location.  
The county annex building, they must've told him. Sixth and Lincoln. The site of Elk River Candle Co. and where the county stored equipment including, unfortunately, a fire truck that was unreachable and burning.
So Muhme left his family's house and went down to the old fire barn, a renovated livery barn on Yampa Street between Eighth Street and Ninth Street,
"near exactly where the new fire house is now." He got his gear and went to the fire.
Muhme and maybe nine others would be there for 12 hours, fighting one of the most destructive blazes in Steamboat history.
The county annex fire destroyed a valued county building, drained at least one local reservoir, burned a fire truck and changed how local fire services approached water supplies and gear.
Fifty years later — the anniversary was Wednesday — Steamboat Springs Fire Rescue and the rural Steamboat Springs Area Protection District are in a time of transition. Fire Chief Ron Lindroth asked city officials in February to support a consolidation of fire and emergency services for Steamboat and its surroundings, citing a need for a permanent funding source that could be sought, sometime in the next few years, through a voter-approved property tax. A new intergovernmental agreement could be hammered out in summer and implemented in early 2012.
Lindroth said last week that the county annex fire started Steamboat emergency services on its path to today's infrastructure, such as improved water storage.
"That was the impetus behind getting the good water supply and reservoir system for the city," Lindroth said.
Henry Muhme fought local fires from 1955 or '56 to '76, including a few years as chief. He now lives in Cañon City.
"It's so long ago, I don't remember a lot about it," Muhme, 83, said last week. "You try and tell me something you remember 50 years ago. I can't remember what I done yesterday."
Turns out, though, Muhme's memory is very good. Just like his son's.
Coffee for the crews
Steamboat Springs Fire Marshal Jay Muhme has been watching fires, including the county annex blaze, since he was a boy.
"I remember going to it. I was 7 years old at the time," Jay said last week. "I remember driving down, I had three sisters, Mom and my three sisters and I all went down there early in the morning and took coffee to Dad and the other guys who were fighting the fire down there."
Henry said that kind of charity was common in Steamboat, where fire crews sometimes fought blazes in minus-40-degree weather.
"The people in town would come and bring us coffee or maybe doughnuts or something like that," he said. "The people were just great at the time."
Crews didn't have much gear then.
"You fought in whatever shirt and pants you had on. If you had your suit on or whatever … you just went to the fire," Henry said. "Our first fire engine was an old '32 Ford truck that had been converted."
The annex fire was rolling when crews arrived that morning.
"The front end of (the building) was pretty involved in flame and stuff when we got there," Henry said. "Our first job was to try to knock the flame down and see if we could get it under control."
Henry said there were propane bottles inside the building — 100-pound cylinders.
"It would get so hot that it would pop off and expand the gas out through the safety valve, and then there would be this propane gas blowing in there, also," he recalled.
Crews used water from the city reservoir up Spring Creek, where the park is now.
"We pumped so much water that it drained it down to where it was pretty much nothing in it," Henry said. "We were taking (water) out faster than it was coming in" through the creek.
"You don't take a break — you just keep going," he continued. "We just kept putting water on it, trying to keep ahead of the fire."
Finally, Henry said, crews extinguished the blaze. The building was charred and gutted. But crews soon discovered how much worse their day could have been.
"After we got the fire out, in the basement and everything, we found a case of dynamite down there," Henry said.
"It did not explode."
Changes
Lindroth said Steamboat now has "multiple tanks around the city filling our water systems" for fire services.
Lindroth also revived the Fireman's Ball in January, raising several thousand dollars for the department. Steamboat's first Fireman's Ball was Oct. 14, 1904. It raised $50, according to the Steamboat Pilot.
Citing the stored fire truck burnt in the county annex fire, Lindroth said he's applied for a grant to install a sprinkler system in the mountain fire station on Pine Grove Road, to ensure no more such losses.
"It is one of our goals to have all of our fire stations sprinkled, because we don't want to risk having a fire in any of our fire stations," he said. "That actually occurs in fire stations around the country half a dozen times every year."
Lindroth said stations without sprinklers likely were built before fire codes were in place.
Back to business
Lindroth said the consolidation work is an effort to ensure future fire safety funding.
"When basically all of the city's tax base comes from sales tax … we actually don't understand what the revenues will be from year to year," he said. "We're looking at another stage of evolution to take the next step forward."
Another such change, he said, is a return to inspections of local businesses for fire code and safety compliance. Lindroth said the department implemented inspections in the 1990s, but the practice faded.
"We're going to be getting our firefighters out into the business community hopefully in the later part of this year, reinstituting fire safety and life safety inspections," Lindroth said. "Our first step is going to be a very strong educational component."
He said businesses would have at least two notices of safety issues before potential enforcement from the Fire Prevention Bureau, led by Jay Muhme.
"Our goal is to try and get compliance through education," Lindroth said. "But we will enforce the fire code if we have to, to ensure a fire-safe community."
Jay Muhme said Fire Rescue has self-inspection forms available at its Pine Grove Road office. Business owners also can call fire technician Renee Patterson-Gaerlan at 970-871-8216 for a checklist.
It'll be a big project for Fire Rescue.
"When we started (inspections) in '93, we had probably 1,500 to 1,800 businesses out there that we inspected," Jay Muhme said. "We're well over 2,600 to 2,800 now."
More than four decades
Jay lives in the same house he grew up in, at 840 Yahmonite. He bought it from his parents.
He took on his father's profession, too.
"When he graduated from high school … he wanted to get on the fire department, and the fire department put him on when he was 17 or 18, and he's been in the firefighting business ever since," Henry said.
Jay said he graduated high school in 1972 and started fighting fires in 1973.

"I guess we got that in our blood and we couldn't get it out — we done passed it on down to our kids," Henry said. "We done a lot of work and we had a lot of work to do, but I enjoyed every minute of it."
To reach Mike Lawrence, call 970-871-4233 or email mlawrence@SteamboatToday.com