2011 Sailors girls soccer schedule
March 10 to 12 Colorado Academy Tournament: Steamboat 4, Frontier Academy 2; Steamboat 2, Middle Park 2; Steamboat 6, Vail Mountain School 0
March 18: Steamboat 3, Battle Mountain 2
March 26: Steamboat 6, Eagle Valley 1
April 2: Steamboat 6, Delta 0
April 7: Steamboat 6, Eagle Valley 3
April 9: Glenwood Springs 4, Steamboat 1
April 11: Steamboat 3, Moffat County 0
April 15: Steamboat 3, Palisade 2
April 28: Glenwood Springs 2, Steamboat Springs 1
May 4: Steamboat 2, Moffat County 0
May 5: Steamboat 2, Delta 0
May 6: Palisade 2, Steamboat 0

Playoffs

May 11: Skyline 3, Steamboat 0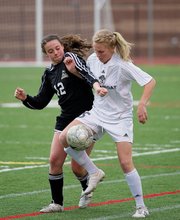 Steamboat Springs — All of sudden the Steamboat Springs High School girls soccer team saw its chances turn into reality.
And in the process — in a series with Battle Mountain where there always seems to be something at stake — Steamboat finally turned myriad chances into to late goals, sneaking away with a 2-1 win Tuesday at Gardner Field.
The Sailors (9-2-1 overall, 7-2 in the Western Slope League) controlled possession for much of the game, outside of a few prolonged rushes by the Huskies.
But Steamboat had nothing to show for it in the first half, leaving the first 40 minutes scoreless.
Finally in the 60th minute, Steamboat's prolonged attack finally paid dividends. Sydney Bauknecht collected the ball just outside the box, drug the ball to her strong left side and rifled a high shot just over the outstretched arms of Battle Mountain keeper Mindy Vickers for a 1-0 lead.
Five minutes later, on a counter attack, Bauknecht and freshman Tatum Sear had a 2-on-1. Bauknecht drew the defender and lofted a perfect pass to Sear who finessed one in for the eventual game-winner.
"I think the difference in the game was from minute 41 to minute 66," Steamboat coach Rob Bohlmann said. "That 25 minutes in the second half, we came out and started sharp. We played possessional soccer and didn't force it. When we lost the ball, we didn't relinquish pressure. You felt it was coming. They did a nice job not getting anxious or frustrated."
But a youthful Battle Mountain team had its own moments and chances in another closely contested battle.
On a counter attack in the 53rd minute, the Huskies moved the ball up the right side. The ball was crossed into the box where Rosie Davies pounded one on net. But Steamboat keeper Hannah Barkey made a sprawling save to keep the game scoreless.
Then in the 55th, on another Huskies corner kick, Emma Porter kicked a laser shot that glanced off the right post.
"You have to take some of those sustained periods of pressure and get a goal," Huskies coach Dave Cope said. "We didn't and felt like we were a little unlucky hitting the post. But Steamboat deserved to win the game. They scored one great goal and one opportunistic goal."
The Huskies made it interesting in the 69th when Pearl Nanin took a long pass up the left side, took her time and sneaked a shot under the crossbar to get the Huskies within one.
Battle Mountain's last chance came in extra time, when a long distance shot sent Barkey back, but the junior corralled the ball in just before her body went across the goal line.
The loss ends Battle Mountain's (5-8-1, 4-6-1) chances at a playoff spot. Steamboat still is in control of the second spot in the league.
Steamboat next plays at 4 p.m. Thursday at Moffat County.
— To reach Luke Graham, call 970-871-4229 or email lgraham@SteamboatToday.com