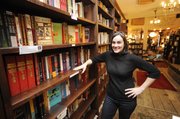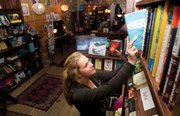 Epilogue's epilogue
Despite closing its downtown Steamboat Springs retail store in April, Epilogue Book Co. owner Erica Fogue said she will continue to provide private library stocking services for residences, lodging properties and more. She'll coordinate those services through Epilogue's phone number, 970-879-2665.
Steamboat Springs — The signs were there for at least the past couple of years — like hints in early chapters that foreshadow a novel's conclusion.
For Epilogue Book Co., one of Steamboat Springs' two downtown bookstores, that end will come next month. Beset by challenges from online book sales, electronic books and a recessionary economy, Epilogue owner Erica Fogue said Wednesday that after eight years in business, the independent bookstore is selling its remaining inventory — 50 percent off everything — and will close when sales finish.
"We want to be done by the end of April," she said. "At this rate, it looks like things are going pretty quickly. We're selling everything."
Fogue said she will continue to offer private library stocking services for residences, lodging properties and other clients. She'll continue to manage those services through Epilogue's phone number, 970-879-2665. Fogue said Epilogue has installed private libraries at One Steamboat Place and The Sebastian Hotel in Vail, for example.
Tracy Barnett, of Mainstreet Steamboat Springs, said the retail store will be missed.
"That's going to be a loss, a huge loss, for downtown," Barnett said. "Epilogue has been a fixture downtown for years, and Erica was an all-inclusive kind of person."
Barnett cited the variety of community events Fogue hosted at Epilogue. The bookstore also offered couches and comfortable chairs along with free coffee and tea, providing a quiet place to relax and turn a few pages.
The store's closing is part of a changing culture that's affecting bookstores across the country. The Wall Street Journal reported last month that Borders Group filed for Chapter 11 bankruptcy protection, with plans to close about 200 of its 642 Borders stores nationwide.
Ron and Sue Krall own Off the Beaten Path Bookstore, which has a Ninth Street location downtown, around the corner from Epilogue.
"It's saddening and a little bit frightening to see them decide to close their doors," Ron Krall said. "It's a sign of how difficult it is to compete as an independent bookstore today. I never viewed Epilogue, really, as our competition. Our competition is Amazon, Kindles and online buying of books and electronic books."
Off the Beaten Path expanded this winter to a second location, in the Sheraton Steamboat Resort at the base of Steamboat Ski Area.
"We don't know for sure that having the second location will work in the long term, but we're very encouraged by it and expect to be there this summer and next fall, and the next winter season," Krall said.
He said Epilogue had a great ability to cultivate a loyal customer base.
"I'm sure their customers are going to miss their store," Krall said. "I hope we can fill that void. We'll certainly try."
Fogue became emotional Wednesday when expressing gratitude for Epilogue's "fabulous booksellers" and saying that, ultimately, she's very grateful for the experience.
"It's been an honor to have the community support that we've had over the eight years," Fogue said. "We were fortunate enough to survive as long as we did."
Other business changes
The final days of Epilogue's retail store come at the front end of a mud season that will see several business-related shuffles downtown.
Linda Petet, co-owner of Steamboat Shoe Market at 907 Lincoln Ave., said she and her husband, Rick Petet, have closed their sister store, Goodie 2 Shoes.
The Petets opened Goodie 2 Shoes in August, across the street at 908 Lincoln Ave. Linda Petet said they closed the store earlier this month. The couple owns the building and are seeking to lease the space, which is listed through Ski Town Commercial Real Estate.
"It was nice having the extra room for the winter, and we really wanted to try the store out," Linda Petet said. "It worked great, but going into summer we just do not need the extra room."
On the same block, Steamboat Art Co. co-owners Melinda Miller and Ashley Edinburg are planning to move their other store, Embellishments, into the back of the Steamboat Art Co. space in April.
"We are going to start a massive sale around next week at Embellishments," Miller said Wednesday.
She said they're hoping to complete the move on about April 17. They'll keep the Embellishments name and install a separate door into the space, off Ninth Street.
"It'll still be Embellishments. It'll just be so much easier having it all under one roof," Miller said. "Trying to keep two stores at the top of their game is really hard. … We just get more done when we're all together."
Barnett said despite the closings and changes, downtown's business outlook for mud season and beyond is not bleak.
"People had a good winter, better than they expected," Barnett said. "We've got a tremendous number of things happening this summer. With all the bike stuff going on, we certainly do have events coming to town."
— To reach Mike Lawrence, call 970-871-4233 or email mlawrence@SteamboatToday.com