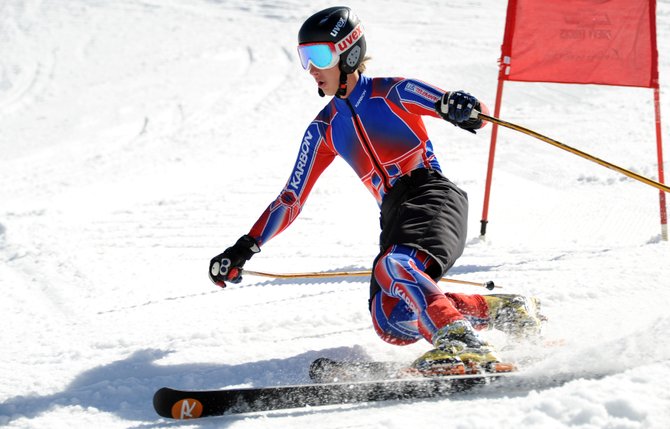 US Telemark National Championship events run today through Sunday
Schedule
■ Today
Howelsen Hill
10:30 a.m. Sprint classic first run
1 p.m. Second run
■ Friday
Howelsen Hill
10:30 a.m. Dual slalom first run
1 p.m. Dual slalom second run
■ Saturday
Steamboat Ski Area
9:15 a.m. Classic race
■ Sunday
Steamboat Ski Area
9:30 a.m. Giant slalom first run
12:15 p.m. Second run
Steamboat Springs — Telemark skiing isn't a once-a-year kind of thing in Steamboat Springs. It's an every day kind of thing. Still, enthusiasts hope this weekend will be special as the U.S. Telemark National Championships swing into town.
The four days of competition start today with a 10:30 a.m. run down Howelsen Hill. Some of the best Telemark ski racers in the country will be there, as will a heap of locals looking for a few sweet turns.
"Everyone gets together. Everyone has fun," Steamboat Telemark coach Ty Upson said. "Everyone checks in. People haven't seen each other in a while. People come out of the woodwork, people that come to this every year. It's pretty neat."

The National Championships start with a sprint classic event today at Howelsen Hill. The day ends with a second run at 1 p.m.
A dual slalom event at Howelsen follows with runs at 10:30 a.m. and 1 p.m. Friday. A classic race is set for 9:15 a.m. Saturday at Steamboat Ski Area, and a giant slalom follows with 9:30 a.m. and 12:15 p.m. runs Sunday also at Steamboat Ski Area
For some, the competitions are a chance to spend time with fellow free-heelers, to match skills and wits in events where registration remains open up until just before the start of the race.
For others, the four races represent the culmination of a season of hard work.
A contingent of Steamboat Telemark skiers spent much of the winter in Europe competing on the World Cup circuit, and they've returned in time for the National Championships.
Others have spent the winter toiling on the local slopes.
"We've been training our team super hard," Upson said. "They've put in hundreds and hundreds of hours. This is their last chance to show what they've done. "
The event serves as a qualifier for the U.S. Telemark Ski Team, which already is stacked with 13 Steamboat skiers in its 18 spots. Steamboat-based skiers hold down five of the seven A team spots, and those on the B and Development teams are looking to move up.
"I'm hope to do really well," Steamboat B team skier Madi McKinstry said.
McKinstry logged a third-place finish at the Junior Telemark World Championships in Norway earlier this season.
"I want to keep up my mentality from Norway," she said. "All the training I've done this year has helped. I'm a lot more mentally prepared. My mental state is a lot more 'Go get them.'"
She'll be among like-minded athletes this week.