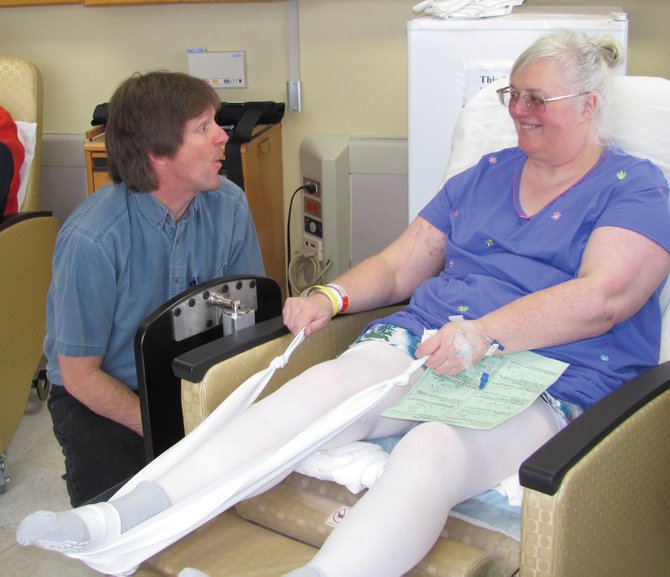 Monday Medical: Joint replacement centers on patients
If you go
Yampa Valley Medical Center will introduce New Mobility Joint and Spine Centerto the community at an open house next week. Attendees will be able to learn more about the joint replacement process from physicians, nurses, therapists and other team members. Educational materials will be available, and knee and hip implants will be on display from 4 to 6 p.m. March 30 in the hospital conference rooms.
Steamboat Springs — Yampa Valley Medical Center Joint Replacement Coordinator Tamara Floyd has a thick file folder filled with comments she has received from patients after their surgery. Here are some examples from 2010:
"I had been in pain for 20 years, after surgery — no pain. It was a wonderful experience. The staff was absolutely fantastic. Like a four-star hotel."
"I am glad I stayed in Steamboat and didn't go to the Front Range. I have a 4.5-inch incision, and other people have 'incision envy.' Ratio of nurses to patients is better. Nurses work together."
"Better than expected; treatment was awesome. Everyone I met was focused on my personal outcome."
Of course, some patients also shared their suggestions for improvement. YVMC listened and decided to make a commitment to strengthening the joint replacement program.
The result is the New Mobility Joint and Spine Center, which the hospital launched in December. New Mobility is based on a successful national model of care developed by renowned orthopedic surgeon Dr. Marshall Steele.
To date, YVMC is one of 127 hospitals nationwide participating in this "destination center of excellence" program.
"The patient is front and center in the New Mobility program," Floyd said. "The patient has always been the center of our focus, and this program has allowed us to add new elements of care."
The hallmarks of New Mobility are personalized care, patient and family education, rapid return to weight-bearing exercise, positive encouragement through visual milestones and patient-designated personal coaches.
In addition, the program provides volunteers who share their experiences with their own hip or knee replacement surgeries. Conversation flows when physical and occupational therapists, volunteers and patients get together for group sessions that foster camaraderie and healthy competition.
During their hospital stay, patients receive daily newsletters. Daily goals are set, and patients track their personal progress on a scenic chart called "The Trail to New Mobility."
Although personalized care and communication are an important part of New Mobility, YVMC also places significant emphasis on clinical care. The New Mobility team, comprising physicians and hospital staff, meets regularly to review patient care strategies.
Patients provide information about their physical status before their surgeries on handheld electronic devices at their surgeons' offices. After surgery, these devices help track their progress and how well their expectations were met.
Patients also receive calls from New Mobility nurses after they go home to ensure that their discharge planning was successful and to get feedback about their experiences.
When compared with national averages, YVMC results for hip and knee surgeries performed in 2010 show:
■ A faster recovery and transition back home

■ A significantly lower rate of surgical complications such as infection, blood clots and severe bruising
■ Patients are extremely satisfied with YVMC and the joint replacement program.
"Results are the most important thing for our patients," YVMC Chief Quality and Compliance Officer Judy Zuccone said. "People come here for surgery because they want to regain mobility and get back to their active, healthy lifestyles. Their feedback tells us that they are pleased with their results."
Although the majority of YVMC joint replacement patients come from Northwest Colorado, a surprising number travel to have their surgery at the hospital. Since Jan. 1, 2009, patients have come from Wyoming, Nebraska, Wisconsin, Washington, New Mexico, Florida, California, Arizona, Texas, Arkansas and Tennessee.
"Our out-of-state patients tell us that they love this hospital because it is small and personalized," Floyd said. "They build relationships with their doctors, nurses, therapists and other members of our care team."
Christine McKelvie is public relations director of Yampa Valley Medical Center. She can be reached at christine.mckelvie@yvmc.org.