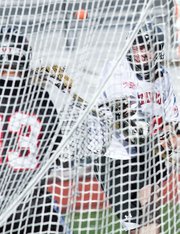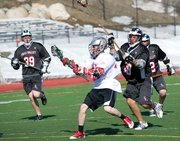 2011 Sailors boys lacrosse schedule
March 11: Steamboat 19, Telluride 2
March 12: Mountain Vista 7, Steamboat 3
March 15: Steamboat 17, Eagle Valley 1
March 18: Steamboat 15, Durango 1
March 19: Steamboat 13, Aspen 5
March 22: Steamboat 7, Summit 1
March 26: Rock Canyon 11, Steamboat 7
April 1: Steamboat 11, Grand Junction 4
April 2: Steamboat 11, Fruita-Monument 3
April 4: Grandview 13, Steamboat 12
April 8: Air Academy 10, Steamboat 9
April 9: Valor Christian 6, Steamboat 5
April 15: Littleton 6, Steamboat 4
April 27: Steamboat 16, Glenwood Springs 0
April 29: Steamboat 9, Battle Mountain 2

Playoffs

May 7: Rock Canyon 11, Steamboat 8,
Steamboat Springs — The Steamboat Springs High School boys lacrosse team continued its dominance of Mountain Conference opponents Tuesday, picking up its second consecutive conference win in dominating fashion.
Steamboat controlled the game throughout, easily beating Eagle Valley, 17-1.
The Sailors (2-1 overall, 2-0 in conference play) have outscored their two conference foes 36-3 in two games this season. Steamboat beat Telluride 19-2 on Friday.
"We got a chance to run our offense," Steamboat coach Bob Hiester said. "The big piece is we're getting people on the field and getting people experience."
Through the first four minutes of Tuesday's game, it looked like the Devils (0-3, 0-3) would have a chance to keep the game close. But the Sailors bombarded the Devils' zone midway through the first quarter and took a 7-0 lead.
Steamboat made it 13-0 at half and led by as much as 15-0 before Eagle Valley's Sam Boyd scored halfway through the third quarter.
"We didn't come out and compete at first," said Eagle Valley coach Ted Boddy, whose team dropped a pair of tight conference games to open the season. "We need to work on making sure we're going full speed. It took us to the third quarter to get the understanding that we weren't going to win, but we still needed to work hard."
Steamboat, for its part, got scoring contributions from all over the field. The Sailors had nine players score, led by four goals from John Wharton.
Lance Ostrom and Jackson Coe each had three, while Grant McCannon added two. 
Christian Ramirez, Erik Owen, John Burrow, Wilber Ranieri and Tucker Allen all added a tally. 
"We just need to pick up our defense more than anything," said Burrow, who had the goal of the game, an end-to-end effort from his defenseman position. "In those games, our offense improves a lot, but our defense just stands around."
Steamboat should see its first conference tests this weekend. The team plays at 4 p.m. Friday in Grand Junction against Durango, and a noon game Saturday at Aspen. 
Knowing that a conference loss could end playoff hopes, Hiester said his team has to be ready no matter who the opponent. 
"We have to establish ourselves as the No. 1 team in our conference and the team to beat," he said. "The way things go, you never know. The conference champion is protected (with a playoff berth). Past that point, you don't know."
Eagle Valley next plays March 22 at home against Glenwood Springs.
— To reach Luke Graham, call 970-871-4229 or e-mail lgraham@SteamboatToday.com