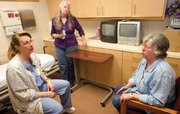 If you go
YVMC's Taking Care of Me program series presents "Invest in Your Bottom Line: Colorectal Cancer. Get screened, it could save your life" at 6 p.m. Tuesday in Conference Room 1 at Yampa Valley Medical Center. Presenters are Mark Hermacinski, MD, FACS, and Mark McCaulley, MD, FACP. The program is free and open to everyone.
Get a screening
Doctors in Steamboat Springs who provide colonoscopy screening:
■ Dr. Allen Belshaw, 970-870-9240
■ Dr. John Sharp, 970-819-8222
■ Dr. Mark Hermacinski, 970-879-9299
■ Dr. Mark McCaulley, 970-79-3327
■ The Memorial Hospital at Craig also has established a chemotherapy clinic in conjunction with St. Mary's Hospital in Grand Junction.
Steamboat Springs — Mary Bea Neu, of Craig, was just finishing her fifth round of chemotherapy Friday and she had something important to say.
"If I had gone in for a colon scope six years ago, I wouldn't have cancer," Neu said. "That's what I want to say. Don't delay. I believe in positive energy."
March is Colorectal Cancer Awareness Month, and Yampa Valley Medical Center is putting special emphasis on the disease because in many cases it is preventable.
"We are really targeting the over-50 population just because we know that's when people should start having colonoscopies," YVMC's Jan Fritz said. "It's just part of getting older and taking care of yourself. Mary would have been in our target group."
Fritz is a registered nurse and director of cancer services at the hospital. She said more than 90 percent of colorectal cases are in people 50 and older.
Not everyone in the Yampa Valley is putting off their colonoscopy. YVMC spokeswoman Christine McKelvie said Friday that doctors at the hospital performed 745 of the procedures in 2010.
A colonoscopy, which does not involve an incision but instead the insertion of a scope through the rectum, allows a surgeon to view the inside of the patient's colon and identify small growths called polyps. Colorectal cancer usually starts with a polyp, but not all polyps are precancerous.
Cancer professionals estimate that 60 percent of deaths from this form of cancer could be avoided with screening
Neu, 56, was diagnosed with a cancerous tumor in her colon in December and subsequent tests showed the cancer had spread beyond the intestinal wall to both lobes of her liver.
She is aware that the outcome of her treatment is uncertain, and she's unabashed about sharing the fact that her own procrastination has endangered her health.
"My gynecologist told me at 50, 'You need a scope.' I always said, 'I've got so much to do; I'll get it done when I have symptoms.'"
Unfortunately, by the time some patients recognize they have symptoms, they already have cancer.
Dr. Allen Belshaw, one of four physicians who perform colonoscopies at YVMC, said he's unsure why people put off the life-saving procedure, then acknowledged that he's not really looking forward to his own colonoscopy when he turns 50.
"I think too often patients think a diagnosis of cancer is a death sentence," Belshaw said. "But unlike pancreatic cancer, which is very difficult to treat, colorectal cancer is one of those where the survivability depends a great deal on the stage" at which it is diagnosed.
"At Stage 1, when it's contained within the wall of the colon, there is a 93 percent five-year survival rate, which is a virtual cure."
In cases where the cancer has spread, the five-year survival rate is 50 to 60 percent, he said.
Dr. Mark Hermacinski said he thinks there is a misperception among the public that colonoscopies are painful.
"Most importantly, it is a silently growing cancer," Hermacinski said. "The only way to find it is to look."
Be observant of changes
Neu's awareness that she had serious health issues can be traced to a trip to Nebraska last year.
"I went on a long train trip to Omaha last October and I had constipation," she said.
Neu tried the typical remedies to get over her irregularity, but with results that struck her as odd. And that's one of the keys for early detection of cancer, Fritz said.
"When you notice that something has changed, something is different, that's when you need to get it checked out. Colorectal cancer also can be prevented, but it's really important to recognize when something is different."
So, for example, if you notice blood in the toilet bowl, don't dismiss it as the result of hemorrhoids.
Doctors were able to address Neu's tumor with surgery, and she is optimistic that chemotherapy will eradicate her cancer. She was treated by Dr. Robert Rifkin, who along with Dr. Allen Cohn is one of two oncologists from the Rocky Mountain Cancer Centers in Denver who routinely come to Steamboat Springs to see patients.
Neu is vivacious and talkative and surprisingly in the pink for someone enduring chemotherapy. She and her husband, Larry, run their own business, Northwest Diesel Sales and Service. Mary Bea continues to do the bookkeeping and payroll from home.
It isn't like Neu to get weepy or emotional, but she has to wipe a tear away every time she takes her cancer bear out of her bag for emotional support.
The child's stuffed animal was given to her granddaughter, Chloe Villard, in kit form as a Christmas gift. The little girl customized it by inserting a message into its chest right next to its heart.
"She gave it to me, and the note asks for Jesus to watch over me in chemo," Neu said. "She's just 7, and she did that all on her own."
Neu said she needs her grandchildren more than they need her.
"This is a journey I'm on. I feel very strong. I believe in God, and if he has a plan that this is the way I die, we'll go with that," she said. "But I think I'm going to beat it."