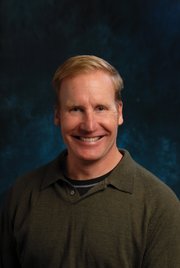 Learn more
Dr. Mark Hermacinski and Dr. Mark McCaulley will present a free Taking Care of Me program, titled "Invest in Your Bottom Line: Get Screened; It Could Save Your Life," at 6 p.m. March 15 in Yampa Valley Medical Center's conference room 1. Free, take-home Hemosure colorectal cancer kits will be given to attendees.
Colorectal cancer is one of the most preventable forms of cancer.
That is truly a profound finding, considering the fact that colorectal cancer is the second-leading cause of cancer-related deaths in the United States.
If we can prevent colorectal cancer, then why don't we?
There are several factors, but the most important one is knowledge. Knowledge is power. The more we know, the smarter our choices will be, and the more power we will have over the disease, its treatment and the outcome.
One important point to know about colorectal cancer is that it usually begins as a noncancerous collection of cells called polyps. If left untreated, polyps can transform and become cancerous. But if detected early, these polyps can be removed, using a relatively minor surgical procedure.
This procedure is called a colonoscopy. So why are we not using colonoscopy to prevent more cases of this preventable cancer?
Many people do not know enough about this disease, how to prevent it or when to get a colonoscopy. Also, many people who are aware of the procedure are reluctant to get a colonoscopy.
The process of diagnosing and treating colon disease involves bowel-cleansing procedures and devices inserted into the body through the anus. People perceive this to be uncomfortable, unpleasant and/or embarrassing. So they avoid or delay having a colonoscopy.
The colonoscopy screening exam is recommended for men and women ages 50 and older. Screening at a younger age is recommended for people with higher risks. But almost nobody looks forward to this screening.
And because of this, many patients do not talk to their doctors about a colonoscopy until they are experiencing symptoms.
Suspicious symptoms for colorectal cancer include blood in the stool, change in bowel habits, abdominal pain, bloating, weight loss, weakness and fatigue.
Unfortunately, once symptoms are present, the chance of finding precancerous polyps is diminished. We can only prevent colorectal cancer at the precancerous stage.
As a surgeon, I have been performing colonoscopies and treating colorectal cancer for more than 20 years. I tell all my patients that the bowel-cleansing prep the day before is the only difficult part, but at least you get to do this at home.
The procedure itself is done at the hospital under sedation. Most patients sleep through the procedure and experience little or no pain. Because of the medication, patients need to take that day off but are back to work or normal activities the following day.
If we see polyps on colonoscopy, we remove them and prevent colon cancer. It is that easy.
I encourage everyone ages 40 and older to make an annual appointment with their family doctor. Your doctor will work with you to screen for cancer and implement preventive measures.
Especially during Colorectal Cancer Awareness Month in March, we are emphasizing this simple message: Get screened. It could save your life.
Mark Hermacinski, MD, FACS, is a general surgeon at Alpine Surgical Associates in Steamboat Springs.