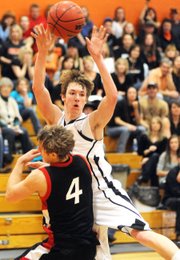 Class 2A regional brackets
Boys Region 5
Mesa State College
■ No. 5 Del Norte (13-10)
Del Norte had to battle its was through the District 1 preliminary-round game. After falling to Sargent, Del Norte played its way into the regional tournament by beating two higher-seeded teams to get the fifth and final spot out of its district. The Tigers are led by junior Kaleb Stephens, who averages 13 points per game.
■ No. 2 Denver Christian (18-3)
The Crusaders might be the scariest No. 2 seed in the entire tournament. Denver Christian lost to Denver Lutheran in its district championship game and has lost two of its last three games after winning 14 straight. The Crusaders are led by Alex Terpstra's 13.6 points per game and the guy behind the bench. Denver Christian coach Dick Katte is Colorado's all-time leader in wins.
■ No. 3 Ridgway (11-10)
Ridgway beat Dolores in a third-place district game to get into the regional tournament. It's hard to tell how good the Demons are, coming out of a top-loaded District 3, where Ignacio — a No. 1 seed — breezed through the season. The Demons have been up and down all year, registering a five-game winning streak and a five-game losing streak.
2010-11 Tigers boys basketball schedule
Dec. 9 to 11 Meeker Tournament:
Dec. 9: Hayden 69, Mancos 45
Dec. 10: Grand Valley 41, Hayden 38
Dec. 11: Hayden 63, Meeker 50
Dec. 17: Hayden 57, North Park 35
Jan. 7: Hayden 60, Meeker 50
Jan. 11: Hayden 80, Vail Christian 70
Jan. 14: Hayden 67, West Grand 44
Jan. 15: Hayden 77, North Park 45
Jan. 21: Hayden 83, DeBeque 36
Jan. 28: Hayden 59, Soroco 44
Jan. 29: Hayden 66, Rangely 42
Feb. 1: Hayden 78, Vail Christian 54
Feb. 4: Hayden 63, Plateau Valley 52
Feb. 5: Hayden 77, Paonia 65
Feb. 8: Hayden 84, Vail Mountain 41
Feb. 11: Hayden 65, Soroco 46
Feb. 12: West Grand 53, Hayden 52
Feb. 15: Little Snake River 60, Hayden 43
Feb. 18: Hayden 69, Vail Mountain 45
Feb. 25 and 26: District tournament
Hayden High School boys basketball coach Mike Luppes will admit this much: Last year heading into the regional tournament, his team lucked out with the way the bracket fell.
Not the case this year.
Hayden opens play at 7:30 p.m. Friday at Mesa State College in Grand Junction against Del Norte. A win there would set up a monumental showdown at 12:30 p.m. Saturday, most likely against state title contender Denver Christian (18-3).
The school plays Ridgway (11-10) on the other side of the bracket.
"Having a look through all the 2A regional brackets, there isn't an easy one this year," Luppes said. "If you're going to see a good team, you might as well see them there.
"We'll know we have to be good to get to state."
The winner of the regional advances to the eight-team state tournament next weekend in Pueblo.
But before Luppes or Hayden can look toward a possible showdown with Denver Christian, they have to deal with a pesky Del Norte team.
The Del Norte Tigers (13-10) got out of the 2A District 1 preliminary-round game before falling in the quarterfinals to Sargent.Del Norte, however, played its way into the regional tournament by beating two higher-seeded teams to win the fifth and final spot out of District 1.
Del Norte is led by guards Kaleb Stephens and Colin Trujillo. Luppes said the key isn't so much as containing those two as it is limiting the Tigers' second-chance points.
"We can't have them having more than one scoring opportunity," he said.
Should Hayden win, it sets up that likely showdown with Denver Christian, a game that would be a terrific primer for the state tournament.
The Crusaders finished 12-1 in the 2A Mile High Basketball League, most likely the toughest in 2A, and feature Colorado's all-time-wins leader Dick Katte as coach.
"We know it's not going to be an easy region," Luppes said. "It's a huge challenge we're really looking forward to."
— To reach Luke Graham, call 970-871-4229 or e-mail lgraham@SteamboatToday.com