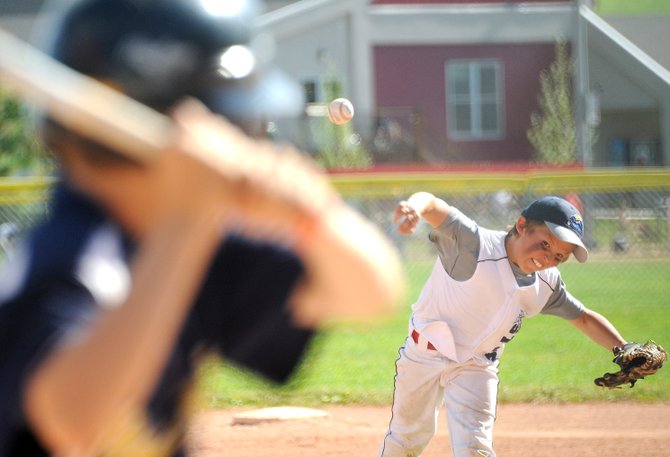 Steamboat Storm end on thrilling victory
An extra-inning victory couldn't save the Steamboat Storm in this weekend's Mountain Magic Triple Crown youth baseball tournament in Steamboat Springs.
That did little to dampen the spirits of the local players afterward, however.
"You should have seen us last year," Cale Reistad said. "We got a lot better."
The Steamboat squad went 2-2 on the weekend and missed the chance to advance in the tournament to play Sunday after losing a tiebreaker.
They did everything they could in the final game, a Saturday afternoon tilt against the West JeffCo Cougars, to give themselves the chance to advance, however, even after it appeared that a few late-inning mishaps would ruin everything.
Steamboat took advantage of Cougar mistakes early and often, pounding home two runs in the first inning despite leading off with two outs. Big doubles from Dave Brown and Davis Petersen kept things alive and set up the big inning.
The squad added another run when Reistad scored the first of his two runs. He also scored in a four-run fourth inning, helping take advantage of another situation despite playing with two outs.
Aggressive base running — the squad had six stolen bases — helped the team and eventually proved decisive.
Despite Steamboat's pushing a three-run lead to four when Sammy Schuiling scored in the fifth inning, the Cougars used their final at-bat to tie the game, 8-8.
"We got the big lead, and we just kind of chilled out for a little," Sean Patten said.
Steamboat was quick to take advantage in the first extra frame. The team loaded the bases and scored once and then two more times on a crazy play that had runners zipping everywhere.
One Storm player was tagged out at the plate, but when the Cougars sought to catch more players off the bases, they overthrew first base, freeing two Steamboat players who had both been in trouble. They flew around the bags to give their team an advantage it wouldn't give back.
"It was really hard to figure out," said Payton McElhiney, one of the players who cashed in for the score.
The win wasn't enough to place the team in the next round of the playoffs, however.
"These kids put their heart and soul into the game this weekend," coach David Reece said. "Last year in their first tournament, they were run-ruled in every single game, but they've progressively gotten better and better. Now they're a threat, and they definitely have a bright future." 
 To reach Joel Reichenberger, call 970-871-4253 or email jreichenberger@SteamboatToday.com