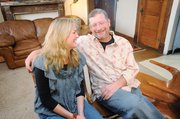 How far will Blake go?
Steamboat Springs High School graduate and Greenville, S.C., resident Blake Julian also is lighting up the small screen as a contestant on this season of "The Bachelorette."
Julian started off the show as one of 25 contestants vying for the heart of Ashley Hebert. After weeks of the dates dreams are made of and plenty of drama, Julian remains one of eight bachelors.
Julian is not allowed to talk to the media until he is off the show, which has already been filmed through the season finale.
Could he be engaged to Hebert right now? Tune in to "The Bachelorette" at 7 p.m. Mondays on ABC to see how far the former Sailors football star makes it.
Steamboat Springs — It started off as Dave Epstein's chance to meet Jerry Seinfeld.
And meet the famous comedian he did, but as he and his wife, Carrie, auditioned and filmed for NBC's "The Marriage Ref," Epstein's road to reality-show stardom was paved with a breadth of other unforgettable experiences: a whirlwind vacation to New York City, the pressure of nerves under the lights at NBC Universal Studios, and laughs. A lot of laughs.
"We had a great time with it," Steamboat Springs local Dave Epstein said Tuesday.
Although Dave Epstein said he tried to keep "low-key" and not tell many friends that he and his wife of almost 12 years would be appearing on the show, NBC announced this week that the Epsteins' episode would air July 17.
The process began when the pair auditioned for the game-show-based marriage counseling comedy in Denver last fall.
They were asked back, and a film crew from New York later came to Steamboat, which led the couple to think they had been picked for the show. They were invited to New York the week before Christmas.

"We thought it was kind of a funny show," said Dave, who runs the Twin Enviro Services landfill and owns Home ReSource center in Milner. "With Carrie and I, people that know us know that we're very boisterous personalities. She's just a trip. It was one of those things that we felt like, if you're going to be on a reality show, this is one you could be on and not be hazed too bad."
He might have been wrong about the latter.
In front of a panel of celebrities including comedian George Wallace, actress Denise Richards and comedian Seth Myers, each Epstein gave their side of the story of Carrie's obsession with holistic health.
Dave maintained that she takes it too far, and Carrie doesn't understand why he doesn't get regular massages — especially when she's a professional massage therapist.
And in the end, it was up to the marriage ref, host Tom Papa, to decide who was "right."
"They definitely teased us really good about our subject," Dave said. "And they tried to provoke us. It's hard to get a word in edgewise — they're fast; they're pros. It was scary that way."
And now, Carrie Epstein will get to hold it over her husband's head: The marriage ref called it her way.
"I don't mind," Dave said about his wife being deemed "right" on national television. "If anything, it makes me want to work harder to see her side."
As the winner from her couple, Carrie got to go on to the next round, up against the winner from two other couples. From that round, the "Right-est of the Right" wins $25,000 and a billboard in his or her hometown declaring his or her right-ness.
As of now, there's no billboard up in Steamboat, and the outcome of the show is a heavily guarded network TV secret. Tune in at 9 p.m. July 17 local time to watch the full episode, complete with on-scene shots of their life in Steamboat Springs.
Dave Epstein said he was proud to be able to say he was from Steamboat on a show filled with contestants and celebrities from both coasts.

"I think we represented it well, for sure," he said.
And though it's doused in tongue-in-cheek, Epstein takes the show's humor with a grain of salt, knowing there's an important message hidden among the quips.
"To be able to communicate well with your significant other, that is ultimately very important," Epstein said. "There's no doubt."
— To reach Nicole Inglis, call 970-871-4204 or email ninglis@SteamboatToday.com