Photo Gallery
New Works Festival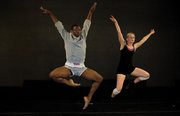 If you go
■ Friday
8 p.m. Dance program featuring new works from Kyle Abraham/Abraham.In.Motion. Tickets are $20. Main studio.
■ Saturday
1 p.m. "Eat Your Heart Out" by Courtney Baron, directed by Michelle Bossy
4 p.m. "Cristina Marie," formerly "Baby Girl," by Octavio Solis, directed by Juliette Carillo
8 p.m. "Boy Wonders" by Joe Tracz, directed by Victor Maog
■ Sunday
2 p.m. "Chimera" created by Deborah Stein and Suli Holum
For more
Tickets for staged play readings are $15 and take place in the Julie Harris Theater.
Steamboat Springs — Three years ago, Octavio Solis sat in the same sunlit log building that houses the Perry-Mansfield Performing Arts School and Camp dining hall, chewing a bite of sandwich and talking about his new play, "Lydia."
On Wednesday, he dined there once more, only "Lydia" had since been picked up for runs at three theaters across the country, and his attention is now turned to his newest work, "Cristina Marie."
At the 14th annual New Works Festival, he and three other playwrights had the "gift" of a week at Perry-Mansfield to work through new plays and dances that might be seen around the country in coming years in full production.
This weekend, audiences will have the chance to watch staged readings of the four plays as well a dance program by contemporary choreographer Kyle Abraham.
Although these are not final versions of the works — it may take a little more imagination on the part of the audience — Solis said seeing an "undressed" version of any theatrical piece is an experience all its own.
"The incompleteness is the delight of the work," he said. "It's going to change in some way, and the audience is going to impact that."
Bare movement
The festival's performances begin at 8 p.m. Friday with a dance program from Kyle Abraham/Abraham.In.Motion. The plays take place Saturday and Sunday.
Abraham, four of his New York company members and four Perry-Mansfield Pre-Professional Intensive students will dance in the program, which features three pieces currently in development.
Abraham is using some elements from previous dances and fitting them together in a dance collage, layering the students and professional company members to experiment visually with one piece that will premier in New York in December.
"Live! The Realest MC," as it's called, was inspired by the story of "Pinocchio," but is twisted into a hip-hop context in which the main character wishes to be a real dancer with the swagger, style and expected masculinity of the hip-hop culture.
With minimalist, bass-heavy electronic sounds blasting from the speakers, the nine dancers' bodies work off the beats of one another so it seems as if the music is following them instead of vice versa, while the choreography explores deep-seated emotions and releases through physical and visceral movements.
He's been working on "Live!" for more than a year but will also display some new choreography created just for New Works.
"When I'm getting more feedback, it helps me find what is important in the work," Abraham said about New Works.
As for his unusual choreographic style, "There will be questions about what in the world is this. But hopefully they'll watch and listen and get some of the aggressiveness of the movement and sound."
Setting the bar
Ellie Swiatkiwsky, one of the scholarship students chosen to participate in New Works before her regular summer program, said working with Abraham and his company members was an "incredible" experience.
"Not only is he such a great choreographer — his movement is like a language you have to learn — he's a beautiful human being," said Swiatkiwsky, who will be a sophomore at the Juilliard School in the fall. "And the company, they're so inspiring, they embody what it is to be a professional."
New Works artistic director Andrew Leynse said the interactions among students and professionals is an important part of the festival, and it's no coincidence that the rest of the Pre-Professional Intensive students arrive Friday to begin their summer programming.
"It's the first thing they see," he said. "It sets the bar for them."
Theater director Victor Maog, who also is directing "Boy Wonders" in the New Works Festival, said the influence of seeing the professionals in the process of tweaking, reworking, rewriting and contemplating their work is invaluable to an arts education.
"It's a great lesson to students — that it's OK to live in questioning and doubt," Maog said.
— To reach Nicole Inglis, call 970-871-4204 or email ninglis@SteamboatToday.com