Peabody seeks to expand Red Rock gravel pit
Proposal would allow 5 acre pit to grow to 23.3 acres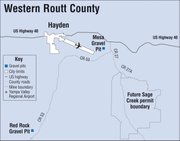 Steamboat Springs — Peabody Energy has agreed to preserve a minimum of 13.3 acres of rural land south of Hayden in exchange for a permit allowing it to expand the existing 5-acre Red Rock Gravel Pit to 23.3 acres.
Peabody, owner of the Twentymile Coal Mine in western Routt County, will make its presentation for a special-use permit to expand the mine to the Routt County Planning Commission at 6 p.m. Thursday.
The Routt County Road and Bridge Department shares the gravel pit with Peabody Energy and will continue mining small amounts of gravel and will stockpile it there for repair of county roads in the vicinity.
Rock Creek is about 14.5 miles from an area where Peabody is widening roads to allow development of the new Sage Creek Mine not far from Twentymile Mine. Road improvements are expected to cost Peabody several million dollars, county senior road engineer Heather McLaughlin has said. The improvements would include a 200-foot-diameter roundabout at the intersection of county roads 27 and 27A that would allow heavily loaded trucks to roll continuously while reducing the risk of accidents for general traffic.
County regulations say that any new gravel mine or expansion of an existing mine totaling more than 10 acres shall require the developer to enter into an agreement with the county detailing an appropriate conservation mitigation plan.
Scott Cowman, the senior environmental specialist for Twentymile Mine, argued unsuccessfully before the county commissioners during an April 12 conceptual review that his company should not be held to the conservation mitigation requirement.
Cowman contended that Twentymile shouldn't have to mitigate because the gravel will be mined in three phases and fewer than 10 acres will be disturbed at any one time. He added that the mining will actually clean up some unsightly cliff overhangs at the site, and his company has valuable coal holdings immediately adjacent to the gravel pit.
However, Commissioner Doug Monger said the county has enforced the requirement on other gravel pit operators and that it's essential that regulations be applied consistently.
There has been virtually no neighborhood opposition to the expansion of the pit. County Planner Rebecca Bessey wrote in a memo to the Planning Commission that Colorado Division of Wildlife officials have said Columbian sharp-tailed grouse use nearby land, but the mining activity isn't expected to disrupt them. No other threatened species use the site.
— To reach Tom Ross, call 970-871-4205 or email tross@SteamboatToday.com