Sheriff's Office issues river restriction
The Routt County Sheriff's Office issued a partial-use restriction Monday banning single-chambered inflated devices, such as inner tubes and air mattresses, from all creeks and rivers in the county until July 1.
According to a news release, the Sheriff's Office restricted the devices because "normal or above average runoff and/or water levels pose a definite threat of increased incidents of water recreation accidents or injuries within our jurisdiction."
The release said that the Sheriff's Office was not prohibiting use of whitewater canoes or kayaks.
Photo Gallery
High water in Routt County on June 13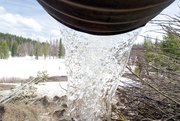 Snotel measurement sites
■ Snow in inches
Monday — June 6
Rabbit Ears: 32 — 55
Tower: 138 — 158
Zirkel: 30 — 53
■ Snow water equivalent in inches
Monday — June 6
Rabbit Ears: 19.4 — 31.8
Tower: 67.5 — 76.6
Zirkel: 14.9 — 27
Source: National Resource Conservation Service
Steamboat Springs — Temperatures now are predicted to reach the high 70s by midweek, but the peak flows this week for the Yampa and Elk rivers have been downgraded.
According to the National Weather Service's office in Grand Junction, temperatures in Steamboat Springs are forecast to reach 77 degrees Wednesday and 79 on Thursday before returning to 77 on Friday.
The Weather Service's office predicts the Elk River near Milner will exceed the 7.5 foot flood stage and reach 7.9 feet by 6 a.m. Friday. It previously was forecast to reach the moderate flood stage of 8.5 feet. The Yampa River at the Fifth Street Bridge downtown is expected to reach 6.6 feet, down from the earlier prediction of 6.7 feet. Flood stage at that location also is 7.5 feet.
The U.S. Geological Survey predicts similar levels for the Yampa and Elk by Friday.
Aldis Strautins, a hydrologist with the Weather Service's office in Grand Junction, said area rivers and streams could run high through the month because of snowpack in the surrounding mountains.
The Tower measuring site at 10,500 feet on Buffalo Pass was reporting 138 inches of snow containing 67.5 inches of water Monday. Strautins said the day's historical snow water equivalent average for that site is 29.2 inches.
He said there's still a potential for flooding issues.
"If we see a strong increase in temperatures where we get a couple, three, four days of well-above-average temperatures, like 8 to 12 degrees above normal (of about 75 degrees for June)," Strautins said, "that could bring off what's left up there, and we could have some problems again."
Routt County Office of Emer­­­gency Management Dir­ector Bob Struble said that the Yampa behaved itself through Steamboat on Monday and that the Elk rose but is below flood stage.
He said for the most part, flooding issues in the county haven't been as bad as some predicted.
"Saddle Mountain Ranch got hit extremely hard, but overall people did extremely great mitigation work," Struble said. "We have some wet crawl spaces, some water in yards and up to buildings, but that's the worst of it so far."
Ranch owner Tony Connell said the family of Andy George, which rents a house on the property and voluntarily evacuated June 3, won't be able to return until high water subsides. He said water continues to enter the ranch from the east fork of the Elk, which isn't common.
"The ranch never had, since the 1940s from what I've found, water in the house," Connell said.
Struble said the Office of Emergency Management hasn't evacuated any residents. He said any residents who have evacuated have done so voluntarily.
According to the Weather Service, the Yampa was flowing downtown at 5.34 feet as of 4:15 p.m. Monday. At 3:30 p.m., the Elk was at 7.35 feet, below flood stage where it is expected to remain until Wednesday. The Elk is forecast to remain near flood stage until Friday.
"I think the rivers have really stabilized over the weekend with the cooler weather," Struble said. "Hopefully it will stay cool, as it has been, the whole week. We'll see."
Steamboat Springs 100-year floodplain
— To reach Jack Weinstein, call 970-871-4203 or email jweinstein@SteamboatToday.com