Yampa River remains steady this morning; to exceed 8 feet by Tuesday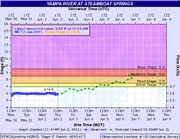 Steamboat Springs — The height of the Yampa River remained steady overnight through Steamboat Springs, but it's expected to rise during the course of the day today and peak at about 7 feet tonight at the Fifth Street bridge measuring site, according to the National Weather Service in Grand Junction.
A similar trend is expected to continue into Monday and Tuesday, with the forecast calling for high temperatures in the 70s.
The Yampa is forecast to reach 7.7 feet at Fifth Street by 6 a.m. Monday and rise to 8.2 feet by 6 a.m Tuesday. The flood stage at that location is 7.5 feet. The third highest recorded height at that location is 7.65 feet, set on June 3, 1997. The record crest was June 8, 1905, when the river reached 8.9 feet. A year ago the Yampa peaked at 6.72 feet on June 7.
In terms of cubic feet of water per second, or cfs, the Yampa was flowing at about 3,500 cfs early Thursday morning. That is about 150 percent of average and shy of the June 2 record of 4,860 cfs set in 1914.
The Elk River was measured at 7.3 feet near Milner on Thursday morning and is forecast to reach 8.7 feet by 6 a.m. Monday. Moderate flood stage at that location starts at 8.5 feet while the major flood stage starts at 9.5 feet.