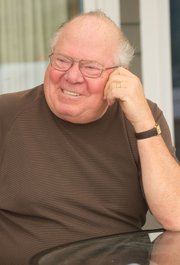 Steamboat Springs — Steamboat Springs resident and legendary sports broadcaster Verne Lundquist has signed on to do play-by-play for the Denver Broncos' three preseason games.
Lundquist, known for his booming laugh and voice during The Masters, PGA events, college basketball and SEC football broadcasts, was reported first as the play-by-play guy for the Broncos preseason by The Denver Post on Monday.
The change came with KUSA-Channel 9 becoming the flagship station of the Denver Broncos after the team spent seven years with KCNC-4.
There has been no mention of his partner in the booth, but candidates are reportedly Alfred Williams, Ed McCaffrey and Mark Schlereth.
Lundquist has plenty of NFL experience, starting as the play-by-play man for the Dallas Cowboys in 1972. He also called NFL games from 1984 to 2000 and recently had done preseason games for the Seattle Seahawks.
Should the NFL lockout not delay the season, Lundquist will broadcast Denver's preseason opener Aug. 11 at the Dallas Cowboys.
— To reach Luke Graham, call 970-871-4229 or email lgraham@SteamboatToday.com