Photo Gallery
Goats at downtown home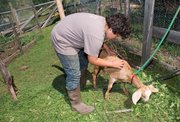 Past Event
Tuesday, August 2, 2011, 5 p.m.
Centennial Hall, 124 10th St., Steamboat Springs
All ages / Free
Agenda highlights
5 p.m. Education Fund Board update; application resolutions for Great Outdoors Colorado grants; first reading of an ordinance to participate in a coordinated election Nov. 1 with Routt County; second reading of an ordinance to extend SmartWool's lease at Steamboat Springs Airport; and second reading of an ordinance to ask voters to consider a 0.25 percent sales tax to supplement the winter air service program
7 p.m. Public comment; consideration of a development plan that would allow Steamboat Christian Center to build a 15,000-square-foot addition; and consideration of a conditional-use permit for a vendor to sell ice cream from a cart at 655 Yampa St.
Steamboat Springs — Holly and John Fielding want people to know just how beneficial goats can be. Their effort moved forward last Thursday.
The Steamboat Springs Planning Commission gave its blessing to an ordinance that would permit goats on small residential lots, which paves the way for the City Council's consideration of it Tuesday.
Holly Fielding said she first bought goats more than six years ago for her sons before they moved to Steamboat, to teach them about the responsibility of caring for an animal and pet therapy. These days her family has three adult goats, two of which produce a gallon of milk daily, and four young goats, or kids, at their Old Town home.
The Fieldings drink the milk and use it to make cheese and ice cream, Holly Fielding said. She's heard about people making goat milk soap but hasn't tried it yet.
"I think goats are one of the most city-friendly animals," Fielding said. "They are also great lawn mowers and weed eaters."
City Code Enforcement Officer Barb Wheeler said she began researching goats more than two years ago as an alternative to chemical treatment of noxious weeds. In that time, Wheeler said she's learned about other potential benefits of owning goats, from their milk production to service as pets.
"They're just amazing," she said.
The Planning Commission approved the ordinance by a 4-1 vote. It would allow residents to have two to three domestic goats, excluding kids up to 16 weeks old, in fenced enclosures of at least 200 square feet per animal in backyards of residential lots zoned for single families or duplexes.
Previously, goats were allowed only in residential estate districts, larger lots at least 1 acre in size and open space and recreation zoned districts.
Planning Commission mem­­­­ber Troy Brookshire opposed the motion. Planning Commission member Jennifer Robbins didn't attend the meeting.
Brookshire said he wasn't ready to allow goats in smaller residential districts. He expressed several concerns including the animals' impact on property values, security of the animals and some of the fencing requirements of the ordinance.
"I don't think the population of the city came to the city and said we need this," he said. "I think this ordinance impacts a few residents and not the broader community. I don't know if the community supports this."
City Planner Seth Lorson said while many residents supported the ordinance at the July 14 Planning Commission meeting, when it was first considered, the city is aware of only a few goat owners on small residential lots. But he said the city is preparing for what could become a more common sight.
"There hasn't been a great outcry," he said. "We're seeing as a trend and a movement across the country for more sustainable food supplies. … We're just getting out in front of it, I think."
The ordinance would require goat owners to pay a one-time $50 fee. And existing goat owners would need to comply with the ordinance if the City Council approves it on second reading, which is scheduled for Sept. 6.
Owners who don't comply would be subject to municipal court fines, but Wheeler said the city would work with residents to make sure they understood and complied with the ordinance.
John Fielding said the ordinance is a step in the right direction, but he has some concerns.
"We'll see how it comes out, but certainly there are a lot of regulations," he said. "I suggest that keeping of goats become a use by right so there would be no planning staff review. … It shouldn't be different that what it is for dogs."
To reach Jack Weinstein, call 970-871-4203 or email jweinstein@SteamboatToday.com