If you go
Call ahead to the U.S. Forest Service in Steamboat Springs at 970-879-0273 for news updates on trails conditions and advice on when and where to hike.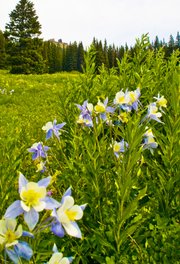 Trail alternatives
Rabbit Ears Peak: The trail, about 3 miles each way and an all-around three-hour hike, reaches the peak of one of the region's signature mountains and thus is always popular. It's usually one of the best wildflower hikes in the region, and thanks to the slow summer, their prime could be coming soon when in most years it'd be long since passed.
Sarvis Creek: The trail is close to Steamboat, located just 13 miles to the southeast, and makes a good alternative with much of the high-country closed. Sarvis Creek Trail 1105 can be hiked for a long overnight trip. A shorter out-and-back version of nearly 10 miles also is popular.
Sugar Loaf Mountain: It's a trip — located north of Hayden in California Park — but it's dry and should offer a nice change of pace for hikers who've grown tired of the lower-elevation trails in the Steamboat Springs area. There's a 10-mile, four-hour option on Trail 1144.
Steamboat Springs — Few this side of Mother Nature can claim to have done more to get hikers on trails around Steamboat Springs than Diane White-Crane, author of the best-selling guidebook "Hiking the 'Boat" and it's equally popular sequel, "Hiking the 'Boat II."
Now a decade after the second book was first published, White-Crane, 66, still eats and breathes Steamboat Springs-area hiking, hitting the dirt whenever she can and quizzing like-minded friends about trail conditions whenever she can't.
She's funneling all that knowledge through her newest method of reaching Routt County hikers, a "Hiking the 'Boat" Facebook page where she hopes to collect reports from all of Steamboat's outdoors fanatics.
Living on the information edge of hiking in Steamboat has been little more than frustrating this year, however.
With August a day away, many favorite trails in the region still are under snowpack, or on the far side of impassable creeks. Many of summer's great delights are off limits in a season like no one can remember.
"I'm just sort of baffled by it all," White-Crane said with a sigh. "It's been very frustrating."
What hiking season?
A deep winter and, perhaps even more important, the long and slow swing into spring and summer have all led to Steamboat summer havoc —  tubers not blowing up their crafts until the time of year when they'd typically be deflating them; and volunteers with next weekend's Ride 4 Yellow event frantically shoveling snow off sections of the Continental Divide Trail that will play host to that second annual cancer-fighting event.
Still, patterns have emerged from the mayhem.
"Everything seems to be about three weeks late," said Kent Foster, recreation manager for the U.S. Forest Service in Steamboat. "Even my garden."
That means some of the same rules that have always governed summer hiking can be applied, if only pushed back.
There aren't usually too many early July trips to the Mount Zirkel Wilderness Area, and this year wasn't any different. In fact, much of the area is still under snow.
Devil's Causeway, one of the most popular hikes in the Flat Tops Wilderness Area, isn't ready, either.
"It's still winter at Mica Lake," White-Crane said, citing a popular Mount Zirkel-area hike. "My husband bumped into people coming down and they were carrying skis and snowshoes."
Other areas were so affected by the powerful runoff they were rendered inaccessible. A log long used to cross Gold Creek in the Zirkel Wilderness was washed out. As long as that water remains high, Gold Creek Lake and Mount Zirkel itself are unattainable.
Two other trail bridges were washed away on the Continental Divide Trail, 1101.
"It just shows you how much water came off," Foster said. "We're working on some re-routes so people can still use those trails."
Options aplenty
So what's a hiker to do, besides wear out Mad Creek Trail?
The high country should open up in the next couple weeks, about three weeks after normal. In the meantime, there are options, the experts insisted, all of them lower-elevation hikes, trails from which the snow is already long gone.
"Mad Creek, Red Dirt, Sarvis Creek, all those lower trails, the flowers have been absolutely gorgeous," Yampatika naturalist Karen Vail said.
Many areas of wild flowers may have already reached their peak and wilted. This year, of course, they're about three weeks behind, making late-July hikes unusually enticing.
Another option is getting out of town, specifically to the west.
White-Crane pointed to a hike in California Park, a trail to Sugar Loaf Mountain on Trail 1144, the only one in her 108-trip guide to lead readers to the area north of Hayden. It's a good drive from Steamboat — the trailhead is about 50 miles away — but, thanks to a lower elevation, it's dry and ready.
"I only covered that one trail in the book, but it's a big area," she said, flipping through her own book looking for solutions to a problem that has plagued hikers this summer.
She paused to read aloud what she'd written a decade ago about the Sugar Loaf Mountain trip.
"God willing," she read, "I intend to make this hike again some day, when I have lots of time, a good lunch, a camera and a book about beavers. I will sit quietly for a couple of hours at the beautiful ponds, reading and observing."
She snapped back out of the book, back to 2011.
"I never did that," she said with a hint of disappointment. "I'm going to now. This season, what else is there to do?"
To reach Joel Reichenberger, call 970-871-4253 or e-mail jreichenberger@SteamboatToday.com