Gov. Hickenlooper touts economic policy at Hayden event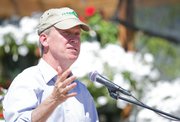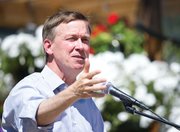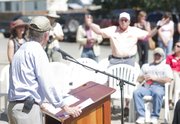 Steamboat Springs — Gov. John Hickenlooper said Colorado is known for its mountains, reliable sunshine and enviable outdoor lifestyle.
"But it's also a place of innovation," the governor said.
Hickenlooper's statement served as the crux for a Friday gathering at Yampa Valley Feeds in Hayden.
The Hayden event featured presentations by the governor, regional business owners, a city of Steamboat Springs official and a Moffat County commissioner.
Hickenlooper used the event as a platform to introduce "Colorado Blueprint: A bottom-up approach to economic development," an outline of steps designed to encourage and support economic development throughout the state.
Hickenlooper said the blueprint plan attempts to answer the question, "How do we become a more pro-business environment?" The first-year governor also said the economic development plan is unique.
He said state officials traveled throughout Colorado and conducted 55 community meetings to discuss matters of business and workforce, and how the state could create a more nurturing environment for businesses. More than 5,000 people attended those meetings, and an additional 8,000 people submitted comments through the Internet.
"This is something I don't think any other state has done — to go out and ask every county to take time and figure out what you want your economy to look like in 20 years or 40 years and what will it take to get there," the governor said.
Hickenlooper said three issues were commonly discussed at the community meetings: broadband, workforce training and red tape.
"We recognize we need appropriate regulation," the governor said. "We're not saying we're going to get rid of regulation. What we're going to get rid of is the red tape."
Regarding workforce training, Hickenlooper said the answer will focus on Colorado youth.
"We have lots of jobs that are coming on line that kids aren't trained for," he said. "We need to make sure our education system is giving us workers."
Next, Hickenlooper pledged to bolster broadband service throughout the state to help level the playing field among communities.
Before the governor's speech, two Steamboat Springs residents touted business developments.
Philo Shelton, public works director for the city of Steamboat Springs, provided an overview of the town's economy, particularly outdoor product manufacturers such as Moots Cycles and Big Agnes, and recent developments with SmartWool.
"The city of Steamboat Springs is most proud of our partnership with SmartWool since 2002," Shelton said. "This year, we have negotiated a new long-term office lease with SmartWool that not only keeps the employees here in Steamboat, and it allows for expansion over the next 10 to 15 years."
Next, Moots Cycles President Rob Mitchell shared an overview of his company's history.
Moots, he said, started in Steamboat Springs more than 30 years ago and still maintains 100 percent of its manufacturing in the city.
In addition to maintaining a manufacturing stronghold in rural Colorado, the company also buys domestic materials.
"All of our bikes and components are built with the highest grade U.S.-made titanium," he said.
Some of those products, however, end up overseas, Mitchell said.
"Thirty-five percent of our business is being exported outside the United States, predominately to Asia and Europe," he said.
Ben McCanna can be reached at 875-1793 or bmccanna@craigdailypress.com.