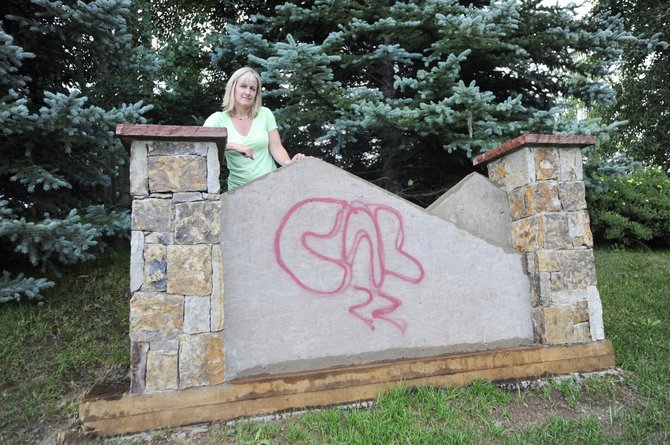 Steamboat police seek graffiti vandal
Steamboat Springs — A Steamboat Springs woman thinks community awareness will help deter a vandal from damaging any more property.
Dana Tredway owns the commercial building at 330 S. Lincoln Avenue across from the Iron Horse Inn with her husband, Matt. They built it 15 years ago and recently decided it was finally time to install a sign. Matt Tredway and a small crew spent four days doing the masonry work for the sign and another two days installing the rock. Dana Tredway said they were waiting for the letters and numbers to arrive to attach to the concrete and had inadvertently created a blank canvass for a spray-painting vandal.
Sometime before July 4, the sign got "tagged."
"It's not like someone came and vandalized my house or took something from me personally," Tredway said. "It's almost like a vandalism on our community. That's what's bothersome."
She said she later learned there had been other graffiti tags in Steamboat. She wished she had known sooner so they could have protected their property.
"It's like this person is saying to us as a community, 'Haha, we can do this and you can't find us,'" Tredway said.
Police suspect the person who tagged their building is the same person responsible for at least three other tags. Tags generally refer to the personalized signature of the graffiti artist.
"It looks very similar because of the style," Steamboat Springs Police Department Detective Dave Kleiber said.
He said he does not know if the tags carry any meaning.
A home on Cherry Drive was tagged July 5, and Kleiber said police were able to collect some evidence from the scene. The tags also have been found at a business in the 100 block of Ninth Street, a hotel on High Point Drive and on the Mount Werner Road underpass.
"Once these things start to appear, if they are allowed to stay, it draws more and more of it," Kleiber said.
He said to help deter tagging, people should remove the paint quickly.
"Whoever does this doesn't get to enjoy their handiwork," Kleiber said.
Catching the taggers can be difficult, Kleiber said, but police have been successful in the past.
A few years ago, the city was dealing with vandalism at Howelsen Hill and on the Yampa River Core Trail. Surveillance equipment was used to help catch the person responsible, Kleiber said.
He said graffiti is not common in Steamboat, instead coming in periodic waves.
"They kind of come and go," he said.
People with information about this or any other unsolved crime are encouraged to call Routt County Crime Stoppers at 970-870-6226. People can remain anonymous and earn a cash reward.