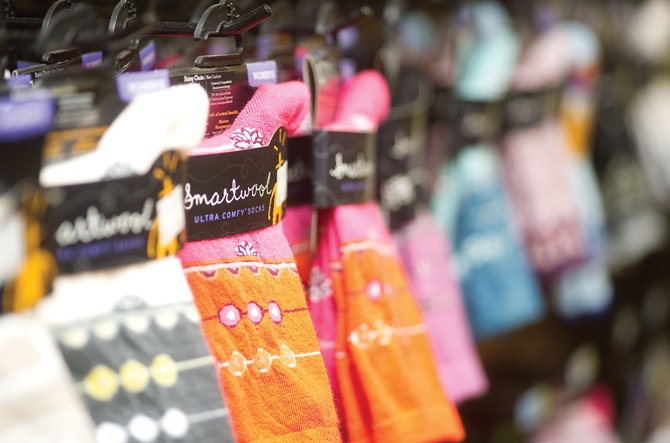 Steamboat to fund, be reimbursed for SmartWool improvements at airport
Updated July 19, 2011 at 7:49 a.m.
Past Event
Tuesday, July 19, 2011, 4:30 p.m.
Centennial Hall, 124 10th St., Steamboat Springs
All ages / Free
Agenda highlights
■ 4:30 p.m. Executive session to discuss personnel matters
■ 5 p.m. Steamboat Springs Liquor Authority meeting
■ 5:10 p.m. Proclamation honoring the Fourth of July fireworks crew, a resolution ratifying the agreement with Routt County to hold a municipal election Nov. 1; first reading of an ordinance to ask voters to consider a 0.25 percent sales tax to support commercial air service at Yampa Valley Regional Airport; second reading of an ordinance to create a noncigarette tobacco retailers license; and a second reading of an ordinance to extend the commercial rafting season
■ 7 p.m. Public comment, second reading of a revised noise ordinance
Document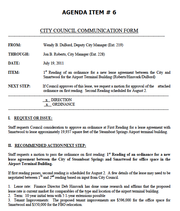 Steamboat Springs — SmartWool will pay more than $596,000 to renovate the terminal building at Steamboat Springs Airport and $350,000 to relocate its fixed-base operator, but the company is getting some help, according to the proposed lease agreement with the city.
The city of Steamboat Springs will pay the up-front costs of more than $946,000 for the expansion. SmartWool will pay back the city, at 3.5 percent interest, over the 10-year term of the lease agreement that City Council members will consider on first reading Tuesday night.
"They're a very important tenant to the city," City Manager Jon Roberts said about SmartWool. "If they are successful, it's to our benefit as well. Beyond that, and more importantly, they are so important to the overall economic health of the city. … They provide so many benefits to the community, it's tough to list them all."
SmartWool announced Thurs­­­­day that it had reached an agreement in principle to expand its existing location at the airport terminal by 8,000 square feet to nearly 20,000 square feet and extend its lease for 10 years.
Speculation about the company's future in Steamboat began when outdoor apparel giant VF Corp., of Greensboro, N.C., announced June 13 that it bought SmartWool parent company Timberland for $2.2 billion.
If approved on first reading Tuesday night, City Council members could give final approval to the lease agreement Aug. 2. The lease agreement would take effect Sept. 1.
According to the agreement, SmartWool would occupy the airport terminal until Nov. 30, 2022, with the option to extend the lease for five consecutive one-year increments. Its monthly rent would increase to $17,503.28 starting Sept. 1 and going through November 2012, up from $17,012.70.
SmartWool's rent would increase in the second year of the agreement to $26,883 per month starting in December 2012, and increase no more than 3 percent for the remainder of the lease.
By that time, it will be operating in additional space — nearly 6,000 square feet currently occupied by the airport's fixed-base operator and nearly 2,000 new square feet on a to-be-constructed second floor.
The city will pay more than $946,000 for the cost of the improvements and to move the fixed-base operator, a process that already has started. The funds will come from reserves and account for about 8 percent of the city's $12.5 million in unrestricted reserves.
SmartWool would pay the city back over the term of the lease — $112,320 annually, which includes a 3.5 percent interest rate. Deputy City Manager Wendy DuBord said the city's reserves earn about 1 percent. She added that the additional rent also could allow the airport to break even; it is typically supplemented by the general fund.
The agreement allows SmartWool to terminate the lease early if it gives the city 60 days notice, but the company would be responsible for paying the balance of the improvements and cost to move the fixed-base operator.
Other terms of the lease are standard, such as requiring SmartWool to get approval for any improvements or additions in excess of $50,000 and allowing the city to terminate the agreement if SmartWool can't pay the rent.
Roberts praised the City Council for providing direction and support to staff members, including DuBord, Finance Director Deb Hinsvark and city attorney Tony Lettunich, to do everything they could to reach an agreement with SmartWool
He said they created a "win-win economic development agreement with a major employer and the city."
The meeting is scheduled to begin at 4:30 p.m. with an executive session for City Council members to discuss personnel matters. A meeting of the Steamboat Springs Liquor Authority is set for 5 p.m., with the regular session to follow at 5:10 p.m. Public comment is scheduled for 7 p.m.