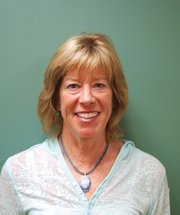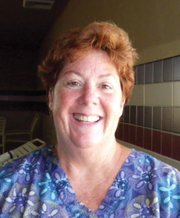 If you go
Aging Well, a program of the Northwest Colorado Visiting Nurse Association, offers a variety of fitness and wellness programs in Routt and Moffat counties. For a full list of programs and locations, visit www.nwcovna.org and click on "Services", "Wellness and Aging Services" or call 970-871-7676.
■ Arthritis Foundation aquatics class
This class offers gentle, warm water exercise aimed at relieving pain and stiffness while improving strength, flexibility and balance.
Classes are from 10:30 to 11:30 a.m. Mondays and Fridays at the Hampton Inn & Suites in Craig. There is a $6 drop-in fee per class. Discounts are available with advance payment. No registration is necessary.
Aging Well aquatics classes are tentatively planned to restart in Steamboat in the fall. Call 970-871-7676 for more information.
■ Walking with poles
This advanced class is for seasoned walkers and hikers interested in the added benefits and challenge of using poles. Classes typically are for one hour during one morning a week. A new, four-week class tentatively is scheduled to begin in September in Steamboat. Call 970-871-7676 if you are interested or would like more information.
■ Walk with ease
This evidence-based walking program is designed to help participants establish and maintain a physically active lifestyle. Participants learn proper warm up and cool down stretches and how to track their heart rates and fitness goals. This ongoing class meets from 4:30 to 5:30 p.m. Tuesdays and Thursdays at various locations in Craig. Call Tammy Workman at 970-620-1252 for more information.
Steamboat Springs — Editor's note: This is part of a series of profiles about Aging Well fitness and wellness class instructors in Routt and Moffat counties. This feature appears once per month on the Aging Well page.
Marti Irish
Class: fitness walking with poles
Where: Steamboat Springs
When many people are just getting out of bed, Marti Irish and a group of dedicated older adults are heading up Howelsen Hill — and not for a leisurely hike.
Poles in hand, the group enjoys a brisk warm-up and chat before settling in for a vigorous jaunt that includes interval training, balance exercises and a bit of wildflower identification on the way down.
Along the way, Irish offers tips about how to use the poles for extra challenge and stability as well as techniques for preparing for the next cross-country ski season.
"What we do in the class is up the ante a little bit," said Irish, whose has been leading the class for several years.
The class, offered by Aging Well, a program of the Northwest Colorado Visiting Nurse Association, is a natural fit for Irish, a longtime Nordic skier who leads cross-country ski classes at Catamount Ranch & Club and is a volunteer Nordic coach at Steamboat Springs High School.
When she is not skiing or trekking up mountains, Irish is a physical therapist at SportsMed at Yampa Valley Medical Center.
Nordic walking is a common activity among cross-country skiers who want to maintain upper body strength and endurance in the offseason. It's also a good alternative for walkers seeking more challenge.
The added upper body movement helps participants burn more calories. The poles also encourage better posture, lessen pressure on joints and offer more stability and balance control on the downhill.
"It can be as rigorous as you want it to be," said Irish, who enjoys participants' enthusiasm and openness to a challenge and feedback.
Ages typically range from mid-50s to late 70s, and many take the class as a way of maintaining or improving their fitness levels for travel.
Although walking with poles may seem straightforward, some technique is involved, so it's helpful to learn from someone with experience.
Taking a class provides the added advantage of being with a group of like-minded individuals who help one another and provide encouragement, Irish said.
Karen Cattoor
Class: Arthritis Foundation aquatics

Where: Craig
When Karen Cattoor developed a genetic form of arthritis in her early 40s, she faced a problem shared by many others with the condition: She knew a fitness routine could help, but joint pain made it hard to walk, let alone exercise.
That's when she turned to water fitness, which released pressure from her joints so she could perform exercises that made her stronger, more flexible and helped improve her symptoms.
"Your quality of life can go down really fast," Cattoor said. "When you find something that will relieve it, even for a few hours or a few days, it really makes a difference."
Cattoor took swimnastics at the American Legion post in Craig and went on to teach the class for 12 years. When the pool closed and the class ended for good, she was invited to teach Arthritis Foundation aquatics for the Aging Well program.
It was the perfect fit because it allowed her to continue doing what she loved and also work with older adults, a group she enjoys helping through her job as a geriatric nurse.
"It was the answer to my prayers," Cattoor said.
Arthritis Foundation Aquatics is held at the Hampton Inn & Suites pool.
The Arthritis Foundation develops exercise programs to safely address and improve joint pain and stiffness, limited flexibility, poor muscle strength and balance issues, which can lead to falls and affect quality of life.
Doing the programs in warm water further reduces impact on joints and offers added resistance and a calming therapeutic benefit. Cattoor demonstrates various versions of each movement as well as how to use resistance tools to achieve different levels of intensity.

Cattoor enjoys the committed group of participants that show up to her class regularly. The camaraderie provides a nice social element, but the class is much more than fun. For many participants, it's the only type of exercise possible.

"I wish people could understand what a program like this does for individuals who hurt when they move," Cattoor said.
Tamera Manzanares writes for the Aging Well program and can be reached at tmanzanares@nwcovna.org. Aging Well, a division of Northwest Colorado Visiting Nurse Association, is a community-based program of healthy aging for adults 50 and older. Visit www.nwcovna.org or call 970-871-7606 for more information.