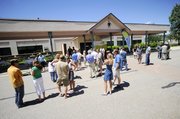 Steamboat Springs — It appears that SmartWool will call Steamboat home for at least another decade.
The merino wool apparel company has agreed in principle with the city to expand the terminal at Steamboat Springs Airport and remain there through 2022 with the possibility of extending the lease, SmartWool President Mark Satkiewicz announced Thursday.
Satkiewicz called the deal a "huge, huge win" for the company.
"SmartWool is growing and looking to add talent to our organization in the near and long term," he said. "And as we drive brand awareness and connect more consumers to our incredible products, we'll need more people and do more business out of this location."
Speculation about the company's future in Steamboat began when outdoor apparel giant VF Corp., of Greensboro, N.C., announced June 13 that it bought SmartWool parent company, Timberland, for $2.2 billion.
At the time, SmartWool had been negotiating to extend its lease, which expires at the end of the year, but it wasn't clear how the sale would affect that.
Satkiewicz said VF supported the deal that allowed SmartWool to remain in Steamboat.
"They're fully aware of what we're doing, fully supportive," he said. "In regards to SmartWool and VF, we're both excited about working together in the future."
SmartWool moved to the airport in 2002. Since then, Satkiewicz said, the company has thrived and the relationship with the city has grown and allowed it to expand.
The expansion, which Satkiewicz said SmartWool intends to complete by Sept. 1, 2012, would add about 7,957 square feet to the airport terminal, bringing it to 19,837 square feet. He said a second floor would be added to the terminal's south side and the interior would be remodeled to upgrade facilities, improve workspace and add showrooms.
"This is a great partnership," Deputy City Manager Wendy DuBord said. "It is a win-win situation. It is something that I personally am proud of, the city is proud of. We think SmartWool has prospered along with the city during these last 10 years. We look forward to the next 10 years and beyond."
The agreement includes the option of extending the lease for one year up to five times, Satkiewicz said. And as part of the deal, SmartWool would take over the existing fixed base operator space next year.
DuBord said the city would start working with the Federal Aviation Administration to move the fixed base operator. She said utility work could start this fall with construction next spring and summer.
The Steamboat Springs City Council is scheduled to consider a first reading of the expansion and lease extension Tuesday. If it is approved, a second reading could occur Aug. 2.
Steamboat Ski and Resort Corp. President Chris Diamond, who attended the announcement, said it was good news for the ski area and community.
"We have a significant partnership with SmartWool and have for years," Diamond said. "It wouldn't exist at the level it does if they weren't here physically. … They're a huge piece of who we are as a community."
— To reach Jack Weinstein, call 970-871-4203 or email jweinstein@SteamboatToday.com
SmartWool announcement