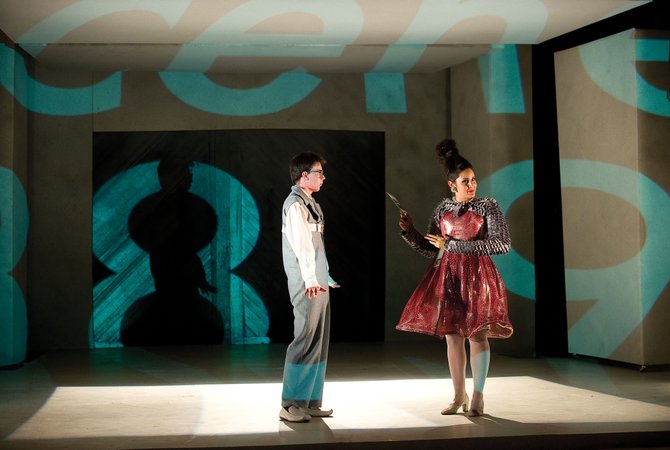 'Out of Joint' and 'The Moon' to premiere at Perry-Mansfield in Steamboat
Photo Gallery
Perry-Mansfield Premieres presents "Out of Joint" and "The Moon"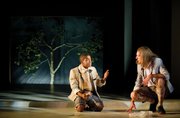 Perry-Mansfield actors practice for the upcoming performances.
If you go
What: Perry-Mansfield Premieres presents "Out of Joint" and "The Moon"
When: 8 p.m. Thursday and Friday
Where: Julie Harris Theatre at Perry-Mansfield Performing Arts School and Camp
Cost: Tickets are $15
Call: 970-879-7125
Steamboat Springs — Twenty-nine hours is all they had.
In a grand total of less than three days, a handful of Perry-Mansfield Pre-Professional Intensive theater students and renowned composers, playwrights and producers from around the country rehearsed two world premiere performances that will come to life under the stage lights for the first time Thursday night.
"This is Olympic-level stuff," said Victor Maog, Perry-Mansfield's director of theater.
At Tuesday's tech rehearsal for the two one-act shows, Maog was emphatic in his direction, with a focused excitement on Thursday and Friday's performances.
"A month ago, there weren't half these songs," he said. "They were writing songs at tech rehearsal last night. Something big is happening every day."
For this year's Perry-Mansfield Premieres, Maog brought in producer Otis Sallid — whose credits include choreographing the 1996 Academy Awards, directing a segment of Super Bowl XL and work on several Spike Lee titles — to develop his new musical, a futuristic urban operetta called "The Moon."
Also basking in the rustic getaway of Perry-Mansfield's campus for the last four weeks is 2011 Playwrights of New York fellowship recipient A. Rey Pamatmat, who developed "Out of Joint," a play about time travel, in the last four weeks at the camp.
"Out of Joint" and "The Moon" will premier Thursday and Friday with shows at 8 p.m. Tickets are $15 for seats in the intimate box setting of the Julie Harris Theatre.
Time is of the essence
"Out of Joint" will open the performance, with futuristic themes and mind-bending twists setting the darkly comedic tone.
Characters time travel in and out of various scenes, which don't necessarily occur in order. The audience is kept abreast of the chronology with blaring digital projections on the tunnel-like white set.
Pamatmat said the play does have serious and metaphysical elements, but he hopes the story is in fact saying something about reality.
"At the core of every scene is someone coming to a realization about themselves," he said.
In the cast is Steamboat Springs High School student Christian Weeden, who is participating in his first Perry-Mansfield theater camp — and his first world premiere.
"It's definitely interesting," he said Wednesday while standing backstage as the stage crew rehearsed the digital projections. "It's not a light play. We're hoping you leave and think a little bit. But at the same time, it's theater and we're here to entertain. It's not just light and sound."
The new urban myth
A condensed version of Sallid's "The Moon" will serve as the second act, featuring the freshly written songs of composers Ronobir Lahiri and Aaron Jones.
With the backdrop of pop, world and jazz-fusion piano with sitar overtones, "The Moon" takes place in a Middle Eastern-like village in a post-apocalyptic world.
The work is in sharp contrast to the first play — it's softer, more feminine and employs the rich and timeless structure of a myth or fable.
The storyline sets a female protagonist on a mission to retrieve the moon back for her village, but she ends up falling in love with the person who stole the moon away.
Sallid said there are few places in the world like Perry-Mansfield to develop a new work to take out into the American theater landscape.
"I don't know if people really know what's going on here," he said. "This is Steamboat's reality show."
And this is the way new shows get developed, he said: In the backwoods of Colorado, with no distractions, a cast of talented students and without the pressure of the big city.
"You will see this on Broadway," Sallid said.
While the themes of both stories resonate in reality, it's not a stretch to believe in the impossible for each of these works.
Because for the actors, composers, producers directors and writers, it took reaching inside to find superpowers of their own to bring the work to life in such a short period of time.
"They're both about creating change in the world we live in," Maog said.
To reach Nicole Inglis, call 970-871-4204 or email ninglis@SteamboatToday.com