Learn more about CMC's new program
To learn more about Colorado Mountain College's bachelor's degree program, visit www.ColoradoMtn.edu/4year or call the Alpine Campus' admissions office at 970-870-4417.
To be admitted into the program, students must have a minimum of 45 transferable college-level credits from an accredited college or university and a minimum 2.3 cumulative GPA.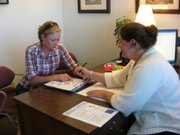 Steamboat Springs — Jenna Appel was taking classes online with the Metropolitan State College of Denver when she learned she could earn her bachelor's degree in business administration in a classroom in Steamboat Springs.
"I had to jump on it," said Appel, who was the first student admitted into Colorado Mountain College Alpine Campus' new baccalaureate program. "Being in a classroom is going to be a huge benefit for me. I'm a single mom, so trying to work and take classes online has been very difficult."
She said that by enrolling in 16 credit hours of classes this fall in her hometown of Steamboat, it will be easier to balance the time spent between the classroom and her family. The 26-year-old will take an upper division marketing class, an ethics class and an advanced computer applications course.
The federal Higher Learning Commission's Institutional Actions Committee accredited CMC's Bachelor of Arts in sustainability studies and Bachelor of Science in business administration programs in April, making the university a dual-purpose college that offers four-year degrees. The college said additional types of degrees will be offered in the future.
CMC Alpine Campus CEO Peter Perhac said that in addition to the new program and more students, the campus plans to hire a full-time faculty member who will teach upper-division business administration classes in the bachelor's degree program.
Perhac said the college's new programs would be a draw for students looking for an alternative to other colleges that are farther from home.
"It's less expensive than attending Colorado State University, and you have the flexibility of not leaving your home in Steamboat to move to the Front Range," he said.
Costs for the 300- and 400-level classes at the Alpine Campus have been set at $95 per credit hour for in-district students, $200 per credit hour for in-state but out-of-district students, and $405 per credit hour for out-of-state students.
The college estimates that in-district students who start as freshmen and complete their bachelor's degrees at CMC would pay $8,793 in tuition and fees, based on existing rates, during the four years.
Perhac said the college now would focus on implementing its new program while enrolling more students this year as it oversees the construction of a 60,000-square-foot administrative and classroom building.
"There's always challenges when you start a new program to make sure all the pieces fit together," he said.
He said the campus also is working to set up separate orientations for students who are earning their bachelor's and associate's degrees.
Alpine Campus administrators said they have received about 50 applications from students hoping to be admitted to the bachelor's degree programs. Campus-wide, CMC has received more than 200 applications for the program.