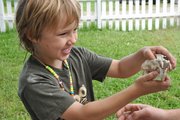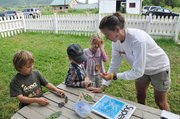 Steamboat Springs — The groups of children who frequent the sprawling acres of Yampatika's Environmental Learning Center at Legacy Ranch can often be found engaged in an activity that wasn't originally on the summer camp's lesson plan.
Before learning how to build a solar oven that harnesses the sun's power within sheets of tin foil to bake cookies, Roy Lundeen and James Bradley were seeing who could pluck the most slugs out of the ground.
"We're learning a lot," James said. "Last week we learned about predators and prey."
"And this week, we're learning about geology and igneous rocks and sedimentary rocks," Roy added before snatching a worm out of the ground.
At a table nearby, camper Sam Kitchen held a bobcat skull and asked what types of food it ate while it was alive. And as she observed a geology lesson Wednesday, Yampatika summer intern Hanna Kurowski said that often, it's these simple things that keep the kids entertained.
"When the kids are searching for four-leaf clovers and climbing trees, they're happy," she said. "It's all about appreciating the outdoors. It's the little things that count out here."
When she's not helping develop lesson plans for the children at the summer camp, Kurowski is leading nature tours at Fish Creek Falls. She's one of three summer interns working at Yampatika whose paycheck is being funded by a $13,600 grant the camp received this year from the Colorado Kids Outdoors Initiative.
Yampatika Executive Director Sonja Macys said the grant and the additional interns it funds have allowed the camp to accept more children into its programs. She also said it would benefit the interns, who hope to pursue careers in environmental education.
"The grant allows us to connect with an older audience who will become future leaders of environmental education in the community," she said. "It's a field I think is underrepresented."
She said the camp received 25 applications from six states for the paid internship position, and Yampatika was one of four organizations that received the funding.
Harrison Weinberg graduated from Steamboat Springs High School in May and is in the third week of an internship with Yampatika. He said developing 10 weeks of programming for the children has been a challenge and an interesting task for a summer internship.
"It was overwhelming at first," he said. "You write your own curriculum and have to plan to teach for seven hours. But I've started to get into a groove, and it's a lot easier now that I'm used to working with the kids."
He said the camp focuses on a different theme every week and began with a look at the history of the Yampa Valley. Children experienced a day in the life of a Ute Indian by learning how to follow animal tracks in a meadow outside the ranch. Campers also have already learned about weather patterns and composting, and how to identify flora and fauna native to the area. As cars whoosh by the front of the ranch on U.S. Highway 40, the kids are looking west, to open acres and the site of a camping trip they have planned.
"The kids have so much fun, they don't realize they're learning something," Yampatika Program Coordinator Melissa Calhoon said.
To reach Scott Franz, call 970-871-4210 or email scottfranz@SteamboatToday.com