Steamboat Homefinder
Visit SteamboatHomefinder.com for more real estate news.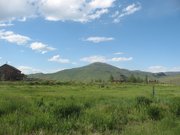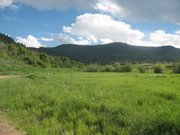 When the market for modestly priced housing here someday turns upward and someday begins to stimulate demand for newly constructed homes, Steamboat Springs investor Steve Caragol thinks he'll be positioned to dominate the market for appropriately priced building lots.
Caragol closed Thursday on the second distressed residential subdivision he has invested in during the past six months.
Caragol's Outback Investments LLC bought the 29 unbuilt lots in the Blacktail Meadows subdivision (part of the original Neighborhood at Young's Peak) in Stagecoach on Thursday for $350,000. The seller was Yampa Valley Real Estate Solutions, which acquired the subdivision from Alpine Bank without a cash transaction.
Caragol is thoroughly familiar with Stagecoach, having previously developed the successful Coyote Run subdivision.
In September 2006, a business entity called Blacktail Meadows LLC paid $3 million for the subdivision. It has since been completed, and the lots, served by Morrison Creek Water and Sanitation District, are essentially ready to build on, Caragol said.
Early this year, Caragol partnered with Stephan Baden to form Yampa Valley Development and buy five homes and 72 buildable lots in Hayden's Lake Village subdivision in January for $1.65 million. Baden was not involved in last week's purchase of Blacktail Meadows.
Caragol said he feels confident that when people are ready to buy new homes again, it will be difficult, if not impossible, for other developers to deliver lots at the prices he'll be able to set at Lake Village and at Blacktail Meadows. And naturally, he expects demand to return sooner rather than later.
"I saw an opportunity to participate in the recovery," Caragol said.
"I don't think you'll get a lot of new subdivisions. The small guys will have to get bank financing, and it could be many years before the banks push this market again."
Listing broker Crystal Staepel, who owns Anchor Realty Ltd., said the new prices for lots in Blacktail Meadows (not to be confused with Blacktail Mountain Estates, which is not in Stagecoach), begin at $34,500 and go up to $60,000 for large duplex lots. However, she said Caragol is offering discounted packages of duplex lots to building contractors.
For example, lots 20D to 22D can be had for $158,500 as a package.
Caragol is offering seller financing on full-price offers.
Both of the subdivision purchases in which Caragol has been involved in this year have been from regional banks with a Steamboat presence: Vectra Bank for Lake Village and Alpine Bank for Blacktail.
"It was easy (to decide to buy). There's no competition, when you consider that the cost to develop (a new residential subdivision) is more than the purchase price of these lots," Caragol said.
In the case of Lake Village, he said he and Baden are within several weeks of becoming debt-free on their purchase partly because they brought considerable equity to the buy. In the case of Blacktail, "There is no debt, it's an equity purchase," he said.
The Stagecoach market
Anecdotally, the Stagecoach market appears to have taken the biggest hit in terms of lost valuation in the Yampa Valley's post-recessionary market. And Caragol said the market for Stagecoach is clearly different from the market in Hayden. The last three sales at Lake Village have been to households employed in the energy industry in West Routt and Moffat counties, he said.
He expects the future residents of Blacktail Meadows to be a mix of vacation-home owners and young families who will struggle to find single-family homes in Steamboat Springs in an ascending market.
The nearby Red Hawk Village has seen its share of troubles in the past five years, with prices becoming overheated from speculation and rising above $500,000 before crashing. However, Caragol cites Red Hawk as a benchmark for his subdivision because prices have stabilized at a level the market is responding to, and the existing residents are pleased with the relatively new product there and high-end finishes.
A three-bedroom home at Red Hawk sold for about $250,000 last month, and he said he has a two-bedroom set to close soon. Caragol said he contacted three South Routt County builders who told him they think at his lot prices, they could deliver completed homes comparable to Red Hawk at competitive prices.
Caragol said he sold a Red Hawk home to a couple from Georgia this spring who wanted a vacation home by the lake.
Staepel said the only single-family home on water and sewer in Stagecoach listed on the market now is a 1,532-square-foot two-bedroom home with an asking price of $219,000. Thus far in 2011, there have been six sales of single-family homes on water and sewer that had asking prices ranging from $164,000 to $265,000.
Staepel said she has formed good relationships with neighbors while living in Stagecoach herself.
"You wouldn't know it until you move to Stagecoach and settle in, that there is such a great community of neighbors, friends and family out here," she said. "More than just borrowing a cup of sugar, it's neighbors who really become true friends and make living in this beautiful area even better. There is a tranquil feeling when you spend just a few minutes walking on the trails, spotting deer browsing in the aspen grove, or just listening to the creek run by. It really is a special  place."
To reach Tom Ross, call 970-871-4205 or email tross@SteamboatToday.com