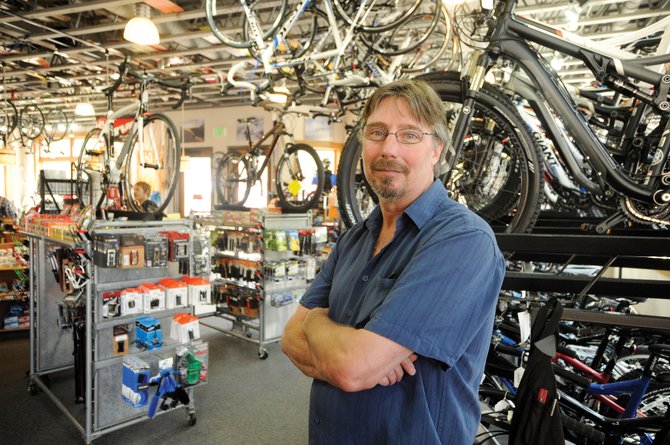 Locals 2011: Harry Martin
From the Tetons to the Yampa Valley
Steamboat Springs — For Harry Martin, co-owner of Steamboat Ski & Bike Kare, it's the people who make Steamboat Springs such a great place to live.
"They're incredible," he says. "The whole community is just amazingly friendly and down to earth. It's a great place to live."
That sentiment is largely why Martin, who moved here from New Jersey from 1986 to 1988 to attend Colorado Mountain College's Alpine Campus, returned for good in 1995. He'd spent seven years in hardguyville Jackson, Wyo., as co-owner of Hoback Sports, and yet something was missing. That something was community.
So in 1995 — with wife, Kim, now the director of Young Tracks, in tow — he packed his bags for Steamboat and began raising a family and business. "We had just had our first baby, and our in-laws were living here, so it seemed a natural move," he says.
Both have blossomed. Sixteen-year-old Foster now is joined by 9-year-old Willy in the Martin household, and Steamboat Ski & Bike Kare has grown as a family, as well. The store opened on 11th Street in 1995 and moved to its current location on Lincoln Avenue in 2004, two years after Mike Parra became co-owner. But it's Martin's persona that keeps customers and the 20 employees coming back.
"He's my favorite local," says store manager Derek Hodson. "He creates a sense of pride in being a part of his organization. Everyone who interacts with him has a positive experience. Our community is better because he's a part of it."
One of the best ways to see that is through his support of local charities. He provides discounts for members of Steamboat Springs Winter Sports Club teams, donates to almost every fundraising group that walks through his door and sponsors local races, events, trail-building programs and rides for children.
It's the latter, of course — the kids in the community — that truly makes him smile. "There's just so much for them to do here," says Martin, 46, who you're likely to see in his 26-foot camper toting his own kids camping up in Hog Park. "It's a great place for kids to grow up."