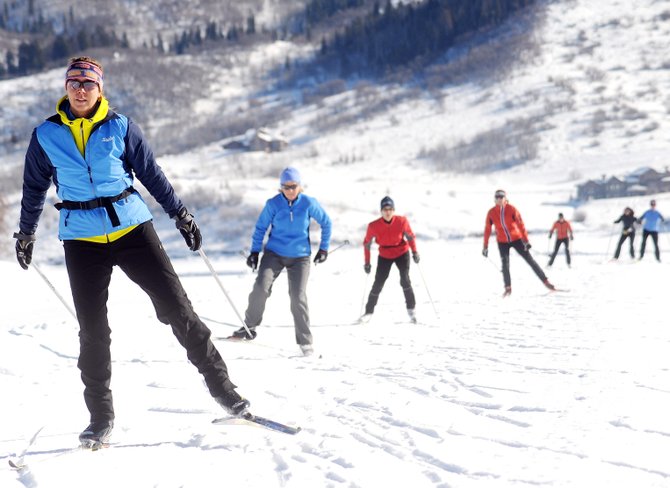 Steamboat women learn Nordic skiing ropes at Catamount clinic
4-week ski seminar starts Friday
Saturday, January 29, 2011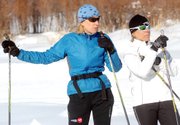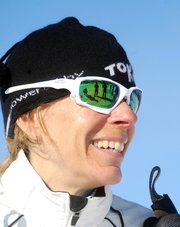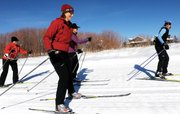 If you go
What: Women's Fitness Series Nordic skiing classes at Lake Catamount
When: Fridays through February
Cost: $125 includes the four 90-minute lessons. Equipment can be rented for $10 a day.
Call: 970-871-6667
Steamboat Springs — They skidded to a stop on a beautiful bluebird day, breathing deep near Steamboat Springs along the shores of Lake Catamount, which these days looks more like an open meadow. Only a snowed-under dock hints that it's a place for water skiing and fishing, too.
"That," Gina Zedeck said, cheeks flushed and brow wet, "was a good workout."
The reviews for the final day of the first session of the Women's Fitness Series at Lake Catamount were unanimous.
It was a fun, the ladies said, and tiring.
And that's exactly what Emily Lovett and Katie Lindquist had in mind when they began the four-week clinics seven years ago.
Hooked
About a dozen women took to the groomed Nordic trails around the Lake Catamount Touring Center on Friday, the final day of the four week skate-skiing series.
Another session starts this Friday and costs $125. Equipment can be rented for half the regular price, or $10 a day. A classic skiing version also is available.
Classes are divided by ability level, and the series that wrapped up Friday showcased the variety of residents who show up for the classes.
Zedeck took to skate skiing for the first time with the same class three years ago.
She's been coming ever since.
"I love the coaches, and I learn something new every year," Zedeck said. "I had never been on them before. Now, I guess I'm an intermediate."
She's learned enough — and come to enjoy the sport enough — that she typically hits the trails several times a week.
Christy Borden, meanwhile, already had some Nordic skiing experience before signing up for this January's series, her first. Those sporadic lessons and workouts never turned the sport into a habit.
"This is the first time I've learned skate skiing is so technical. The way I've learned it here, the way it's trained in this clinic, is what's really made it click for me," Borden said. "You can be doing it wrong, then when you do it right finally, you can feel it. You can have no idea and go, 'Oh, that feels right.'"
Now Borden's had a trail put in at her house.
"It's the best way to be outside in the winter," she said.
Zedeck, meanwhile, realized what the sport meant to her last winter in what was a comparatively miserable year for Alpine powderhounds.
"I spent most of my time out here," she said. "I like the exercise, being outside and that it doesn't take that long."
Making progress
Progressing from beginner to intermediate and perhaps even to expert was the whole idea when Lindquist and Lovett first started the series.
"We wanted to have a class that actually progressed so we could progress through the techniques, learn one week and build on it the next," Lovett said.
The crew, split into three groups, closed out the January session working on transitioning from skiing flat sections to hills.
"To go ski a trail with hills after a one-hour lesson is tough," Lovett said. "It takes time, definitely a lot of repetition, so that's what our vision was."
The class frequently reviews videos of proper technique before trying it out on the frozen lake, a large loop groomed for training. Not Friday, though. On Friday, the skiers were in and out of the Lake Catamount clubhouse and into their skis, flying across the frozen terrain.
They spent as much as half their time working on technique and talking about the right way to do things, and the rest of the time trying to do them and execute the lessons.
"The instructors, they know their stuff and they're good teachers. They are good at diagnosing small things that make a big difference," skier Kathleen Wasserman said. "I like skiing because I like being outside and all the other Steamboat and Colorado things, but the motion also feels natural to me. It's about the best cardio workout I've ever come across."
To register for the next session, call 970-871-6667.
— To reach Joel Reichenberger, call 970-871-4253 or e-mail jreichenberger@SsteamboatToday.com