2010-11 Sailors boys basketball schedule
Dec. 1: Niwot 68, Steamboat 41
Dec. 3 and 4 Brenda Patch Tournament:
Dec. 3: Steamboat 49, Roaring Fork 43
Dec. 4: Steamboat 47, Basalt 33
Dec. 9 to 11 Steamboat Springs Shoot-Out:
Dec. 9: Palmer Ridge 44, Steamboat 30
Dec. 10: Steamboat 53, D'Evelyn 51
Dec. 11: Windsor 49, Steamboat 35
Dec. 13: Steamboat 52, Aspen 47
Dec. 16 to 18 Flaming Gorge Classic:
Dec. 16: Rock Springs 68, Steamboat 35
Dec. 17: Steamboat 47, Star Valley 45
Dec. 18: Evanston 58, Steamboat 34
Jan. 14: Steamboat 53, Battle Mountain 32
Jan. 15: Steamboat 66, Eagle Valley 51
Jan. 21: Palisade 47, Steamboat 44
Jan. 22: Steamboat 60, Delta 44
Jan. 28: Steamboat 51, Moffat County 50
Jan. 29: Steamboat 56, Glenwood 54
Feb. 4: Steamboat 48, Battle Mountain 38
Feb. 8: Steamboat 43, Eagle Valley 25
Feb. 11: Steamboat 42, Palisade 27
Feb. 12: Steamboat 74, Delta 46
Feb. 18: at Moffat County, 3:30 p.m.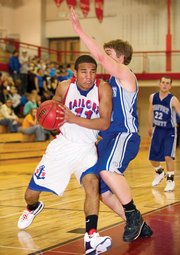 In its rivalry with Moffat County High School, nothing ever seems to come easy for the Steamboat Springs High School boys basketball team.
But on a night where there was little flow to the game and the Sailors trailed for much of the second half, Steamboat somehow found a way to beat their rival, 51-50, in Kelly Meek Gymnasium.
"It was one of those games where it seemed like we could not, no matter what, get any momentum going," Steamboat coach Luke DeWolfe said. "We were able to hang and keep it close and give ourselves a shot at the end."
Charles Wood made a free throw with two seconds left in the game, and Moffat's Zach Raftopoulos' half-court shot at the buzzer missed, giving Steamboat the win.
The Sailors led by as much as 18-9 early in the first half before a scrappy Bulldogs team went on runs of its own.
Moffat County, trailing 25-21 at half, started the third quarter on a 13-4 run to take a 34-29 lead. The second half saw five ties and six lead changes as Steamboat's Isiah Mendoza-Forsyth played his second consecutive game in which he put the team on his back.
Down 50-45 with 1 minute, 6 seconds left, Mendoza-Forsyth hit a step-back 3-pointer to cut the lead to 50-48.
Steamboat's Justin Anderson stole the ball on Moffat County's ensuing possession, and Randall Nelson then tied the score at 50 with 39 seconds remaining.
Bulldogs guard Dylon Camilletti missed a jumper with five seconds remaining, Wood grabbed the rebound, raced down court and was fouled.
Mendoza-Forsyth led all scorers with 20 points, and Nelson added 16.
Steamboat (9-7 overall, 4-2) now preps for a 5:30 p.m. game today at home against league-leading Glenwood Springs.
"That's the whole enchilada," Mendoza-Forsyth said. "If we beat them we have a shot of being first in the league. If we lose, Glenwood pretty much has it in the bag."