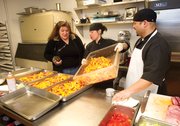 Steamboat Springs — Liz Wahl has worked with local restaurateurs and education officials for the past four years to bring a culinary program to Steamboat Springs. She said it's been her passion.
Wahl, food and beverage director for Steamboat Ski and Resort Corp. and president of the Steamboat Springs Restaurant Association, said the community needed to provide culinary education to retain and attract food service professionals.
She said it's important that training for high school and college students and continuing education for chefs, wait staff and restaurant managers is available in Steamboat.
"It's great to have the friendly western attitude, but we should keep sharpening our skills so we as a community can offer the best product to our customers," Wahl said. "Hospitality is an important part of our community, and we need to do it well."
The program is on its way.
Peter Perhac, CEO of Color­­ado Mountain College's Alpine Campus, told the Steamboat Springs Economic Development Council on Wednesday morning that the college is creating a two-year associate's degree program in culinary arts.
He said the program would include instruction for high school students, in addition to students in college, and offer courses for community members.
Perhac told the group that CMC would like to introduce the program in fall 2012, when the college's new 60,000-square-foot administrative and classroom building is scheduled to open. He said 6,000 square feet of the facility, the entire third floor, would be dedicated to a commercial kitchen with an adjacent classroom, and only a glass wall would separate it from diners who could watch the students work.
Steamboat is one of few Colorado resort communities without a culinary program at a nearby college, Perhac said. Not for long.
Max Huppert, director of Nutritional Services for the Steamboat Springs School Dist­­rict, said last week that the program would be important for local high school students.
"It's just another option for the kids," Huppert said. "There really isn't any trade classes here in Steamboat. Most of that is in Hayden for auto and those types of things. It might be a good option for kids who might not want to go to college."
Perhac said the program, the details of which won't be finalized until after construction of the facility begins in summer, would include instruction in food preparation and food service.
Huppert said he hopes the college thinks creatively and creates a unique culinary program.
Wahl said she hopes there will be classes in green restaurant concepts, such as composting, zero waste, sustainability and using local food products.
CMC spokeswoman Debra Crawford said the college has culinary institutes at the Summit County and Eagle County campuses, which are three-year, 66-credit, 4,000-hour apprenticeship and degree programs. She said the Summit program has operated for 17 years and Eagle's for 12.
Like those programs, Perhac said he hopes Steamboat's culinary program, with its resort location, proximity to local restaurants and state-of-the-art facility, will attract students to the Alpine Campus.
Perhac said in addition to Ski Corp., Steamboat Restaurant Group owner Rex Brice has expressed interest in partnering with the college in some way.
Brice, who owns Big House Burgers and Bottle Cap Bar, Rex's American Grill & Bar, Lil' House Country Biscuits & Coffee and Mazzola's Majestic Italian Diner, said last week that he's excited about the program.
"I think it raises the bar in Steamboat for culinary arts here," he said. "We've always been a cow town. When I moved to town, there was very little in the way of culinary exposure. If you wanted to get exposed to some of the better culinary things that are out there, you'd have to leave Steamboat. Over the years, that has changed. This is just another step in that direction."
— To reach Jack Weinstein, call 970-871-4203 or e-mail jweinstein@SteamboatToday.com