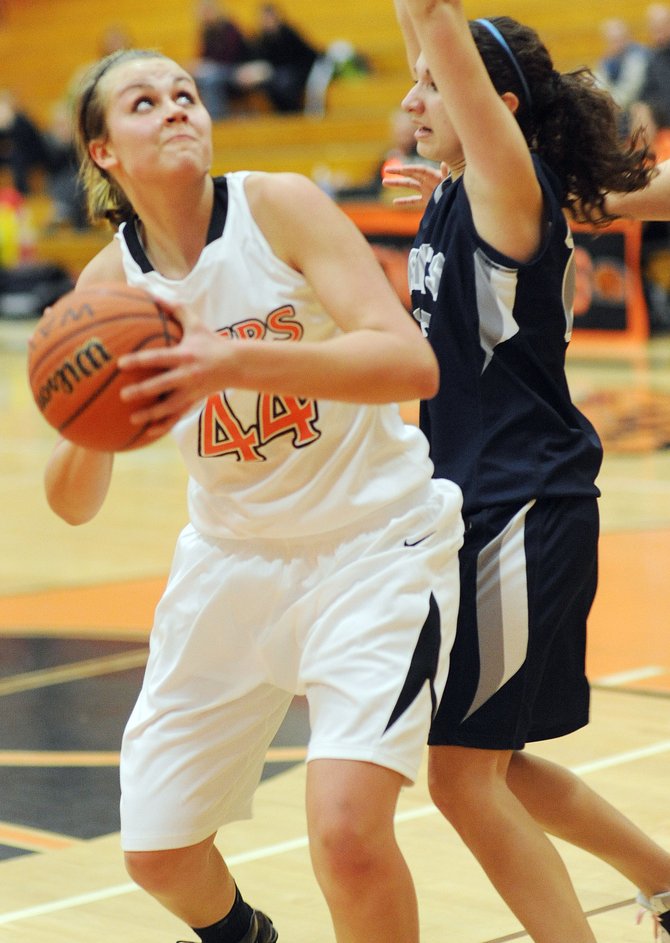 Hayden girls basketball dispatch Vail Christian
Updated January 23, 2011 at 12:07 a.m.
2010-11 Tigers girls basketball schedule
Dec. 2 to 4 Meeker Tournament:
Dec. 2: Hayden 46, Little Snake River 36
Dec. 3: Hayden 68, Rangely 56
Dec. 4: Hayden 59, Palisade 33
Dec. 11: Hayden 72, Vail Christian 39
Dec. 14: Olathe 40, Hayden 31
Dec. 17: Hayden 73, North Park 28
Jan. 4: Hayden 62, Basalt 43
Jan. 7: Hayden 52, Meeker 35
Jan. 11: Little Snake River 57, Hayden 28
Jan. 14: Hayden 64, West Grand 15
Jan. 15: Hayden 64, North Park 19
Jan. 22: Hayden 57, Vail Christian 34
Jan. 28: Hayden 60, Soroco 46
Jan. 29: Hayden 48, Rangely 39
Feb. 4: Hayden 80, Plateau Valley 28
Feb. 5: Paonia 63, Hayden 48
Feb. 11: Hayden 76, Soroco 41
Feb. 12: Hayden 50, West Grand 37
Feb 17: Little Snake River 50, Hayden 42
Steamboat Springs — Early in Saturday's game against Vail Christian, it was clear the Hayden High School girls basketball team had certain advantages in the matchup.
The Tigers spent most of the rest of the game making that abundantly clear, exploiting superior size and speed to blow past the Saints.
Hayden center Erin Koehler played what coach Eric Hamilton termed the best game of her career, scoring 28 points and paving the way for a 57-34 win.
"We played a pretty clean game," Hamilton said. "They had definitely improved since the last time we played them, but we kept the turnovers down and focused on improving."
Hayden turned first to its full-court press defense, which allowed just two points in the first quarter. Then it turned to Koehler, who had all the freedom she needed in the paint. She scored 11 of Hayden's 16 first-quarter points.
"The guards did a really good job of getting it down to Erin," Hamilton said. "Erin and Aubree (Haskins) played great today."
The game balanced to a degree after that first surge as Vail Christian managed to navigate Hayden's defense more effectively.
The Saints' Ashlyn Gruber helped lift the team — she finished with 17 points.
"We told our girls not to worry about the scoreboard. We had things we had to get better at, and I thought we did a heck of a job after we got our feet settled down," Vail Christian coach Doug Bruce said. "We handled the press much better than we've handled it before, and we attacked the basket better.
"Hayden's big, so even when we were attacking, we were getting some shots blocked."
Still, it was Hayden's day, and the Tigers celebrated up and down the roster. None came up as big as Koehler — who also grabbed 13 rebounds — but plenty contributed.
"We had fun, and we stayed focused," said Sierra Ehlers, who added 8 points for Hayden.
She said keeping that focus going forward will be key. Hayden has waltzed through its past three games, winning by an average of 39 points.
The team expects that to change, with a game looming next weekend at rival Soroco and a home showdown against defending state champion Paonia waiting Feb. 4.
Hayden boys canceled
The Hayden High School boys game scheduled for Saturday afternoon in Hayden was canceled when Vail Mountain opted not to make the trip because of inclement weather. The game has not been rescheduled.