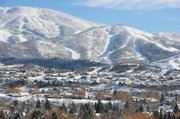 Look up your taxes
Routt County property owners will gain a better understanding of their property taxes and how they have grown over time by looking them up at the assessor's website.
It's easy to find your tax history going back to 1999. Look for your account number in the top left-hand corner of your new tax bill.
Visit http://pioneer.co.routt.co.us/asp/assessor/search.asp and enter it in the search field at the top of the page. You'll reach a page devoted to your property. By scrolling down to nearly the bottom of the page, you should see annual tax amounts going back to 1999.
You can also study the details of neighboring properties by searching in the field called: Legal Description Search: Subdivision.
Steamboat Homefinder
Visit SteamboatHomefinder.com for more real estate news.
Steamboat Springs — Property owners might want to brace themselves for an unwelcome surprise at the mailbox today: Property tax bills are on the way, and most readers will see an increase in their taxes from last year. But they might find that their taxes are lower than they were two years ago.
As counterintuitive as it seems in this era of declining real estate values, the valuation of properties for taxes in Routt County and across Colorado have not caught up to the trend. That condition, which is a result of state law, and higher mill levies in school districts across Routt County are keeping tax bills high.
"We (at the assessor's office) are in the same boat," Routt County Assessor Gary Peterson said. "Our homes aren't worth the amount we paid for them or what we valued them at in our office. It's just the way the tax laws are."
The tax bill arriving in mailboxes this week is for tax year 2010, which is payable in 2011. It is the second annual bill of a two-year reassessment cycle that is based on property values captured in 2008, at or near the peak of the real estate boom in Routt County. It's the same boom that people have come to understand as a balloon that burst.
If there's reassuring news, it's that although tax bills are higher this year than last, at least within Steamboat Springs, they still are lower than in 2008.
A home of 1,750 square feet adjacent to Whistler Park saw its taxes increase to $1,768 in the new bill from $1,544 a year ago. However, two years ago, it was $2,005.
County Commissioner Nan­cy Stahoviak said although the state-mandated property valuation cycle is beyond county control, it doesn't make it easier to work with constituents who see the tax valuation of their property holding steady while the market rate obviously has taken a hit.
"There's the realization that their property values now are not what they used to be, and they're struggling to accept what we're doing with values that go back to June 30, 2008," Stahoviak said. "They're trying to sell, or they're trying to refinance a mortgage and can't do it. It's a hard thing for them, that's for sure."
Peterson reiterated the county's lack of choice in the matter.
"The market activity and sales used to set the value on a property is based on sales from July 2006 through June 2008," Peterson said. "Those dates are set by state statute. Routt County has no local control or say in these dates."
Most property owners will not see a change in the value of their properties from last year's values. So why did taxes go up?
Peterson said the bulk of the increase from last year is attributable to the three school districts increasing their respective mill levies.
Depending on the tax area (there are numerous tax areas within each school district because of smaller taxing entities such as cemetery districts and fire protection districts), 45 to 65 percent of property tax dollars owed in Routt County go to fund K-12 public schools, Peterson said.
Voters in the Hayden School District narrowly approved Ref­­er­­en­­dum 3B in November, allowing the district to raise more than $321,000 to offset declines in state funding. That translates into a 12 percent increase in the mill levy compared with tax year 2009.
A similar measure in the South Routt School District is expected to raise more than $354,000 in new revenues. It resulted in a nearly 10 percent increase to the mill levy.
The explanation behind increased tax bills in the Steam­­boat Springs School District is tied to a state-mandated refund in the form of reduced taxes in 2009. The state found that the district over-collected in 2008 and 2009 and required it to compensate by reducing its mill levy by 4.1 mills from its maximum allowed of 15.65 mills.
The one-time event resulted in a 25 percent decrease in the mill levy for tax year 2009. This year, a full levy of 15.734 mills has been restored, causing taxes to increase from the 2009 bill that arrived in January 2010.
The share of the overall tax bill attributable to Routt County government ranges from 17 to 37 percent, with the average being about 25 percent for all 45 tax areas.
The assessor's office is in the midst of reassessing the value of property in the county based on market activity that took place from July 2008 through June 2010. But the change in the property valuation will show up in late May and be reflected in property tax bills for 2011 scheduled to arrive in the mail in January 2012.
The assessor's office re­­searches comparable sales to reset tax valuations to reflect the evolution of values.
In the meantime, property owners do have the right to appeal their valuations for tax purposes, keeping in mind that theirs is the same as it was a year ago.
In order to be successful, they most often have to find comparable sales that refute the figures used by the assessor's office to set valuations on June 30, 2008. However, comparable sales that have taken place since that date, as market values have dramatically declined, would not be eligible under state law.