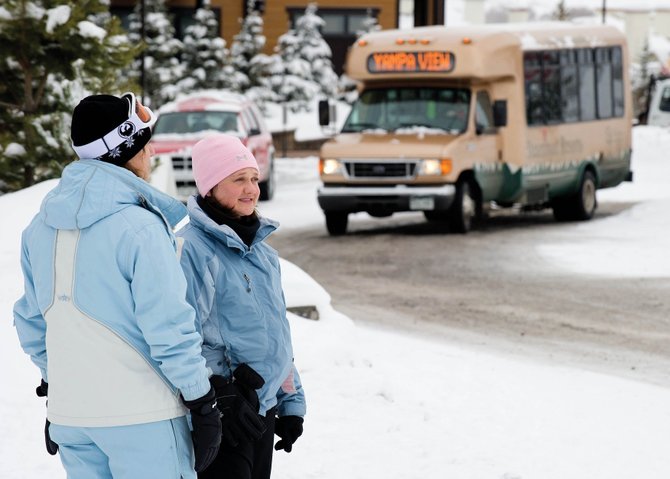 Steamboat tourism numbers mirror 2009-10
Ski area plans for holiday, spring break uptick; lodging flat
Updated January 20, 2011 at midnight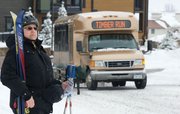 54 percent lodging capacity expected Saturday
Lodging in Steamboat Springs is forecast to reach 54 percent capacity Saturday, a slight dip from the 59 percent on the corresponding weekend in 2010, according to the Steamboat Springs Chamber Resort Association's weekly lodging barometer. This weekend's visitor numbers could reach last year's, though — actual lodging numbers tend to be a few percentage points more than forecasts, because of last-minute travel. The 54 percent capacity forecast for this weekend translates to about 7,600 visitors, according to the Chamber.
Guest numbers are projected to dip to about 7,200 by Wednesday, but then bounce up to about 63 percent capacity, or 8,700 people, for the weekend of Jan. 29. In 2010, the last weekend in January was forecast to see 53 percent lodging capacity, or 7,300 visitors.
Steamboat Springs — Local businesses people looking to capitalize on strong visitor numbers should focus on Presi­­dents Day weekend in late Feb­ruary and spring break travelers in the middle of March. Otherwise, they could see lulls through the end of ski season, according to speakers at a business outlook breakfast Wednesday.
Things are a little slow at the moment, as well.
"It's a struggle right now," said Katie Brown, director of sales and online marketing services for Steamboat Ski and Resort Corp. "We're coming in right at last year's numbers."
Brown said visitor traffic at Steamboat Ski Area was slow in December but moved to a fantastic holiday season that carried through MusicFest at Steamboat earlier this month. Forecasting the remainder of the ski season, Brown said the week of Presidents Day — the holiday is Monday, Feb. 21 — looks good, as does the middle of March, when spring breaks in major travel markets are expected to bring an influx of visitors to Steamboat Springs. But Steamboat could lose some guests near the end of ski season this year, with Easter Sunday falling April 24, well after the ski area's April 10 Closing Day.
"April will be a challenge, and possibly that last week of March," Brown said.
Colorado Ski Country USA announced Wednesday a more positive assessment of early season ski and snowboard visits. The trade association represents 22 Colorado resorts, including Steamboat, and stated in a news release that visits at those resorts increased 10 percent compared with 2010, through Dec. 31.
Brown joined several other panelists at the Wednesday breakfast event presented by the Steam­­boat Springs Chamber Resort Association at Rex's Amer­ican Grill & Bar. The overall tone across represented industries — ski marketing, lodging, construction, banking and real estate — essentially was that the economy is not out of the woods yet, but there's a little light shining through the trees.
"If you make it through this year, you'll probably make it," said Jon Wade, of Colorado Group Realty and the Alpiner Lodge.
That kind of optimism has been heard before. Impacts of the national economic recession, which some say began locally in fall 2007, now are stretching into their fourth year.
Whether this winter is showing positive signs is a matter of interpretation, as is whether flat numbers are good numbers. Bob Milne, president and CEO of Steamboat Resorts Management, gave a lodging industry assessment, for example, that coincided with Brown's. Steamboat Resorts manages 24 lodging properties in Steamboat.
"The number of people that are staying in our properties is about even with last year right now," he said.
Milne said his nightly rentals were flat for December, but a boost from group business could bring January up 10 percent from last year, "in terms of rental nights and dollars." Like Brown, Milne said he would be busy for Presidents Day and March, which already is 15 percent stronger than March 2010, but he said April looks "soft."
Mark Halvorson, of Snow Country Construction, said Routt County construction valuations in 2010 totaled about $55 million, a 10-year low and about 84 percent less than the total valuations of about $333 million in 2008.
Construction valuations are the Routt County Reg­­ional Building De­­part­­ment's measurement of square foot costs for labor and materials for construction permits issued.
Halvorson said the drop has created a buyers' market.
"If there's anybody who's thinking about doing a construction project … bring them in, because there's a lot of contractors in town who would like to work," Halvorson said.
He said "the bidding is just brutal" among contractors for the projects available, with construction pricing "as low as you're ever going to see it."