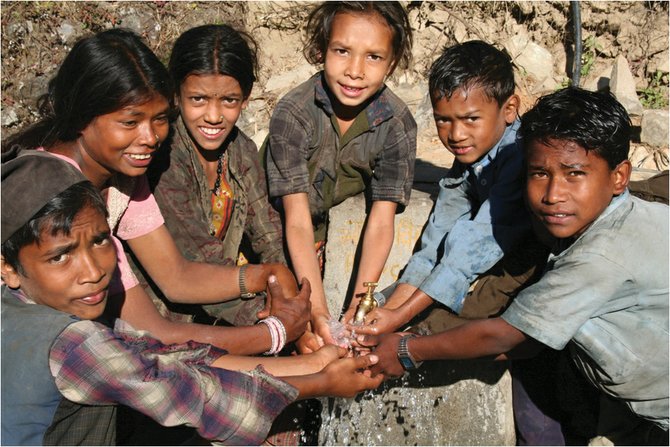 Telluride Mountainfilm tour in Steamboat Springs through Saturday
Steamboat Springs — We're all mountain people, Jim Nowak said.
From Telluride and Steam­boat to the Nepali Himalayas, Nowak, executive director of the Ridgeway-based dZi Foundation, sees the same human spirit of growth, love and adventure in all of us.
This weekend, Steamboat Springs will have the chance to watch stories of the human race unfold in an evening of powerful art and socially conscious dialogue. The inspiring stories from across the world come to Northwest Colorado through the lens of a video camera.
Mountainfilm on Tour, the mobile version of the annual Mountainfilm in Telluride festival, features a series of short films hand-picked from the Mountainfilm archives by film festival official Lance Waring.
Nowak also will give brief presentations on the work of the dZi Foundation and screen short films of its progress building schools and developing infrastructure in the mountains of Nepal and India.
Both nights of films begin at 6:30 p.m. in Library Hall at Bud Werner Memorial Library. Free popcorn will be available. A $10 donation at the door will benefit the dZi Foundation.
"Mountainfilm offers the kinds of offbeat, award-winning documentaries and shorts that typically miss Steamboat Springs," library adult program coordinator Jennie Lay said. "Now we're bringing them to your doorstep. I hope Steamboat embraces this amazing opportunity to enjoy a mother lode of really cool films and support a great Himalayan cause in the process. I can't wait to see them myself."
From soulful skiing and climbing films to the documentation of cultural and environmental preservation around the world, Waring said the evenings will offer an eclectic mix of adventurous filmmaking.
"It's not the huck-your-carcass kind of ski porn," he said. "You can't watch that for long periods of time. Anything with a story is something Mountainfilm tends to find interesting. There's more to life than ripping around in the great outdoors."
For Waring, that means outreach, cultural exploration, landscapes and ethnography beyond the festival's basic platform of skiing and climbing.
And he thinks that vision fits well with Steamboat's culture.
"Telluride and Steamboat are sister cities in many ways," he said. "I suspect the people of Steamboat are interested and concerned with the same things that we are: preservation of environment, community, and having a good time out in the mountains."
The films Waring chose for the Steamboat event include the story of a one-legged boy's journey up Mount Kilamanjaro; an artistic look at avalanches; the view from a solo rock climb 60 feet above the Mediterranean Sea; and the story of a doctor in Ethiopia who helps children with tuberculosis of the spine. The nights will feature different films.
Waring said the collection of films, which range from just a few minutes to an hour, have the potential to resonate with the Steamboat community.
"I think people in Steamboat will be inspired to take action in their own community," he said. "And I don't know what that means for each person. My intention is to inspire folks to step up and do something good in their community and in the big world.
"And also I hope they have a good time and share the good life that we lead here in the mountains," he said.
The Mountainfilm playlists
Friday
Out of Ophrica (5 min.)
A classic San Juan snow cycle set loose a series of avalanches that reminds us why property values in Ophir have always been a little behind those in Telluride and why children from that valley don't make it to school every day in the winter.
Nico's Challenge (15 min.)
Nico Calabria was born with only one leg, but his disability does not define him. As he says, "Even though I have one leg, I can still do what anyone else can." In this short documentary, he takes on the highest peak in Africa, Mount Kilimanjaro, with his father, Carl, and shares his success with those less fortunate than him. This is not a story of overcoming adversity or of unknown challenges faced and met. It is a story about one remarkable 13-year-old boy who knows who he is and what he's capable of doing — both for himself and others — and he changes the world, or at least one little corner of it.
Trial and Error: Progression (Bjorn Enga, 10 min.)
Ryan Leech is given a challenge: to create the most progressive and challenging mountain bike line possible through an old-growth forest and then ride it. Witness a short expose of a top biking talent who pushes his skills in a new environment, one that is slated to be destroyed.
Presence: 40 Days in Greenland (Masaki Sekiguchi, 10 min.)
A record of spending 40 days on the west coast of Greenland.
Conversation with Harris (Sheila M. Sofian, 6 min.)
Growing up during the Bosnian War has given 11-year-old Harris wisdom beyond his years.
X-treme Tramping: The Lord of the Springs (Todd Forsbloom, 7 min.)
In the tension-wracked world of extreme trampers, there are no limits, for this is a fraternity of speed and stealth, with moves like Schindler's Twist and Flying Zorbas. Leaving no trace, the trampers are part of a lifestyle that can only be known by one word – danger ... or maybe bouncy?
The Janitor (Vanessa Schwartz, 4 min.)
This wonderful animation is a Mountainfilm favorite, knowing in the ways of the Lord, the weatherman, and infinitely useful with respect to the way in which "things just get screwed up."
The Great Dance: A Hunter's Tale (53 min.)
Nqate is a hunter. His home is the Kalahari in southern Africa. In this parched desert, his people depend on him for their survival. Together with his friends Karoha and Xlhoase, they hunt as their ancestors have for thousands of years. Through their eyes we perceive a world invisible to outsiders … a world where every footprint, every raindrop, every broken branch tell s a story. "We are San bushmen, sons and daughters of the first people," he explains. "We know hunting. That is what we were born to do." With stunning originality and beauty this film moves us into the realm of the tracker, the runner, the hunter. It reminds us that Africa is indeed the anthropological birthplace of the human race, and that it is also a place of primary energy and a striking richness and diversity of wilderness. In parts of Africa, man and nature are not inherently discrete and separate entities; rather, it is man who has created this dangerous and destructive illusion under which most of us now live.
Saturday
Ode to Avalanche (Ken Bailey, 6 min.)
Depicting avalanches in their terror and beauty against a soundtrack of Beethoven's "Ode to Joy"
Deep/Shinsetu (Masaki Sekiguchi, 4 min.)
Sometimes words aren't necessary. Deep/Shinsetsu lets the images speak for themselves. Filmed in Japan after what appears to be a 100-year storm, this short is a melodic and meditative portrait of skiing powder — chest-deep powder. The film is stripped of the genre's usual racket: no voice-overs, jibbers, helicopters or hip-hop music here. Instead, it cuts straight to the essentials — the wash of white and the joy of bounding through bottomless snow.
Skiing on Pine Needles (John McCrillis, 2 min.)
This charming footage from the early '30s captures Dick Durrance, America's finest skier of his era, in some remarkable training runs ... a world before endorsements, when neither the snow nor the athlete were artificial.
Soliliochairliftquist (T.M. Faversham, 4 min.)
The time involved riding chair lifts, while skiing 100 days a year, can lead to many profound realizations. This short explores the complexities of life as a ski bum from the fresh perspective of actual lift-riding time.
Hockey Night in Ladakh (Baiba Morrow & Pat Morrow, 10 min.)
During the 2004 Stanley Cup Playoffs in Calgary, Alberta, some professional hockey players took oxygen to combat the effects of high altitude. In this film, middle-aged Canadian Embassy staffers living in Delhi fly to Ladakh (on the Tibetan plateau) to play in a hockey tournament on an ice rink at nearly three times the elevation of Calgary.
Monty Python: Climbing Oxbridge Road (4 min.)
Once in a great while there is a first ascent of a difficult piece of rock. The expedition team must be at the top of their game in order to succeed: or face the consequences of tragedy. This rare footage tells a tale of such an attempt, as only a Python tale could.
Psicobloc (Josh Lowell, 8 min.)
Austrian Klem Loskot, a world-renowned boulderer, has found a more satisfying form of climbing, called "deep water soloing" by the Brits, and Psicobloc by the Spanish. The overhanging limestone walls of Mallorca provide perfect opportunities to forge routes sans ropes with the Mediterranean Sea 60 feet below as a sensual crash pad.
Making the Crooked Straight (Susan Cohn Rockefeller, 28 min.)
Simply put, Dr. Rick Hodes is a miracle worker. Deeply adhering to the belief that "He who saves one life, saves an entire world," Hodes works in Ethiopia, taking care of children stricken with tuberculosis of the spine. If left untreated, this disease can cause massive humps to grow on the back, forcing its victims into a permanent forward- bending posture that can lead to death or a wicked deformity. Hodes has given countless children a new sense of self. And by watching Making the Crooked Straight, you will find a new sense of hope.
The Job (Jonathan Browning, 4 min.)
A satirical peek at a political hot-button issue.
Music by Prudence (Roger Williams, 22 min.)
This short, moving documentary is about a memorable character named Prudence Mabhena who was born severely disabled in Zimbabwe, a country where many believe that the handicapped are cursed by witchcraft. Her grandmother refused to believe that pernicious stereotype and saved Prudence from a life on the streets. Despite her physical challenges, Prudence was blessed with a remarkable voice that has become an instrument for social change in Africa. She and her band, Liyana—which is comprised entirely of disabled musicians—have gained a sturdy platform after this film won an Academy Award for short documentary this year. (And, yes, director Roger Williams' Oscar speech was the one that was notoriously "Kanyed.")
The Man Who Planted Trees (Frederic Bach, 26 min.)
Based upon a Jean Giono novella, and lovingly illustrated by Academy Award-winning animator Frederic Bach, this is the story of a man's life of quiet fulfillment in an obscure region of France. This Academy Award-winning film remains the favorite festival film ... beautiful and powerful and inspiring.
*The program is subject to change. Both evenings include free popcorn, an intermission and a short presentation by dZi Foundation co-founder Jim Nowak.