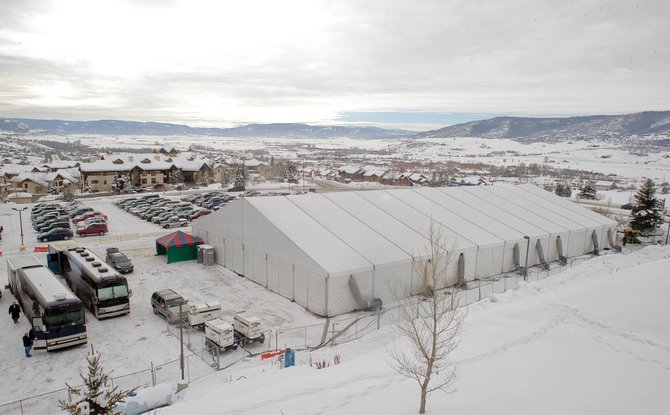 MusicFest at Steamboat supports higher lodging numbers than holidays
Past Event
Saturday, January 8, 2011, 1:30 p.m.
Gondola Square , 2305 Mount Werner Circle, Steamboat Springs
All ages / Free
Steamboat Springs — As it launches its 26th season, the MusicFest at Steamboat, specializing in a Texas flavor of country music, is laying claim to the busiest tourism week of the ski season.
The lodging barometer published by the Steamboat Springs Chamber Resort Association is anticipating 12,300 people will spend the night here Saturday compared with the peak of the holidays Dec. 29 when there were 10,900 vacationers. It's the difference between 89 percent occupancy in area lodging properties expected Saturday and about 70 percent the last Wednesday of 2010.
"I'm glad to receive that news," MusicFest promoter John Dickson said Thursday. "We sold out (5,000 festival tour packages) in as long as it took to book the reservations. We added 30 more hours of music this year."
To be accurate, the festival won't contribute the majority of Steamboat visitors this weekend; it will just feel that way on the slopes.
The fact that this is Texas young adult ski week in Steam­boat was reflected at Central Park Liquor on Wednesday night, where general manager and partner Greg Nealy said his staff was prepared for the event with extra cases of Tito's Handmade Vodka (distilled six times at Mockingbird Distillery in Austin) and Shiner Bock beer.
"Yeah, we went through a lot of Tito's," Nealy said. "We keep in touch with the organizers, and we know what their customers want. They really like their Texas products. The kids traditionally spend their money on the first evening. They all have wristbands (good for admission to see 40 bands), so they stay close to the tent after that."
Ground package prices for the event range from $199 for a downtown motel to $1,200 at The Steamboat Grand, including some lift tickets and a festival pass.
The impact of MusicFest week was apparent Wed­­nes­­day at Yam­­pa Valley Reg­­ion­­­al Air­port, when flights were 99 percent full with 950 arriving passengers. The number of arrivals quieted to 655 on Thursday.
Dickson said that although his festival continues to market to college upperclassmen and women, its loyal followers keep coming back into their 30s.
"We get a return rate of 40 to 50 percent," Dickson said. "We could clearly grow the festival, but we want it to remain grounded. It's almost like a reunion every year. I met a group of 30 last night that is back for its 18th year. I don't want to do anything to jeopardize that."
Dickson credited the way the city, Steamboat Ski and Resort Corp. and community members welcome his group as a key factor in the longevity of the MusicFest at Steamboat.