Game statistics
Hayden boys 64, Meeker 48
Meeker 8-12-18-10 — 48
Hayden 8-16-21-19 — 64
Meeker — Trey Morris 3 0-0 9, Jake Nieslanki 5 0-1 12, Cole Steiner 5 3-4 13, Trevor Matrisciano 2 1-2 6, Ryan Wix 2 1-4 5, Dylan Mobley 1 0-0 3, Kevin Eli 0 0-0 0, Jake Boesch 0 0-0 0. Totals 18 5-11 48.
Hayden — Hunter Johnston 2 1-2 5, Graig Medvesk 8 6-8 22, Ben Williams 5 3-4 13, Jorge Valdez 2 0-4 4, Mark Doolin 4 4-6 13, Brandon Rey 3 0-0 7. Totals 24 14-24 64.
3-pointers: Meeker (7) — Morris 3, Nieslanki 2, Matrisciano, Mobley. Hayden (2) — Doolin, Rey.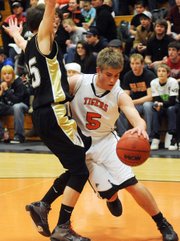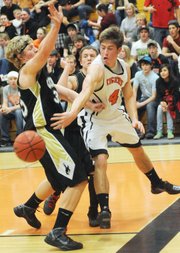 Steamboat Springs — Just like that, it happens.
Sure, for the better part of two-plus quarters the Meeker High School boys basketball team toyed with the notion of upsetting top-seeded Hayden on its home floor.
But as the Tigers have done all year to district competition, Hayden clamped down, got scoring from all over and ran away with a 64-48 win.
"I know last year when we went in playing Meeker, they were the No. 1 seed, and we wanted them bad," Hayden coach Mike Luppes said. "I'm sure everyone else is coming in here doing the same thing. They all think they can beat us. We're aware of that, and it keeps us on the edge that we need to have."
The Cowboys did all they could through two quarters to keep up with the Tigers. Hayden held a 24-20 edge in a first half that saw three ties and three lead changes.
After the two teams traded buckets to open the second half, Hayden hit its first streak.
The Tigers went on a 9-4 run and led 38-29 with 3 minutes, 12 seconds left in the quarter. The Cowboys made one last-ditch effort toward the end of the third and had closed to within 7, at 45-38, to start the fourth.
But Hayden started to extend, using a 12-1 run to race out to a 61-42 lead.
"We knew they'd be game," Hayden forward Mark Doolin said. "We knew it was going to be a close game."
Graig Medvesk led all scorers with 22 points, including 9 in the decisive third quarter. Ben Williams and Doolin each added 13 points, with Doolin and Jorge Valdez each grabbing 10 rebounds.
Hayden now preps for the district championship game at 2:30 p.m. today against Paonia.
The Tigers beat the Eagles, 77-65, earlier this season, in a back-and-forth game.
Paonia had a relatively easy game Friday, while the Tigers had to battle with the Cowboys and played only six players.
Luppes said Paonia would be the more rested team, but it's hard to argue that the Tigers aren't the heavy favorite, especially after Friday's performance.
"This is one of the best games we've played both offensively and defensively," Luppes said. Against Paonia "I expect a fast-paced game. Hopefully we'll be well rested."