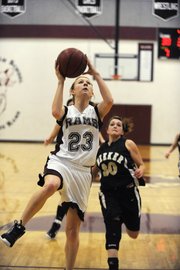 Girls results
Meeker 57, Soroco 55
Meeker 13-14-14-16 — 57
Soroco 12-14-8-21 — 55
Meeker — Taylor Neilson 5 5-9 16, Laura Glass 3 3-6 9, Becca Devergie 3 2-2 8, Aly Ridings 5 1-2 11, Kaysyn Chintala 2 2-4 7, Kathryn Doll 1 0-0 2, Aubrey Walsh 0 4-4 4, Chanler May 0 0-0 0.
Totals 19 17-27 57.
Soroco — Brandi Roundtree 4 2-2 13, Lindsay Miles 1 1-2 3, Corey Snyder 6 4-6 16, Madison George 2 5-11 9, Ceanna Rossi 3 0-0 6, Caitlyn Berry 0 0-1 0, Macaela Meyer 3 2-2 8.
Totals 19 14-24 55.
3-pointers: Meeker (2) — Neilson, Chintala. Soroco (3) — Roundtree 3.
Oak Creek — Considering where the Soroco High School girls basketball team has been for the past 10 years, the 2010-11 season has to be deemed a success.
But for the winningest Rams team since 2001, that provided little consolation Tuesday night.
Soroco and Meeker battled for parts of three quarters, but the Cowboys used a big third quarter and withstood a late Rams rally to hold on for a 57-55 win in the opening round of the Class 2A District 5 tournament.
"They fought their hearts out," Soroco coach David Bruner said. "They didn't quit. If there would have been 10 more seconds I think we would have won the game."
Meeker held a 27-26 lead at halftime after a back-and-forth first half. The Cowboys started the third quarter on a 5-0 run to take a 32-26 lead and had extended it to 41-34 after three quarters.
Soroco couldn't seem to get anything to fall from the field, and Meeker took advantage.
"I really challenged them to pick things up," Meeker coach Deb Henderson said. Soroco "was only getting one shot and we were able to put a little bit more pressure on their guards."
The Rams fell behind by as much as 48-37 in the fourth quarter before they put together a torrid comeback.
A Madison George runner at the 2 minute, 32 second mark cut the lead to 50-46. But the Rams struggled to get stops on the defensive end and the Cowboys were good enough from the free throw line to put the game away.
Soroco also struggled in the fourth quarter without the service of senior forward Ceanna Rossi, who fouled out earlier in the quarter.
Bruner said he chose to play Rossi because the Rams were falling behind and the Cowboys were beating Soroco on the boards.
But it was Soroco's shooting from the field and free throw line that proved to be the Rams' downfall.
Soroco struggled from the field and shot just 14-of-24 from the line, including three misses in the final quarter.
Corey Snyder led the Rams with 16 points. Brandi Roundtree added 13 and George had nine.
The season marked an improvement over past Rams clubs. Soroco ended the season 11-6, its best record in 10 years.
"We had our best record since 2001," Snyder said. "That's amazing."
Soroco boys fall to Paonia
The Soroco High School boys basketball team's season came to an end Tuesday in the first round of the Class 2A District 5 playoffs. Paonia ran away with an 80-40 win.
Soroco trailed just 15-9 after one quarter, but Paonia quickly pulled away. The Eagles used a big second quarter to open a 39-22 lead and had extended it to 61-32 after three quarters.
Leif Carlson led the Rams with 12 points, while Ryan Jeep added nine. Pie Lombardi and AJ Anderson each scored five.
Soroco season ends with a 4-13 record.
— To reach Luke Graham, call 970-871-4229 or e-mail lgraham@SteamboatToday.com