Learn more
Want to meet the athletes who make Tom Thurston's Iditarod run possible? Many of the dogs he's used on previous trips to the Alaska race now pull dog sled tours for the business Thurston's family runs, Double T Kennel. Visit www.ttkennel.com or call 877-903-MUSH for more information about how to book a trip and drive a team.
Follow along
Follow Thurston's progress in the Iditarod online. The status of his team and that of fellow local musher Kris Hoffman will be updated. Search "Double T Kennel" on Facebook.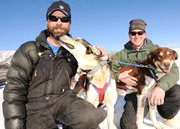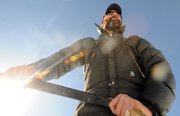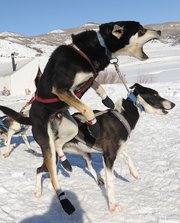 Steamboat Springs — Tom Thurston is quick to acknowledge the main Stagecoach Reservoir trail the Thurston family uses for its burgeoning dog sled tour business bears little in common with the 1,150-long Iditarod Trail in Alaska.
Still, Thurston, who leaves today for his third attempt at the world's greatest dog sled race, didn't have to try hard to find similarities.
A rumbling snowblower nearby blasted powder high into the sky.
"That looks like the Yukon," Thurston said, recalling one of his coldest, scariest days behind his dogs.
One of his favorite dogs, an Iditarod veteran, led the way down the trail Wednesday and Thurston, eight dogs and a sled whisked by a frozen landscape.
It wasn't Alaska, but for one day, it did the trick and provided a fix for Thurston's dog sled addiction. He's about to embark on another adventure that will provide him a whole lot more medicine.
Back to the ice box
The Iditarod Trail Sled Dog Race has been a mixed bag for Thurston, who learned the hard way last year just how daunting the event can be.
He first assaulted the course in 2009, unsure what to expect. He took it slow but finished and came home enthused, eager to race more competitively in 2010.
Things didn't go as well on his second trip, however. His dogs stopped eating and struggled. He finished in 2009 with 12 of his 16 dogs, sending four back to his camp as he passed checkpoints. He already was down to 10 last year when he decided to drop from the race 400 miles in.
"I thought I was never going to get to go back. I was pushing it to be competitive," Thurs­ton said.
He found out soon after he returned home he was wrong, however. His main sponsor, General Physics, increased its support, ensuring far more than another trip to Alaska. Thurston now is supported well enough to slowly build what he hopes is a championship team.
That process begins this winter, when Thurston will lead two dog teams through the race, one driven by fellow Routt County musher Kris Hoffman, of Grizzle-T Dog and Sledworks.
"It will be a lot of fun, hopefully," Hoffman said. "It's something I've been anxiously awaiting, and now I'm eager to get out on the trail and see the interior of Alaska."
The best dogs from the two teams will form the core of Thurs­­­ton's effort to win the race in 2013.
Touring it up
Dog sledding has been a family affair for the Thurstons since before Tom Thurston first attacked the Alaskan wilderness.
The best part about giving tours, the family said, is that it remains a family affair. The family bought out the Red Runner Dog Sled Tours business and merged operations with Hoffman's Grizzle-T efforts.
Now customers can not only meet and ride behind four-legged furry veterans of the Iditarod, they can meet two-legged veterans, as well.
"Having raced the Iditarod almost validates you," Thurston said. "I'm sure there are a lot of great mushers out there who haven't, but that's always the first thing people ask about."
Tami, Thurston's wife, said the business has been great for her, and for the couple's daughters, Greta and Leona, who run their own teams alongside those of customers whenever they can.
Gearing up
Tom Thurston said before he started on his first Iditarod he expected it to be a little like a massive camping trip.
A few days on the trail chang­ed his mind. He said he's been trying to instill realistic expectations into Hoffman, who's eager to cap his 10-year career as a musher with the big race.
"It's just overwhelming. There are so many highs and lows out on the trail," Thurston said. "But once you know what you're in for, it's great. I've been so excited packing and getting ready."
Thurston finished the route in 14 days on his first attempt. This year, it's about the future, not the race time.
"Our goal is getting as many dogs to the finish line as possible," Thurston said. "The dogs, they get out there and think they're going to run for the rest of their life. When they reach the finish line, then the next year they know what they're in for and they're more enthusiastic.
"Whether we end up last and second-to-last, that doesn't really matter. What matters is getting these dogs to the finish."
To reach Joel Reichenberger, call 970-871-4253 or e-mail jreichenberger@steamboattoday.com