Photo Gallery
Class 2A state wrestling tournament for Feb. 18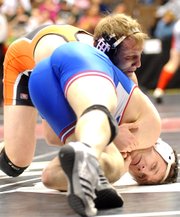 Class 2A state wrestling results
■ 119 pounds: Marcus Seifert, Yuma, pinned Journey Vreeman, Hayden, 3:25; Jason Carwin, Fleming, dec. Dillon Koler, Soroco, 12-0.
■ 130 pounds: Chad Terry, Hayden, pinned Justin Westphal, Baca County, 3:29; Jake Milberger, Fowler, dec. Terry, 11-2.
■ 135 pounds: Scott Armbruster, Hayden, dec. Khy Rigel, Fleming, 4-0; Matt Seifert, Yuma, dec. Armbruster, 12-6.
■ 140 pounds: Josh Baker, Soroco, dec. Justin Bull, Akron, 9-6; Baker pinned Jacob Lechman, Sedgwick County, 3:41.
■ 145 pounds: Tristan Palyo, Soroco, technical fall, Dakota Parker, Fowler, 19-3; Jorge Quinonez, Paonia, dec. Palyo, 8-6.
■ 171 pounds: Ryan Domson, Hayden, pinned Berrie Archuleta, John Mall, 3:19; Domson pinned Dustin Stalder, Crowley County, 3:54.
■ 215: pounds: Treyben Letlow, Hayden, pinned Preston Harms, Akron, 3:23; Letlow pinned John Gray, Crowley County, 1:48.
Steamboat Springs — A year ago, Treyben Letlow celebrated a victory in the Class 2A state wrestling semifinals by rolling to his back, pumping his fists and letting out a whoop that pierced even the frenzied air of Denver's Pepsi Center.
On Friday night, taking the first step to a repeat with a first-round pin of Crowley County's John Gray, Letlow walked off the mat with nary a word, his eyes focused and his message clear.
After winning his 70th consecutive match, Treyben Letlow could think of little else than winning No. 71, which would be his second straight state championship.
"This whole season all I've been thinking about is keeping the undefeated streak and going for that state title," said Letlow, a Hayden High School senior. "I knew everyone was coming for me. I knew I had to work harder than they were.
"I have a target on my back. I have to go out there and prove myself again, one last match."
Letlow will wrestle Tuff Gibson, of Merino, who's 33-2 and the No. 2 seed in the tournament, in the state finals, which start at 6:30 p.m. today in Denver. Hayden's other semifinals wrestler, Chad Terry, lost and will join Hayden's Ryan Domson and Socoro's Josh Baker in consolation action.
For Terry, the shoulder injury that plagued him throughout the weekend's tournament and a wily opponent proved too much. He lost to Fowler's Jake Milberger, 11-2.
Terry twice pulled up during the match, gripping his injured shoulder before collapsing to a crouch, pain etched in his face. It was so bad the official threatened to stop the match if Terry pulled up hurt again.
Fowler landed one huge move in the first period, racking up five points as Terry struggled to avoid being pinned.
Terry tried to even things up for the rest of the match and both wrestlers crashed to the mat several times. Terry never could gain a meaningful advantage, however.
"Chad Terry can take more pain than any kid I know," Tigers' coach Ty Camilletti said. "When you see tears in his eyes, you know it really, really hurts."
Local wrestlers look to place
Terry will be joined in the consolation bracket by two other local wrestlers. Domson at 171 pounds and Baker at 140 both bounced back from first-day losses with dominating wins Friday. Terry is guaranteed at least sixth while the other two must win once to place.
Domson beat Berrie Arch­uleta, of John Mall, then pinned Dustin Stalder, of Crowley County.
Baker, meanwhile, handled Justin Bull, of Akron, 9-6, then wrestled his best match of the weekend to pin Sedgwick County's Jacob Lechman.
"Josh was a beast in that match," Soroco coach Jay Whaley said. "That was a tough kid and Josh came out and was just awesome."
Two other locals picked up wins Friday.
Hayden's Scott Armbruster won for the first time in his four trips to state. He beat Fowler's Khy Rigel, 4-0, before falling 12-6 in the next round.
"I really wanted that win," Armbruster said of his first match. "I wrestled my hardest and I finally got it."
Soroco's Tristan Palyo also picked up a win, but couldn't make it two. He lost a tight match to Paonia's Jorge Quinonez.
Palyo had a 5-1 lead at one point in the match, but fell behind 6-5 late in the third period. He managed an escape to tie the score, but gave up a takedown in the match's waning second to fall from the tournament.
"That was pretty much all I had," Palyo said of his effort to tie the match. "I put it all out on the line."
— To reach Joel Reichenberger, call 970-871-4253 or e-mail jreichenberger@SteamboatToday.com