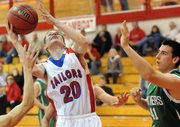 2010-11 Sailors boys basketball schedule
Dec. 1: Niwot 68, Steamboat 41
Dec. 3 and 4 Brenda Patch Tournament:
Dec. 3: Steamboat 49, Roaring Fork 43
Dec. 4: Steamboat 47, Basalt 33
Dec. 9 to 11 Steamboat Springs Shoot-Out:
Dec. 9: Palmer Ridge 44, Steamboat 30
Dec. 10: Steamboat 53, D'Evelyn 51
Dec. 11: Windsor 49, Steamboat 35
Dec. 13: Steamboat 52, Aspen 47
Dec. 16 to 18 Flaming Gorge Classic:
Dec. 16: Rock Springs 68, Steamboat 35
Dec. 17: Steamboat 47, Star Valley 45
Dec. 18: Evanston 58, Steamboat 34
Jan. 14: Steamboat 53, Battle Mountain 32
Jan. 15: Steamboat 66, Eagle Valley 51
Jan. 21: Palisade 47, Steamboat 44
Jan. 22: Steamboat 60, Delta 44
Jan. 28: Steamboat 51, Moffat County 50
Jan. 29: Steamboat 56, Glenwood 54
Feb. 4: Steamboat 48, Battle Mountain 38
Feb. 8: Steamboat 43, Eagle Valley 25
Feb. 11: Steamboat 42, Palisade 27
Feb. 12: Steamboat 74, Delta 46
Feb. 18: at Moffat County, 3:30 p.m.
Steamboat Springs — With the high school basketball state playoffs less than two weeks away, there's no better time to be playing well, and the Steamboat Springs High School boys basketball team is hoping it can ride its current hot streak to the tournament.
The Sailors showed no signs of letting up from their torrid pace Saturday as they torched Delta, winning 74-46 at home for their seventh consecutive victory.
"We're prepared, and we're already getting into the mindset of the playoffs," Steamboat senior Justin Anderson said. "We're clicking now."
The Sailors wrap up their regular season Friday against a struggling Moffat County squad. Although Steamboat won't automatically qualify for the 32-team playoff, the players already are thinking ahead.
If things go as well there as they did Saturday, the stay in that tournament could be a long one.
Steamboat scored early and often against Delta.
Senior Isiah Mendoza-Forsyth dropped in a layup as the first-quarter buzzer sounded to give the Sailors an 18-9 lead.
Anderson then sparked another Steamboat run in the second quarter, draining a 3-point shot while getting fouled. He made the free throw and then Randall Nelson sank a trey of his own moments later to give Steamboat a 34-11 lead.
"Everything was working," Anderson said. "We were hitting shots. We were making moves and getting easy drives. When they did press, we just ripped it apart and got layups."
Mendoza-Forsyth finished with a game-high 27 points. Nelson added 18, and Charles Wood chipped in 11. In all, 10 Sailors players scored in the game.
That multifaceted offensive explosion is one of the things that has the team so excited.
"We have a lot more chemistry. We're playing with a lot more confidence," Nelson said. "We're definitely better offensively. That's our strength now. We weren't utilizing our talent earlier in the season as much as we are now."