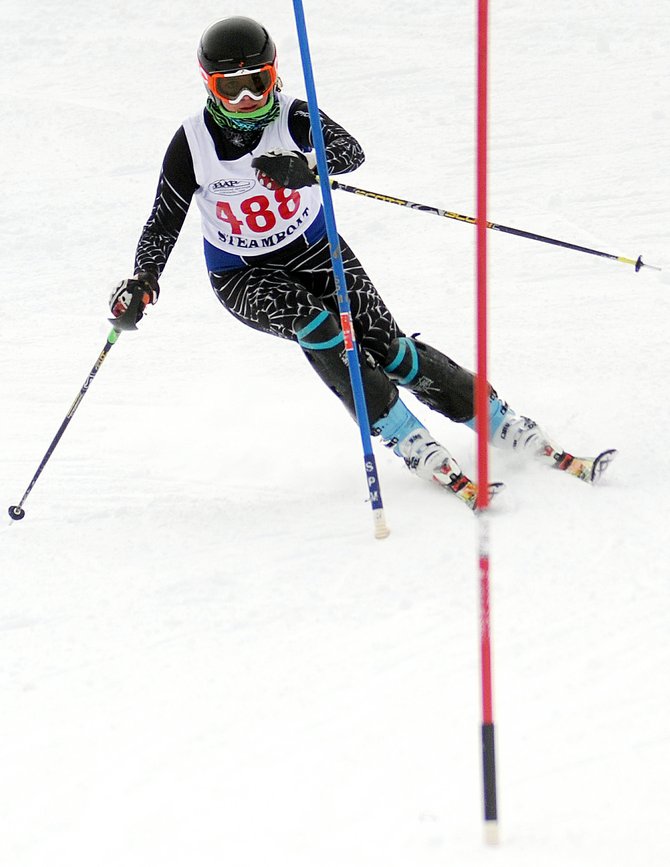 Steamboat dominates home Alpine ski race
Girls, boys teams finish first at Howelsen
Friday, February 11, 2011
Steamboat Alpine race results
Girls
Sarah White, Steamboat, 1:35.06

Eva Spaeh, Vail Mountain, 1:35.08

Megan Rosa, Steamboat, 1:40.01

Linnea Dixson, Steamboat, 1:40.30

Mallory Hoots, Steamboat, 1:45.12

Suzanne Lyon, Steamboat, 1:45.91

Martha Anderson, Steamboat, 1:45.99

Rachel Grubbs, Steamboat, 1:51.64

Marnie Buckley, Steamboat, 1:54.49

Dominique Powers, Steamboat, 2:10.01

Kassidy Fischer, Steamboat, 2:17.17
Boys
Tommy Lyon, Steamboat, 1:30.46

Connor Bernard, Steamboat, 1:30.56

Jeffrey Gay, Steamboat, 1:31.16

Andreas Foulk, Steamboat, 1:40.87

Eric Samuelson, Steamboat, 1:41.03

Peter White, Steamboat, 1:42.64

Kris Kolvereid, Steamboat, 1:50.88

Matthew Dennis, Steamboat, 1:52.38

Ryan Hogrefe, Steamboat, 1:55.32
Steamboat Springs — Home hill advantage proved the ultimate factor today as the Steamboat Springs High School Alpine skiing team swept down the face of the city's venerable Howelsen Hill and in most cases swept opponents away.
The Sailors won the boys and girls divisions of the team slalom race, capturing the top three individual spots on the boys side and four of the top seven individual spots on the girls side.
"I love skiing on this hill," Steamboat's Sarah White said moments after securing the top girls spot.
She had the second-fastest first-run time in the two-run competition, entering the second run 0.1 seconds behind Vail Mountain's Eva Spaeh.
White was at her best in the second run, however, logging the fastest time of the division. Spaeh was 0.12 behind, giving White the narrow victory.
"It was fun," White said. "The pitch was a lot trickier than (on the first run), but it was fun because you could really let your skis go at the bottom."
She was far from the only Sailor to cruise on the course.
Megan Rosa was third, Linnea Dixson fifth and Mallory Hoots seventh as Steamboat skiers packed into the top 10.
Steamboat's Tommy Lyon squeaked past a pack of teammates to win the boys race. He proved barely faster than teammate Connor Bernard on both his first and second runs, eking out a 0.1-second victory.
Jeffrey Gay was hot on their heels, finishing third.
For the girls, it all amounted to 173 points, a step better than Aspen's 166. Battle Mountain was third with 157. The boys finished with 177. Battle Mountain was second with 166 and Aspen third with 161.
"They did very well, the boys especially," Steamboat coach Kate Warner said. "The home hill helped, but they ski well. They've been skiing well all season, and they just kept it going.
"They're definitely capable of this, and they pulled it off."
— To reach Joel Reichenberger, call 970-871-4253 or e-mail jreichenberger@steamboattoday.com