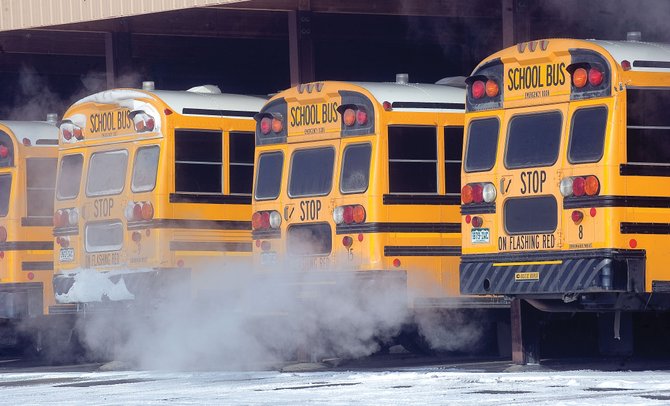 Closure policies differ by school district
Steamboat superintendent considers higher temperature for cancellation
Thursday, February 3, 2011
Photo Gallery
Feb. 2 weather photos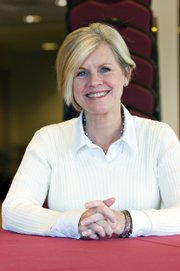 Keep up with the conditions
- For local weather conditions and recent coverage of Steamboat Springs weather, visit SteamboatToday.com/weather
- View webcams of Steamboat Springs at SteamboatToday.com/webcams
- For weather information from the National Weather Service, including storm warnings and advisories, visit www.wrh.noaa.gov/
- The Colorado Department of Transportation provides road conditions, closures and traffic cameras at www.cotrip.org. For travel information by phone, call 511 from anywhere in Colorado or dial (303) 639-1111.
- For flight information, visit www.flightview.com/ TravelTools/. By phone, call Delta Airlines at (800) 241-4141; United Airlines at (800) 864-8331; and American Airlines at (800) 433-7300
Steamboat Springs — Steamboat Springs School District Superintendent Shalee Cunningham said Wednesday that she would consider changing the district's school closing and cancellation policy.
Cunningham canceled school when temperatures dipped to 40 below zero at the school district's bus barn, the threshold for the existing policy that allows the superintendent to determine when to close school. She said that might have to change to 30 or 35 below zero.
Because the policy is administrative, Cunningham said a change wouldn't require School Board approval.
"It has a lot to do with the diesel fuel; it gels then," she said. "And I don't want kids standing outside. But I had a couple people call me a wimp."
The Hayden and South Routt school districts remained open. School officials said the districts don't have policies about temperature thresholds to close schools.
Hayden Superintendent Mike Luppes said the decision to cancel school is up to him and the district's administration. He said temperatures in Hayden were reported as low as 45 below zero.
Luppes said the district would consider canceling out-of-town bus routes to avoid the possibility of one breaking down in an area without cell phone service. But he said the district's buses, stored overnight in the district's heated garage, started fine Wednesday morning.
South Routt Superintendent Scott Mader said the district evaluates whether to close school on a case-by-case basis. He said the district canceled its trip Wed­nes­day to Steamboat Ski Area for grades three through 12. But Mader said morning temperatures of nearly 30 below zero weren't low enough to close schools.
"I didn't consider it," he said.
The Lowell Whiteman School also remained open, in part because 60 percent of its 79 students live on campus, Head of School Chris Taylor said.
"I'm not sure Whiteman has canceled classes for any reason," he said.
But Taylor added that the school's foreign travel program was created when Routt County Road 36 was a dirt road. He said it was impassable one year, so school founder Lowell Whiteman took the students to Mexico.
Steamboat's other private schools, Christian Heritage School and Lowell Whiteman Pri­mary School, also canceled classes. School officials said the decision was made partly because Steamboat closed.
But Whiteman Primary Head of School Nancy Spillane said there was another reason.
"We got a lot of calls from parents this morning whose cars wouldn't start," she said. "When you get a dozen of those by 7:30, you start to take that into consideration."
Christian Heritage admin­is­trator Dave Entwistle said it wasn't an official policy but the school's decision is typically based on what Steamboat does.
"I know it's an inconvenience, but, man, it's freezing," he said Wednesday morning.
Entwistle said Christian Her­itage would open today. He said if Steamboat is closed again, the school will start late, at 9 a.m. If not, he said, Christian Heritage will start at 8 a.m. as usual.
Some parents stayed home from work to be with their children, including Laura Egger, who said she and her first-grader were trying to see whether water would freeze before it hit the ground and making snow ice cream.
"We're trying to enjoy it since it probably won't happen again for another 25 years," Egger said. She called her bosses at Steamboat Prudential Realty, who let her work from home.
Others were scrambling to find last-minute child care options, but the two youth programs that operate when school is not in session didn't open.
The city of Steamboat Springs Parks, Open Space and Recreational Services Department didn't operate its School Days Off program, in part because there was no demand, recreation supervisor Susan Petersen said.
Neither did the Boys & Girls Club of Steamboat Springs. Unit Director Heather Martyn said she didn't have the staffing available to open. She said she didn't think the district's closing would lead to conversations about contingencies for similar situations.
"We're not a day care, and that's just not the club's mission," she said. "We're really a youth development organization. It's like hockey and Winter Sports Club and things like that. That's what we're geared around."
Cunningham said the district sent e-mails to parents informing them about the decision to close school. Steamboat Springs Police Department Sgt. Rich Brown said officers patrolled bus stops Wednesday morning and told some youths that school had been canceled.
By the numbers
Steamboat Springs' low temperature of minus 36 Wednesday tied the record for Feb. 2, set in 1956. In Yampa, the low of minus 35 set a new record for Feb. 2, breaking the previous record of minus 24, set in 1985.
■ Wednesday morning's low temperatures across Colorado:
Walden: -42
Craig: -38
Meeker: -37
Steamboat Springs: -36
Yampa: -35
Leadville: -32
Kremmling: -27
Aspen: -25
Alamosa: -24
DIA: -17
Gunnison: -17
Sterling: -15
Telluride: -15
Boulder: -13
Colorado Springs: -12
Pueblo: -7
Durango: 1
■ Colo­rado record low: minus 61 on Feb. 1, 1985, in Maybell
■ Steamboat Springs record lows from 1893 to 2011:
1. -54 on Jan. 7, 1913
2. 50 on Jan. 12, 1963
3. -48 on Feb. 10, 1933
4. -46 on Jan. 13, 1963
5. -44 on Feb. 1, 1985
5. -44 on Feb. 1, 1951
5. -44 on Feb. 18, 1942
5. -44 on Jan. 22, 1937
5. -44 on Jan. 20, 1922
5. -44 on Dec. 18, 1909
■ Steamboat Springs record lows from 1893 to 2011 in December:
1. -44 on Dec. 18, 1909
2. -39 on Dec. 25, 1924
3. -38 on Dec. 13, 1932
4. -37 on Dec. 22, 1990
4. -37 on Dec. 24, 1924
6. -36 on Dec. 8, 1978
6. -36 on Dec. 26, 1962
8. -35 on Dec. 24, 1990
8. -35 on Dec. 28, 1916
10. -34 on Dec. 8, 2005
■ Steamboat Springs record lows from 1893 to 2011 in January:
1. -54 on Jan. 7, 1913
2. -50 on Jan. 12, 1963
3. -46 on Jan. 13, 1963
4. -44 on Jan. 22, 1937
4. -44 on Jan. 20, 1922
6. -43 on Jan. 10, 1962
7. -42 on Jan. 6, 1913
8. -40 on Jan. 11, 1962
8. -40 on Jan. 19, 1940
8. -40 on Jan. 9, 1930
■ Steamboat Springs record lows from 1893 to 2011 in February:
1. -48 on Feb. 10, 1933
2. -44 on Feb. 1, 1985
2. -44 on Feb. 1, 1951
2. -44 on Feb. 18, 1942
5. -42 on Feb. 6, 1989
6. -41 on Feb. 6, 1982
7. -40 on Feb. 9, 1929
8. -39 on Feb. 28, 1962
9. -38 on Feb. 19, 1942
10. -37 on Feb. 7, 1989
Source: National Weather Service
— To reach Jack Weinstein, call 970-871-4203 or e-mail jweinstein@SteamboatToday.com