For more
Kent Eriksen Cycles has donated a custom titanium road bike frame for a drawing to benefit Jim Linville. Linville will draw the winning raffle ticket Jan. 2 at Kent Eriksen Cycles. The time hasn't been determined. Check www.kenteriksen.com for details.
Tickets are $10 each and are being sold at Ski Haus, Orange Peel Bicycle Service and Kent Eriksen Cycles. Tickets also can be purchased by contacting Katie Lindquist at 970-846-9206 or katie@kenteriksen...
Steamboat Springs — Jim Linville may be home for Christmas, but that doesn't mean he won't try to spend as much time as he can outside the house.
Linville, 64, talked about his recent return to Steamboat Springs while hiking through snow-packed trails up Emerald Mountain on Thursday afternoon. He was a step behind his wife, Joan Donham, who kept a brisk pace. And the couple was flanked by their two chow mixes, Ruby and Deso (named for river canyons Ruby/Horsethief and Desolation/Gray).
The 31-year Steamboat Springs resident, a longtime teacher at The Lowell Whiteman School and member of Routt County Search and Rescue, spent six weeks in Denver hospitals receiving treatment for a traumatic brain injury he suffered from a fall Oct. 27.
While Linville said he's improved significantly since then — at times he couldn't walk, remember from day to day, or recognize friends and family nearly two months ago — he still is not 100 percent.
"I feel like I'm turning a corner more and more every day," he said. "There's a ways to go yet, but I know it's going to happen. The hardest part is for me to be patient. I want it all back now."
No recollection
Linville, who joined the Whiteman staff as a geography, math and French teacher 23 years ago, fell Oct. 27 at the school. He doesn't remember what happened, and no one saw him fall. The following three weeks also are missing from his memory.
Linville first was treated at Swedish Medical Center in Denver, where he was airlifted from Yampa Valley Medical Center with a bruise to the right side of the brain and a fracture at the base of his skull. He was in intensive care for four days before being transferred shortly after to Craig Hospital, a renowned rehabilitation facility for spinal cord and brain injuries.
Donham said there was so much uncertainty at first. Even the doctors weren't sure whether her husband would recover.
"There was definitely a time when we didn't know what would happen, what the outcome would be," said Donham, his wife of nearly 30 years. "The first two weeks, the doctors, they just said we'll have to wait and see. It was pretty scary. I didn't know if I'd get my husband back or not."
But after those first few weeks, Linville said a light came on. He knew who he was, his memory returned and he recognized everyone.
From there, the recovery occurred quickly, so fast that Donham said Linville's doctors kept having to tell him to slow down. Linville credited several things for his recovery in addition to his daily physical, occupational and speech therapies in Denver.
He and Donham started walking on the South Platte River Trail in Denver. And he frequently read the hundreds of messages friends, family, current and former students and others he hadn't seen in years wrote on his www.caringbridge.com page.
Linville was scheduled to leave Craig Hospital on Wednesday but was released early and returned to Steamboat on Dec. 9.
Return home
While walking and reading messages from friends and family helped aid his recovery, Linville thinks additional support from friends in Steamboat helped him get home earlier than expected.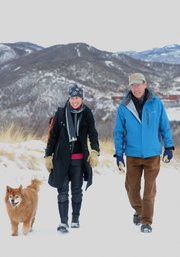 Friends of the Routt Backcountry donated proceeds from its annual Backcountry Ball, an event Linville and Donham helped start, to help pay his medical bills.
"I was just overwhelmed. I was in tears," Linville said. "Those guys are so wonderful to do that. I'm so thankful."
Another fundraising effort is ongoing. Kent Eriksen Cycles owners Kent Eriksen and Katie Lindquist donated a titanium custom road bike frame that will be given away in a drawing to benefit Linville. They're selling tickets for $10 each, or buy 10 and get one free. They plan to have Linville draw the winner at the bike shop Jan. 2.
"They're dear friends of ours, and they're also major community members," Lindquist said. "Jim's a really important person, not just to us but to this town — his involvement at Whiteman, his involvement at Search and Rescue. We need Jim. We might need Jim to save our lives. Kent and I love Jim."
Linville said he asked Whiteman to keep his return quiet. Instead of a grand entrance, he decided to just attend the private high school's annual holiday dinner.
Whiteman physics and calculus teacher Brian Smith said the students were excited but tried not to overwhelm Linville as they welcomed him back. Smith said there was a void without him on the campus tucked into the woods off Routt County Road 36.
"The best thing is just having him around," he said. "Just kind of seeing him and being able to talk with him and joke with him kind of the way we used to is nice. It's good."
Taking it slow
Linville said the toughest thing is not being able to do what he loves: teaching and skiing.
He said the thing that makes Whiteman so special is being able to lead students in a variety of adventures, from weekend ski trips to the school's foreign travel trips, which he has helped lead during his tenure.
While he understands it might be a while until he's back on his Telemark skis — he has strict orders from his doctor to not fall on his head — he expects his return to the classroom to occur sooner.
Linville, however, said he plans to lead the school's annual Desert Week kayaking trip through the Gates of Lodore on the Green River in Dinosaur National Monument, a trip he started more than 20 years ago.
Whiteman Head of School Chris Taylor said Linville's return is up to his doctors. He said Linville doesn't have to rush.
Trenia Sanford, Whiteman's former technology director, said the school will be fortunate when it eventually gets Linville back in the classroom.
"There is not a finer natural teacher on the planet," said Sanford, who worked with Linville for 13 years and led a trip with him to Mongolia in 2009. "He takes everything he's ever learned, including a couple of African languages, all of his traveling, his love of nature and wildlife and outdoor sports and infuses all those experiences in his teachings."
Linville also is anxious to get back to work with Search and Rescue, something he has been doing for more than 15 years. But Linville knows it might be a while before he gets back in the field.
Search and Rescue President Russ Sanford said he doesn't want to push Linville, but can't wait to get him back.
"We all look up to Jim," Sanford said. "We all admire his capabilities. We're always learning from Jim. And we want to keep learning from him. Jim makes us a better team, not just by doing what he does but by showing us what he does."
Continuing recovery
Linville said this season will be his first in Steamboat without Alpine skiing. He's hopes to strap on his Nordic skis at some point later this winter.
But Linville is taking it slow. He knows his continued recovery depends on it.
Linville said he still deals with bouts of dizziness, issues with balance and especially fatigue. And he's trying to regain the 20 to 25 pounds of muscle he lost in the hospital.
So when he's not in physical, occupational and speech therapies three times each week, he'll be hiking the other four, whether it's Emerald, Rabbit Ears or other area mountains.
For such a "silly little fall," Linville said it's put him and Donham through a lot.
"I feel lucky to have recovered as I have," he said.
To reach Jack Weinstein, call 970-871-4203 or email jweinstein@SteamboatToday.com