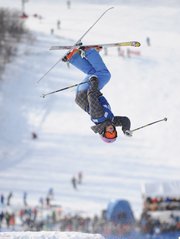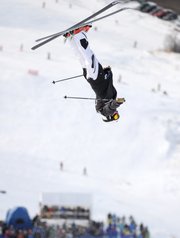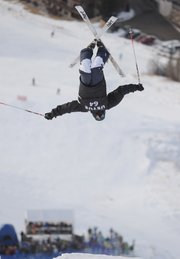 Schedule
Tuesday: Slalom race at Sitz/See Me
Wednesday: Moguls at Voo Doo, night slalom race at Howelsen
Thursday: Dual moguls at Voo Doo, slalom race at Howelsen
Steamboat Springs — Utah skier Jay Panther and Australian Britteny Cox topped the field on the opening day of the 2011 U.S. Freestyle Selections at Steamboat Ski Area on Monday.
Panther sco­­red 24.44 on his final run on the day to move to the top of the final field of 16 skiers. U.S. Ski Team member Nathan Roberts was second with a score of 24.36, and Troy Murphy was third with a score of 24.25.
Steamboat Springs Winter Sports Club skier Michael DeGrandis finished first in qualifying but dropped to sixth in the final standings.
"Qualifying first is a good spot and it's a bad spot," Winter Sports Club moguls coach Rob Day said. "You are the last to ski and all eyes are on you. You have to go out and perform and you can't make any mistakes."
Day said DeGrandis had a solid run that just wasn't good enough to hold onto the lead.
"Michael is still young, so I think this is going to be a learning experience for him, and I know he will bounce back."
Steamboat's Reed Snyderman placed seventh overall, Dalton Lee was 18th in the qualifying round, and Bennett Roukema was 31st.
"Obviously. I want to see our athletes succeed and I always want to see them make it through and to win," Day said. "I couldn't be happier with the way our athletes skied today. We may not have won, but they all had a very good day."
Cox topped an elite international field of women hat included skiers from Australia, Japan and the U.S.
Cox recorded a score of 24.42 on her final run to take the win. Japan's Aiko Uemura was second with a 23.07, and Alison DiGravio was the top American finisher in third place with a score of 22.75.
Rebecca Miller was one of several members of the Winter Sports Club to advance to the finals. She placed eighth, with teammate Lane Stoltzner finishing 10th and Sophia Schwartz placing 15th.
Day said his skiers plan to be back on the hill to train Tuesday and prepare for another mogul event Wednesday.
The results from Monday's and Wednesday's events will be combined, and the two top overall skiers from the men's and women's fields will get a start at a World Cup event in Lake Placid, N.Y., in January.
Day said several Steamboat skiers still have a shot of reaching that goal.
There also is a dual moguls event Thursday. That event, combined with the previous two competitions, will determine which skiers will compete on this year's NorAm circuit.
FIS FREESTYLE EVENT RESULTS
Steamboat Ski Area
Monday
Men's Moguls Final
Name, Place, Score
1 Jay Panther, USA, 81.46
2 Nathan Roberts, USA, 81.20
3 Troy Murphy, USA, 80.83
4 Hickman Jake, USA, 80
5 Matt Graham, Aus, 79.36
6 Michael Degrandis, USA, 79.00
7 Reed Snyderman, USA, 78.16
8 Wade Parkinson, USA, 76.30
9 Dylan Walczyk, USA, 74.26
10 Scott Nelson, USA, 74.23
11 Robert Carroll, USA, 73.93
12 Yugo Tsukita, Jpn, 71.90
13 Sora Yoshikawa, Jpn, 70.90
14 Bruce Perry, USA, 70.50
15 Branden Goldenberg, USA, 70.30
16 Troy Tully, USA, 24.63
Results from Qualification
17 Osamu Ueno, Jpn, 72.30
18 Dalton Lee, USA, 71.46
19 Sterling Crescimanno, USA, 71.33
20 Carson Bockhahn, USA, 71.26
21 Ryan Reilly, USA, 71.03
22 David Graham, Aus, 71
23 Fumiya Tanimura, Jpn, 70.46
24 Rohan Chapman-Davies, Aus, 70.43
25 Casey Andringa, USA, 69.83
26 Brandon Cronin, USA, 69.66
27 Bartley Damon, Usa , 69.56
28 Rikuya Tanaka, Jpn, 69.50
29 Trevor Semmens, USA, 68.73
30 James Matheson, Aus, 68.50
31 Bennett Roukema, USA, 68.36
32 Kenta Suzuki, Jpn, 68.06
33 Darius Baradaran, USA, 67.50
34 Gabriel Cohen, USA, 67.26
35 Hunter Bailey, Usa , 66.96
36 Colin Lang, USA, 66.13
37 Shane Cordeau, USA, 66.06
38 Jack Kariotis, USA, 65.93
39 Woo-Hyun Cho, Kor, 65.66
40 Dillon Lovell, USA, 63.23
41 Takuya Yamaguchi, Jpn, 63.10
42 Hisataka Satoh, Jpn, 62.63
43 Daiki Mihara, Jpn, 62.60
44 Tyler Wadhams , USA, 62.23
45 Leif Harfst, Ger, 61.93
46 Jumpei Tatebe, Jpn, 61.53
47 Brodie Summers, Aus, 61.26
48 Thomas Rowley , USA, 60.26
49 Trevor Norris, USA, 60.16
50 Blake Wilson, USA, 60.16
51 Evan Smith, USA, 57.53
52 Nicholas Urban, USA, 56.40
53 Itsuki Toki, Jpn, 54.40
54 Hirotaka Chiba, Jpn, 54.23
55 Shanti Payne, USA, 51.03
56 Tera Sakata, Jpn, 50.66
57 Jack Pickhardt, USA, 50.13
58 Sunao Moriyama, Jpn, 43.73
59 Kyle Jordan, USA, 40.03
60 Austin Bourret, USA, 39.40
61 Nicholas Goodrich, USA, 31.10
62 Moeki Goto, Jpn, 31.03
63 Jack Harty, USA, 27.90
64 Todd Chen, USA, 23.63
65 Issei Kajiura, Jpn, 22.53
66 Skip Mckinley, USA, 16.26
67 Tanner Keim, USA, 14.10
Ladies' Moguls Final
Name, Place, Score
1 Britteny Cox, Aus, 81.40
2 Aiko Uemura, Jpn , 76.90
3 Alison Digravio, USA, 75.83
4 Annie Serra, USA, 75.20
5 Tae Satoya, Jpn, 74.03
6 Mikaela Matthews, USA, 73.70
7 Nessa Dziemian, USA, 72.93
8 Rebecca Miller, USA, 72.83
9 Nicole Parks, Aus, 71.76
10 Lane Stoltzner, USA, 70.13
11 Anna Park, USA, 68.60
12 Ali Kariotis, USA, 67.23
13 Kelsey Albert, Usa , 66.16
14 Aunika Phillips, USA, 65.00
15 Sophia Schwartz, USA, 40.36
16 Keaton Mccargo, USA, 36.36
Results From Qualification
17 Elizabeth Smith, USA, 63.73
18 Avital Shimko, USA, 63.00
19 Satsuki Itou, Jpn, 62.70
20 Alex Jenson, USA, 61.96
21 Kaitlyn Harrell, USA, 61.43
22 Larissa Burg, USA, 61.00
23 Lauren Burg, USA, 60.96
24 Tali Peters, USA, 60.70
25 Kealey Zaumseil, USA, 60.40
26 Emma Chapman-Davies, Aus , 59.63
27 Rebecca Goldstein, USA, 59.10
28 Lindsay Mustard, USA, 58.96
29 Kendall Marshall, USA, 58.50
30 Kelly Lawson, USA, 57.76
31 Miki Ichimura, Jpn, 57.76
32 Taylah Oneill, Aus , 57.56
33 Haruka Tamura, Jpn, 56.93
34 Alyssa Lawson, Usa , 56.50
35 Ellyn Golden, USA, 55.16
36 Jackie O'Sullivan, USA, 54.73
37 Elizabeth O'Connell, USA, 52.36
38 Veronica Paulsen, USA, 51.50
39 Taryn Baker, USA, 49.93
40 Nonoka Wada, Jpn, 49.63
41 Hailie Lane, USA, 49.16
41 Erin Coyne, Usa , 49.16
43 Skye Mooney, USA, 47.76
44 Tamara Wescott, USA, 45.63
45 Grace Baldwin, USA, 45.50
46 Arielle Gordon-Rowe, USA, 44.63
47 Anu Khosla, Usa , 34.30
48 Allison Benedict, USA, 32.56
49 Madison Bailey, USA, 23.63
50 Ako Iwamoto, Jpn, 23.30
51 Megan Moores, Usa, 21.53
To reach John F. Russell, call 970-871-4209 or email jrussell@SteamboatToday.com